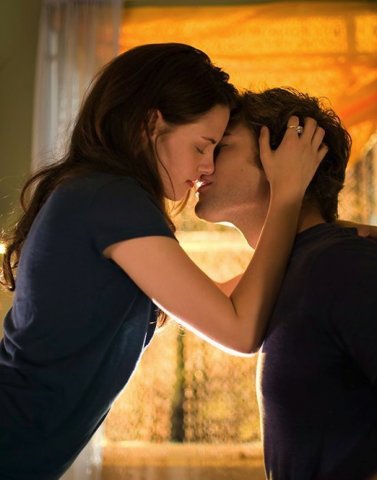 That's right. There's a collective sigh from all the Twilight fans around the country. After months and months of speculation (and dreaming), Kristen Stewart finally cleared things up in an interview with Nylon. Her and costar Robert Pattinson are not, and have not ever been together. Although their chemistry is sizzling on-screen, off-screen the pair are just "good friends" and any rumors about them are "just totally false."
While many teen magazine body language experts were analyzing every single moment the two spent together, she explains, "It's only natural that we sort of lean on each other, because we're put in the most f***ing psychotic situations." It's no doubt that the Twilight fandom is intense. Screaming fans, shut down mall tours, and general pandemonium has swept the nation since July of 2008 at Comic Con. ""Anywhere we'd go for Twilight was a psychotic situation," she said. "The sound was deafening, and it's thoughtless, as well. It's so manic that you're just pushed and pulled around."
I definitely gave Kristen Stewart some flack for her strange interview habits when I compared her to Vanessa Hudgens in Who's the Better Teen Queen. Evidently, the incessant interviews took a toll on Stewart's calm, cool, and collected demeanor. "You get a slew of all these bulls*** questions like, 'What's it like to kiss a vampire?' and 'How much do you love Robert?'" Stewart explains. "Then you'll get one that's actually real, but you're like, 'No, I can't right now — I can't even consider…'"
Whether or not she's ready to, Stewart's going to have to go through the whole process again as New Moon is set to start filming in a couple of weeks. New Moon will get a November 2009 theatrical release and then Eclipse is set to be released in June of 2010. So, it'll be all Twilight all the time for Ms. Stewart and her "good friend" Robert Pattinson.
For those fans still unaware, or still holding out for a R-Pattz / K-Stew hook-up, Kristen is currently very happy with her long time boyfriend Michael Angarano. In 2004, Stewart and Angarano met when they co-stared in a Lifetime original movie called "Speak" and started dating two years later. Angarano is 3 years Stewart's senior.
Hopefully, you're not too saddened by the news. At least we can still be glad that Stewart and Pattinson have killer chemistry onscreen as Bella Swan and Edward Cullen. I'm sure what little screen time they'll get to spend together on New Moon will be as hot as ever. And, on the bright side, that means Robert Pattinson is definitely still single. Good luck ladies.
Check out more Twilight pictures of Kristen and Rob by clicking the picture below:
Also, be sure to check out Who's the Better Teen Heartthrob? Robert Pattinson or Zac Efron?
-Kim Wetter, BuddyTV Staff Writer
Source: Nylon Magazine
(Images Courtesy of WENN)