HBO, to promote the January 6 premiere of The Wire's fifth and final season, has released three prequel videos involving characters from the highly acclaimed drama. The three short videos are already being streamed for free on Amazon.com on the page for The Wire: Season Four DVD. The videos will become available on HBO On Demand on December 15. HBO has been a pioneer in the realm of On Demand content, creatively disseminating episodes of its original series along with original content, like these three Wire prequels. The Wire is one of the most popular On Demand shows for HBO, only trailing The Sopranos in On Demand viewing. Here's a look at each of the three videos: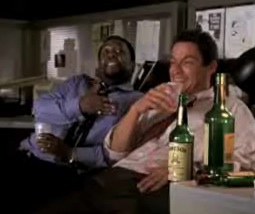 If none of this makes sense to you, it's because you haven't seen The Wire, which is something you should do immediately. I was talking to a friend yesterday about The Wire and how, when talking about the best TV series out there, you have to throw The Wire out of the conversation. Compared to The Wire, everything else is mediocre. It is by far the best, most transcendent, most important TV series in recent memory. It's like when someone tells you that Michael Jordan wasn't the best basketball player of all time – not only are they wrong, they also inadvertently reveal that they don't really know anything about basketball. Just get the DVDs, watch them On Demand – you owe it to yourself.
Video #1 – Young Prop Joe – 1962
An elementary school-aged Prop Joe shows his entrepreneurial tendencies early on. He gets the local bully to pay him for help cheating on a spelling test, and then turns around and tries to get the teacher to pay Joe to rat out the bully. Funny stuff.
Video #2 – McNulty's First Day on the Job – 2000
McNulty shows up for his first day as Bunk's partner and, with Bunk skeptical of him, McNulty whips out a bottle of alcohol and starts drinking seconds after the two meet. Needless to say, the two strike a quick bond thanks to a large bottle of Jameson.
Video #3 – Young Omar – 1985
Omar's first hold-up is with two older kids. They rob a man who waits at a bus stop on his way home from work. When Omar finds that the man only had sixteen dollars on him, he points his gun at one of the older kids and demands that they give the man his money back. Omar is the best.
-Oscar Dahl, BuddyTV Senior Writer
Source: The Hollywood Reporter
(Image Courtesy of HBO)