After 11 thrilling seasons of America's Next Top Model, fans have surely picked out their most memorable scenes.  While we all recall some of our favorites, let's see what the models on the show have to say for themselves.  TV Guide caught up with some of the personalities from the series, to talk to them about the standout Top Model moments.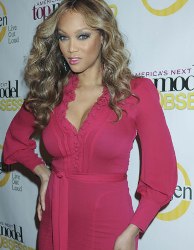 During the Oxygen launch party for America's Next Top Model Obsessed, host Tyra Banks said that the show has changed the public's view towards the world of modeling.  "It has really educated everyone on what takes a good picture, and people understand there's talent involved," she said.  
Talents arrived indeed, gracing the party in the form of fan favorites from the competition.  Regarding her favorite moments on the show, Cycle 10 winner Whitney Thompson said, "My most memorable moment was when the girls were being suspended in the air and this little blonde girl was crying her eyes out.  Every time one of the girls freak out is a great moment." 
Cycle 5 contestant Bre referred to the "granola bar fight" as one that stuck to her mind, even after her stint on America's Next Top Model.  "I've had bouquets of granola bars sent to my house after the show!  It doesn't go away."
Analeigh Tipton of Cycle 11 recalled a rather gloomy memory: when she was asked to leave.  "My last elimination sticks out because it was so sad but such an incredible growing moment.  Now I'm acting and signed with an agency in L.A." 
Cycle 4's Rebecca seems to remember an unpleasant moment in front of the judges too.  "It has to be the judging sequence when I fainted — and I can't live that one down!  So obviously that stands out in my memory." 
Since the judges seemed to have made it into the story, they had to share their most memorable ANTM moments too.  Nigel Barker admitted, "As the longest-standing judge on Top Model, we've had some crazy panels, but working with Nolé were some of the funniest.  He would come out with some of the most unbelievably obnoxious, rude, and funny comments at once." 
With all of them looking back on our favorite Top Model scenes, it's also great to think about the future of the show.  Since it was released on Oxygen, the series airs all day on Sundays, starting at 11 am.
-Maria Gonzalez, BuddyTV Staff Columnist
Source: TV Guide
(Image Courtesy of FOX News)