The finale of Dancing with the Stars season 24 is just three weeks away and the competition is getting harder. This week the seven remaining couples will all perform routines inspired by different movie genres, with the highest score getting immunity for the night. That's very important because it's a double elimination and only five stars will move on.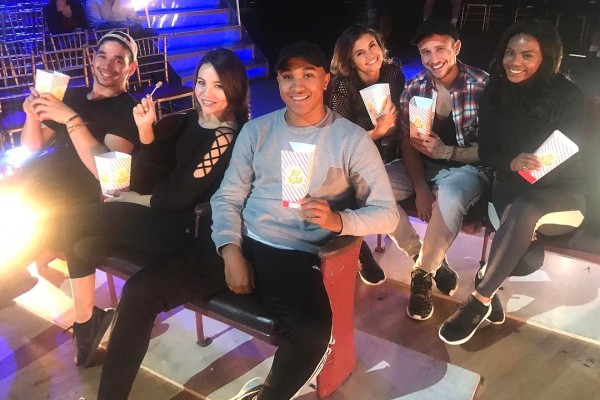 There are also dance-offs, guest judge Mandy Moore and a performance by the cast of the Disney Channel original movie Descendants 2.
LIVE…from Hollywood…this is Dancing with the Stars!
Mandy is taking over Julianne Hough's seat, so her score is third.
Bonner Bolton and Sharna Burgess: Western Paso Doble
Dressing up like a cowboy fits perfectly, and he takes the lead on the concept. It starts at a poker table, and things go awry. There's a whole lot going on with the story, way too many gimmicks with breaking chairs and bottles, and the dance itself gets lost in the shuffle. It doesn't help that Bonner is wooden and dull. He doesn't really capture the passion or dominance required. Bruno Tonioli tries and fails to make a Westworld joke and says he needs to be less robotic. And Carrie Ann Inaba calls out the lack of actual content and the production value overpowering Bonner.
Judges' Scores: 7+7+8+7=29
Ha, of course, Mandy is too nice.
Nancy Kerrigan and Artem Chigvintsev: Romance Tango
She's taking on Pretty Woman, and there isn't a more perfect star to play Julia Roberts. There's a cute story with Artem picking up Nancy at a hotel, but that doesn't get in the way of the dancing. There's a lot of content and she glides across the ballroom. The judges love her elegance and sophistication. Len Goodman loved the quantity of steps and quality of movement.
Judges' Scores: 9+9+9+9=36
That's the right score.
Simone Biles and Sasha Farber: Silent Charleston
They get to be silly and goofy, which fits both of their personalities. Simone makes a great flapper and it's fast, fun and filled with tons of cool dancing and tricks and flips. The judges loved the joy and character. Mandy thought she was a little on automatic pilot.
Judges' Scores: 10+9+9+9=37
I doubt that score will hold up for immunity, not with Rashad and Normani still to go.
Descendants 2 Performance: The show is interrupted by a performance from the cast of this upcoming Disney Channel movie. I hope it's more Teen Beach 2 (which was awesome) and less High School Musical 2 (which was awful). Yes, I'm a secret lover of DCOMs.
Nick Viall and Peta Murgatroyd: Action Argentine Tango
They assume they're going home, so they're dancing like it's their last dance. Peta brings in Maks and Nick develops a hardcore man-crush, trying to be like him. They play rival spies, but it's not all that tense or exciting. Nick is no Maks, that's for sure. Carrie Ann really loved some moments, but there was a lot of fumbling and he was hunched over quite a bit.
Judges'  Scores: 8+8+9+9=34
WTF are Mandy and Bruno smoking? That had way too many mistakes to get a 9.
Rashad Jennings and Emma Slater: Horror Paso Doble
The idea is that Rashad comes up with involves a serial killer who strangles his victims and dances with their corpses. Wow, this guy is twisted. The dancing is good, much better than Bonner's Paso, but I wish there was more story. The concept that Rashad came up with was more elaborate than the dance itself and I would've liked more horror. Carrie Ann critiques his lines and posture a bit.
Judges' Scores: 9+9+10+9=37
Ugh, Mandy is the worst guest judge ever with these absurd scores. Erin Andrews refuses to tell them that if 37 is the highest score, the tie-breaker goes to the total score, and Simone has Rashad beat.
David Ross and Lindsay Arnold: Sci-Fi Salsa
They want to have fun, which they get when Lindsay does a cartwheel and farts right into his face. HA! It's perfect. The routine is extremely odd. They play aliens and move like robots, which doesn't mesh with the Salsa at all. The moves are kind of cool, but it just doesn't work. The judges don't like the robot moves or his feet, but it's goofy and entertaining.
Judges' Scores: 8+8+8+8=32
That seems about right.
Normani Kordei and Val Chmerkovskiy: Foreign Argentine Tango
She's starting to wear down in rehearsals and the doctor tells her she needs to modify the performances to accommodate her back pain. Val always excels with this style and Normani has the legs and passion to pull it off. It's riveting and well danced and the judges all make it clear that she's getting immunity. It was very good, but the judges go a little overboard. Things get weird when Val openly says that the scores don't matter, it's about entertaining the audience.
Judges' Scores: 10+10+10+10=40
As expected, Normani and Val win IMMUNITY! And they get 3 extra points.
The Dance-Offs
As before, America is live-voting with the results showing up behind the couples dancing wt the same time. The winner in each round gets 2 extra points. America's vote will appear fifth with the winning percentage.
Simone and Sasha vs. Nancy and Artem: Cha-Cha-Cha
It's the battle of the Olympians. They start at the same time, then each couple gets to dance alone for a bit. Simone is full of energy and Nancy is good, but not that good. It's very telling that the viewer vote shows Simone way ahead the whole time. The judges like both of them, with modern vs, classic and Bruno wrongly thinking they were doing Jives.
Judges: Simone, Simone, Simone, Simone, Simone (63%)
Poor Nancy, she never stood a chance.
Rashad and Emma vs. David and Lindsay: Jive
Football vs. baseball, the great sports debate. This isn't even close. Rashad is great and David is kind of goofy and not that good. The fascinating part is how close the viewer votes seem, with David starting way ahead. I suspect he's getting a lot of votes, maybe even enough to sneak into the finale. The judges liked the enthusiasm and joy the whole time.
Judges: Rashad, Rashad, Rashad, Rashad, Rashad (54%)
These dance-offs are so lop-sided.
Nick and Peta vs. Bonner and Sharna: Rumba
Nick had better movements, but Bonner had better passion. Neither was great, but Bonner appeared to dominate the viewer voting from start to finish. That's interesting and this is definitely the closest dance-off yet.
Judges: Bonner, Bonner, Bonner, Nick, Bonner (62%)
Hey, at least there was a little disagreement.
THE RESULTS
Normani and Val are safe, but one-third of the remaining coupes are going home.
The first couple SAFE is…Simone and Sasha!
The second couple SAFE is…Rashad and Emma!
The third couple SAFE is…Bonner and Sharna!
Wow, Bonner survives again. I did not see that coming. Sharna makes it to the Final 5 for the fifth season in a row.
The fourth couple SAFE is…David and Lindsay!
Nick Viall and Peta Murgatroyd and Nancy Kerrigan and Artem Chigvintsev ARE ELIMINATED!
Seriously? Bonner and David both outlasted Nancy? That's some nonsense. Never underestimate those blue-collar voters who love bull riding and baseball. And never underestimate Sharna and Lindsay, two pros who always go far while Artem has never made it to the Top 5.
THE LEADERBOARD
43: Normani Kordei
39: Simone Biles, Rashad Jennings
32: David Ross
31: Bonner Bolton
Dancing with the Stars airs Mondays at 8/7c on ABC.
(Image courtesy of ABC)