It's time to say "Adios" to one couple from Dancing with the Stars season 22. The Top 12 will all perform in week 2 with their Latin Night routines and, at the end of the evening, one pair will become the first eliminated couple of the season.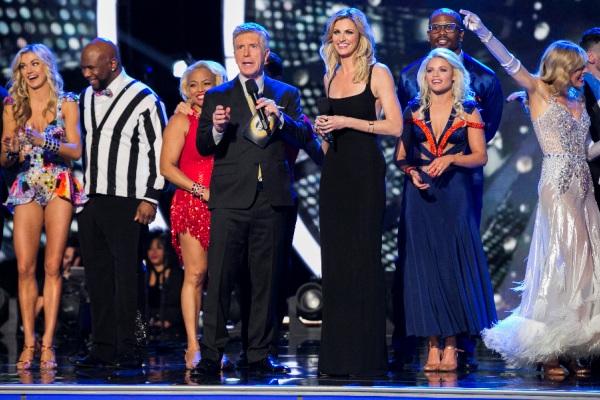 Given last week's leaderboard, Geraldo, Doug, and Mischa are the only three stars with anything to worry about. Which of them will go home? Will Len Goodman finally dust off his 8-paddle? And will Mark Ballas dance despite his recent injury? Let's find out.
LIVE…from Hollywood, this is Dancing with the Stars!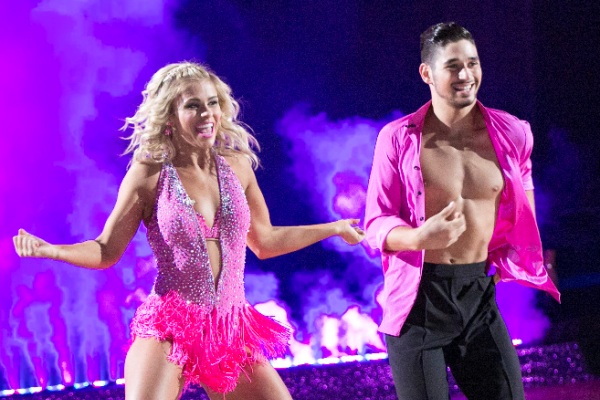 Mark is MIA from the introductions. But Tom Bergeron teases that we'll learn more about what that means later.
Jodie Sweetin and Keo Motsepe: Samba
She's already feeling pressure and was disappointed by the 6 she got last week from Len. Come on, girl, it's too early to be crying in rehearsals. There's lots of fire and very little fabric. Jodie gets off to a solid solo start and she brings a bit of the sexiness required for the night. She still has to let loose some more. In some ways, she's very similar to Alexa PenaVega from last season. Len Goodman appreciates Keo's Samba content. Bruno Tonioli and Carrie Ann Inaba need her to stop tensing up.
Judges' Scores: 7+7+7=21
At least she went up 1 point from last week.
Marla Maples and Tony Dovolani: Argentine Tango
Tony is in awe of Marla's all-organic diet and lifestyle. Well, "awe" is the polite way of putting it. Marla is hot as heck and this dance is a showcase for her legs. She stumbles once or twice with the leg placement and balance, but there's no denying that she's one sexy lady, not just for someone in her freaking 50s. Bruno wants her to be down and dirty and Carrie Ann wants better movement in between the poses.
Judges' Scores: 7+6+7=20
Ouch, she goes down a point thanks to the extremely harsh Len.
Geraldo Rivera and Edyta Sliwinska: Salsa
They're doing a parody with Geraldo as President Donald Trump. Can we start a #NeverGeraldo campaign? It starts with a comedy scene of Trump talking to Putin, then Edyta as Melania walks in and the Oval Office is transformed into Mexico with a Mariachi band. So did the Wall never get built? It's as absurd and ridiculous as Trump's actual campaign. It's funny and kind of entertaining, and he moves a little bit more than last week, but it's still terrible. Len describes it as "trumpery," which literally means "showy, but worthless." Bruno and Carrie Ann also use the opportunity to make unabashedly anti-Trump jabs.
Judges' Scores: 5+4+4=13
Just as low as last week.
Paige VanZant and Alan Bersten: Salsa
Mark is in the house, but he can't dance due to a back injury yesterday, so troupe member Alan Bertsen is filling in. The routine has lifts and Paige isn't sure Mark is strong enough to do it, but getting a new last-minute partner is even harder. She's sexy and flirty and has no problem rubbing up against a new guy. The dance is really good, even without the fact that she's performing with a substitute. Len calls it the best dance of the season so far and he's not wrong. Bruno still needs her to stop getting ahead of the music.
Judges' Scores: 8+8+8=24
Len finally gives out his first 8 of the season! And Mark is getting scans tomorrow to decide his future in the competition.
Antonio Brown and Sharna Burgess: Rumba
This style is slower and more intimate, which means a lot of rubbing. Antonio has a very sexy swagger. I'm starting to think I was wrong about Von doing better than him. The judges think he moves well and has great chemistry with Sharna, but he needs more work on the technique of Rumba. Carrie Ann makes her first arrest as a member of the Lift Police.
Judges' Scores: 6+6+7=19
Ouch, not great. The same scores as last week from Len and Bruno, but Carrie Ann dropped him 2 whole points.
Kim Fields and Sasha Farber: Salsa
Like Jodie, she's very hard on herself. They dance to Gloria Estefan and Sasha sets up a Skype session with the singer to make Kim happy. She's still sassy but drags a little during the routine and by the end, she slips up and stops when the camera goes around her. It's a noticeable mistake that kind of sours the routine.
Judges' Scores: 7+6+6=19
I'm surprised Carrie Ann was so generous.
Nyle DiMarco and Peta Murgatroyd: Rumba
Peta keeps pointing out that everyone knows how good he is now, so they need to step it up. They put Antonio and Sharna to shame with a classy, elegant, and stunningly beautiful Rumba. Unfortunately, there's a very big and obvious lift at the start. Len finds it hectic and too fast for him. Carrie Ann thought he didn't match the tone of the song.
Judges' Scores: 7+6+7=20
Wow, that's a 3-point drop.
Mischa Barton and Artem Chigvintsev: Cha-Cha-Cha
Mischa is like, whatever. Wow, she is coming across as a major drama queen and beeyotch. She's a master of passive aggression. She quickly proves that last week was not a fluke. She does a little more dancing, but it's very clumsy. She blames it on not hearing the music. Why is she even here? She doesn't seem to be having any fun at all and she makes a million excuses. At least Geraldo doesn't appear to be dancing against his will like Mischa does.
Judges' Scores: 5+5+5=15
Somehow it's even worse than her score from last week.
Von Miller and Witney Carson: Cha-Cha-Cha
Von gets fined $100 every minute he's late to rehearsal and every time he farts. Make that money, girl (which she's donating to charity)! The dancing is quite stilted, but there's something goofy and charming about him. I know he's a Super Bowl MVP, but is it possible that he's a blerd (black nerd)? He definitely lacks the swagger of Antonio. Carrie Ann wants him to dance bigger and Len found some funny bits in it.
Judges' Scores: 7+6+7=20
Man, these are some tough scores for week 2.
Wanya Morris and Lindsay Arnold: Salsa
He's on the road with Boyz II Men, making rehearsals harder. Wow! I wasn't sure if last week was a one-time thing, but Wanya delivered again. This was a fun and exciting Salsa with Wanya crushing it with his fast footwork and arms. The judges thought it was full of greatness. He's probably the biggest threat to everyone and he's already lost 15 pounds.
Judges' Scores: 8+8+8=24
WTF? That 100 percent deserved a 9. Heck, it deserved three 9s.
Doug Flutie and Karina Smirnoff: Paso Doble
His cheerleader/dancer daughter shows up to help with rehearsals and he talks about getting inspiration from his son with Autism. He's far from great and it's mostly just him walking around, but he walks with purpose. He really gets into the attitude of the Paso, very dramatic, powerful, and masculine. He definitely wins Most Improved. Carrie Ann points out that it was simple, but that played to his strengths.
Judges' Scores: 7+6+7=20
That's a 5 point increase from last week, which is about two points too generous. No way was that as good as Nyle or Marla.
Ginger Zee and Val Chmerkovskiy: Samba
It's hard to find her sexiness again after recently having a baby. It starts with Val picking her up on a bench with a flower and the set-up feels very Derek Hough-ian. She does a decent job and moves well, but it's kind of light and airy. Len really loves the content and the other judges praise her for not letting it obvious that she made some faults.
Judges' Scores: 7+7+7=21
That seems right. And this is the first time since season 13 that no 9s were given in the first two weeks.
The Results
I like that they didn't do results during the competition. Instead, they waited until the end of the night to reveal everything.
The first couple IN JEOPARDY is…Mischa and Artem!
The second couple IN JEOPARDY is…Geraldo and Edyta!
The third couple IN JEOPARDY is…Doug and Karina!
Of course they are. No surprises tonight.
Geraldo Rivera and Edyta Sliwinska ARE ELIMINATED!
Wow, even though they were at the bottom of the leaderboard, I didn't expect it. And poor Edyta, coming back after a six-year absence just to get kicked off right away. But he was, objectively, the worst dancer of the season.
Next week it's the Most Memorable Years, so get ready to cry. And get ready for Mischa to get the boot she probably deserved to get this week.
The Leaderboard
24: Paige VanZant, Wanya Morris
21: Jodie Sweetin, Ginger Zee
20: Marla Maples, Nyle DiMarco, Von Miller, Doug Flutie
19: Antonio Brown, Kim Fields
15: Mischa Barton
(Image courtesy of ABC)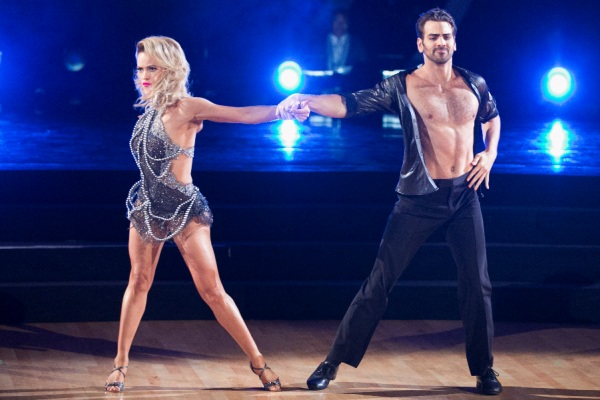 Discover the latest on Dancing With The Stars on BuddyTV
BuddyTV is your source for Dancing With The Stars show info, recaps, and more. Check out Everything You Need To Know About Dancing With The Stars for a complete guide to the show!