Are you ready for some dancing action? I hope so because Dancing with the Stars season 21 doubles up on everything! The couples will all perform two dances, with one during a special performance show. There will also be two eliminations, one based on the previous week's scores and one following based on that night's scores and votes.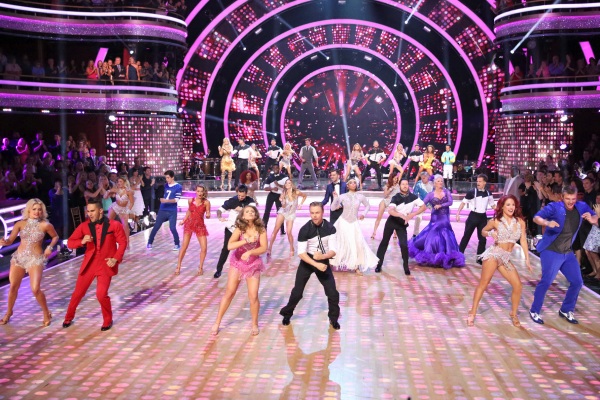 For night 1, all 13 couples will perform again, this time with the stars celebrating their hometowns. Who will stay at the top, who will take a dip, and which one of the Bottom 5 couples will be eliminated?
LIVE…from Hollywood…this is Dancing with the Stars!
Nick Carter and Sharna Burgess: Jive
Nick is from Tampa, Florida and his routine is dedicated to a teacher who inspired him t dance as a kid. He has plenty of boogie and woogie, but there was a little slip from his shoes. It caused some messiness and I think he could also work on his arms and extension. The judges harp on the rough footwork and not being in sync, but they liked his performance ability. They need him to stop getting stuck in his head and overthinking everything.
Judges' Scores: 7+7+7=21
He's down 3 points from last week, but still solid.
Paula Deen and Louis van Amstel: Rumba
She's from Savannah, Georgia and loves how beautiful and magical it is. She's all about Southern hospitality and is looking for redemption. It's jerky in parts, but unexpectedly sensual. She does much better when there are limited movements. The judges are impressed, but it's still not that great and needs a lot of work on technique.
Judges' Scores: 7+6+6=19
Paula goes up 4 points, yet the audience boos the scores.
Hayes Grier and Emma Slater: Foxtrot
Hayes is from North Carolina and it's cute how he acts like his hometown shaped who he is. He's STILL being shaped, he's only 15. His mom is there and there are plenty of tears. The gawky teenager thing works well for him. He has great lines and smooth moves at times, but he also has a few hiccups along the way. Julianne Hough points out that he seems to stop between moves and needs to keep the fluidity the whole time. Bruno Tonioli loves Hayes' ballet arms. The judges are smart to offer specific technical criticisms because he really is a diamond in the rough.
Judges' Scores: 8+7+7=22
He's such a mama's boy and it's very sweet. I really didn't expect to like this kid as much as I do.
Chaka Khan and Keo Motsepe: Foxtrot
She's from Chicago and is confident that she will improve. It's nice that a terrible score didn't get her down. Sadly, she didn't really improve. There's not much dancing and when there is, she clearly forgot a few moves and wasn't sure what she was doing. The judges try to be polite by saying she did improve a bit, even though she hit a few rocks. Carrie Ann Inaba thinks there will be something special if she can remember her choreography.
Judges' Scores: 5+5+5=15
The audience boos, but it's still a 2 point improvement.
Andy Grammer and Allison Holker: Jive
He's from New York and loved the hard work of trying to make it in that big city. He's very good with a lot of fun energy. His extensions still need some work, but he definitely improved quite a bit and attacked the dance with ferocity. However, that ferocity led him to lose timing a lot and the judges criticize him a lot for being offbeat. Oh well, it was extremely entertaining, even if the judges hated the timing and technique.
Judges' Scores: 7+7+7=21
Even with the critique, he still tied last week. I hope he gets a lot of viewer votes because I'm in love with him.
Kim Zolciak and Tony Dovolani: Quickstep
She grew up in Connecticut, but she's lived in Atlanta for the past 16 years. Juggling six kids with rehearsals is tough. It's a HUGE improvement over last week because we can see her and she doesn't look like someone shot her with a tranquilizer dart right before the performance. The judges rave about her comeback. It's quick, solid, and a really good first performance, assuming we can all forget about last week.
Judges' Scores: 7+6+6=19
That's a 7 point improvement.
Alek Skarlatos and Lindsay Arnold: Jazz
He's from Sacramento and, once again, it's all about the train. He does weird and silly sound effects during rehearsals. They dance on a front porch and there are a lot of power lifts. I have no idea what makes this Jazz instead of Contemporary. It's fine, but I'm not willing to praise him the way the judges do until I see him do more traditional ballroom styles.
Judges' Scores: 8+7+8=23
And he's at the top of the leaderboard so far.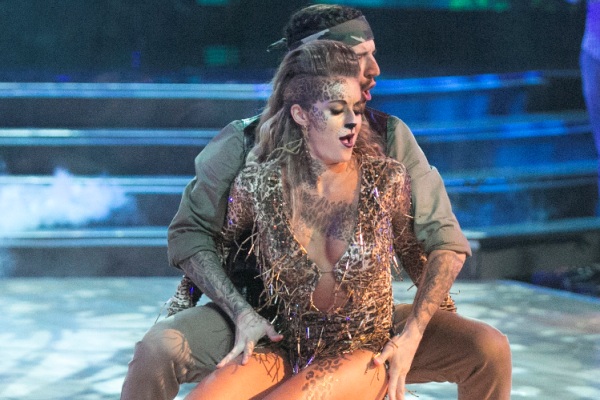 She needs to get her head in the game and stop worrying about her husband Carlos. She's from Florida and comes from a Columbian family, so Salsa is in her blood. She plays a leopard to Mark's hunter and it's feisty, sexy, and extremely entertaining. She definitely has that boiling Latina rhythm. The judges love that it was wild and wonderful. This is why I picked her to win because everything is already working for them.
Judges' Scores: 8+8+8=24
I kind of expected a 9, to be honest.
Victor Espinoza and Karina Smirnoff: Jive
He's from Mexico on a farm. He's fiery and quirky, dancing to "La Bamba." It's another very entertaining mess. He's very committed to having fun and he's extremely goofy, but not good at dancing at all. The judges all had a great time watching it, even though it was terrible.
Judges' Scores: 6+5+6=17
The audience boos, but that score was generous.
Tamar Braxton and Val Chmerkovskiy: Cha-Cha-Cha
Tamar isn't into the thrusting and booty popping. She has superb moves with lots of sexy hip action. She's the real deal when it comes to dancing. Julianne and Carrie Ann think they're actually worse together than when Tamar is dancing by herself. For some reason, I feel like she's on her way to being this season's surprising early eviction,
Judges' Scores: 8+8+8=24
She ties Alexa at the top.
Gary Busey and Anna Trebunskaya: Foxtrot
He grew up in Tulsa, Oklahoma, where football was everything. This is a much more mellow Gary, sweet and sentimental as he relives his glory days. He's not terrible and seems to be having the best time ever. The judges are shocked that it actually looked like a Foxtrot, calling Anna a miracle worker.
Judges' Scores: 6+6+6=18
A slight improvement, but I wouldn't have been surprised or disappointed if they threw him a 7.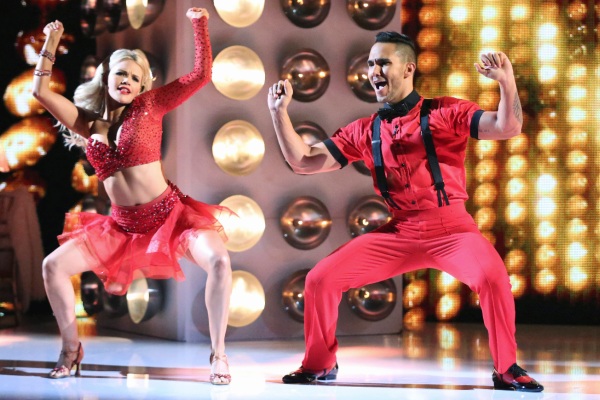 Carlos PenaVega and Witney Carson: Foxtrot
He's from Missouri, a Latin boy from the Midwest who loves country music. The dance is too short, very classy, elegant and beautiful. This is a completely different side than the fiery ball of energy we saw last week. It's a very impressive two-week run that already sets him apart as a serious contender. The judges love them and their chemistry.
Judges' Scores: 8+8+8=24
I guess the judges don't want to give out 9s yet.
Bindi Irwin and Derek Hough: Tango
She's from Australia, of course, and her alarm clock is a tiger's growl. She loves heavy metal, which is ridiculous ad cool. It's an AC/DC Tango and it's so freaking bad-ass. I didn't think I could love her more, but I do, especially since her dad loved this song. The judges loved seeing this dark side of her personality, but point out a few technical issues.
Judges' Scores: 9+8+8=25
The first 9 of the season.
The Results
The first couple IN JEOPARDY is…Chaka and Keo.
The second couple IN JEOPARDY is…Gary and Anna.
Everyone else is safe, including Kim Zolciak. That's a bit of a shock.
Chaka Khan and Keo Motsepe ARE ELIMINATED!
Are you kidding me? I know she's terrible and deserves to go, but poor Keo. He was the first pro eliminated in his first season, then he was eliminated second last season, and now he's out first again.
Tomorrow the 12 couples dance again, this time celebrating the hometowns of their pro partners before another couple gets eliminated.
The Leaderboard
25: Bindi Irwin
24: Alexa PenaVega, Tamar Braxton, Carlos PenaVega
23: Alek Skarlatos
22: Hayes Grier
21: Nick Carter, Andy Grammer
19: Paula Deen, Kim Zolciak
18: Gary Busey
17: Victor Espinoza
(Image courtesy of ABC)
Stay up to date on Dancing With The Stars with BuddyTV!
BuddyTV features news and articles for the latest seasons of Dancing With The Stars! Be sure to check out Everything You Need To Know About Dancing With The Stars for all the show info you need.