It's a spooky, scary night in the ballroom on Dancing with the Stars. On the day before Halloween, the eight remaining couples are performing scary routines and also joining forces for the team dances.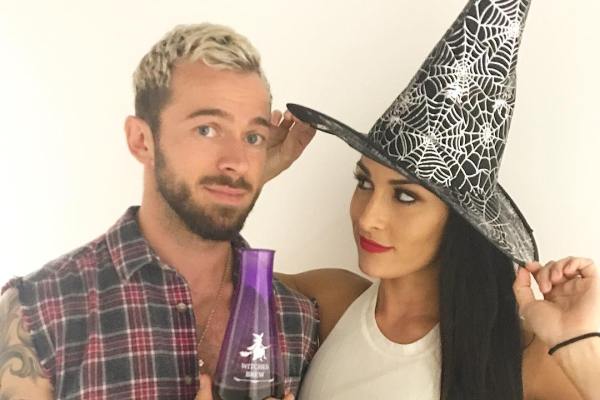 Will any of these Halloween team dances match the genius of The Nightmare Before Christmas or the "What Does the Fox Say" routines? And who will be eliminated?
LIVE…from Hollywood…this is my Dancing with the Stars live blog!
Victoria Arlen and Val Chmerkovskiy: Viennese Waltz
Val admits that for the first time in a long time his partner doesn't have a ton of dance experience, which is hard. No duh. They play a ghost couple coming back from the grave for one last dance. It's more romantic than scary, simple and elegant. The judges love the natural floating of her movement. Carrie Ann Inaba is rocking some blue hair.
Judges' Scores: 9+9+9=27
Still no 10s for them.
Jordan Fisher and Lindsay Arnold: Paso Doble
He's a werewolf hunting Little Red Riding Hood. Lindsay knows that it's her vs. Mark Ballas and she needs to step up her creativity if she wants to win. It's fierce, fast and furious, full of attack and strength. It's a fantastic story and a very inventive routine with a lot of great moves and cool breakdowns. The judges love that he went out of his comfort zone. Len Goodman admits that he watches them more carefully than any other celebrity looking for minor flaws.
Judges' Scores: 10+10+10=30
Another perfect score for them. From here to the end, anything less than a perfect score is unacceptable for these two.
Nikki Bella and Artem Chigvintsev: Jive
With a song from Hocus Pocus, she's a witch casting a spell on Artem with a magical Starbucks potion. It's cheeky, but they seem to have more fun in rehearsal than the actual routine. It's just a tad off and lacks focus. Carrie Ann points that she didn't really connect to the music and Len thought it lacked punch.
Judges' Scores: 8+8+8=24
I could definitely see them going home next week after that.
Vanessa Lachey and Maksim Chmerkovskiy: Paso Doble
Maks is a zombie trying to bite Vanessa, but she fights back. Vanessa is pretty great, but Maks gets too into playing a zombie and doesn't do much and there's too much fog. Len is correct that there's too much production value and not enough Paso content. The judges are underwhelmed and it's starting to look like Maks isn't helping her as much as he should with his choreography.
Judges' Scores: 8+8+8=24
Yikes, maybe Nikki won't be in danger next week after all.
Terrell Owens and Cheryl Burke: Tango
T.O. plays a nerdy vampire trick-or-treater who rings Cheryl's doorbell and gets into a Super Freaky Tango. I don't quite understand the premise and it makes the whole thing feel weird. There's some stiffness and some moments where he just stops. He's fine, but it's not as good as his past two faster dances.
Judges' Scores: 8+8+9=25
Not a great score. But at least Sasha Farber is dressed as a clown to scare Cheryl. Sasha's scary pranks are the best and he really needs to be a pro again.
Lindsey Stirling and Mark Ballas: Paso Doble
Lindsey seriously injured her rib last week and had to go to the hospital, putting a huge damper on their rehearsals. They play a pair of Old West ghosts robbing a bank and the routine is tough, with no troupe members to bail her out. Lindsey does a decent job, but it's clear that her injury slightly limited her performance. After it's done, she sits down and admits that she's in pain, which was obvious. It has a lot of attack, but it's a little too much for someone with a rib injury.
Judges' Scores: 9+9+9=27
That's an amazing score, all things considered. I hope she can recover this week, because I worry she can't keep this up for the rest of the season.
Frankie Muniz and Witney Carson: Contemporary
Frankie helps with the creative component of the routine because he wants to play a creepy killer terrorizing Witney, an homage to horror films like Scream. Somehow Frankie is able to pull off being super creepy and I'm very scared of him. It's a compelling story that is extremely well-executed as a dance.
Judges' Scores: 10+10+10=30
Wow, he joins Jordan and Lindsey in getting a perfect score.
Drew Scott and Emma Slater: Charleston
The routine is set at a ghoulish wedding and Drew is a tad slow and off in parts. He does well on occasion, but it's a weird and quirky dance that I'm not wild about. The judges disagree and love it. There was a fall in the middle, but the routine was so silly that the judges thought it was part of the dance.
Judges' Scores: 9+9+9=27
That did not deserve that score.
Next week is the Trio Dances and they reveal that past contestants will return to be the third partners, including Alfonso Ribeiro, Kelly Monaco, and Corbin Bleu. Ooh, that's a cool twist.
Team Monster Mash
T.O. teams up with Jordan, Lindsey and Nikki for this dance. But first, they get their results.
The first couple SAFE is…Jordan and Lindsay!
The second couple SAFE is…Lindsey and Mark!
The first couple IN JEOPARDY is…Terrell and Cheryl!
The second couple IN JEOPARDY is…Nikki and Artem!
T.O. knows he's the weak link and even Cheryl agrees. The routine is a literal maze as the stars enter a corn maze and get attacked by the pros as the monsters. It's wildly complex and intricate and they all seem to do a great job of being where they're supposed to be. There's a little too much going on with the corn moving around. The individual parts are OK, but there are a lot of group Jive segments where they lose synchronicity. Carrie Ann thinks they all pulled back to match each other and the judges didn't like the complexity. It was way too much and not enough solid dancing.
Judges' Scores: 8+8+8=24
That's the worse score Jordan will get for the rest of the season.
Team Phantom of the Ballroom
Drew joins forces with Frankie, Vanessa and Victoria, putting both Chmerkovskiys on one team. First, their preliminary results.
The third couple SAFE is…Frankie and Witney!
The fourth couple SAFE is…Victoria and Val!
The third couple IN JEOPARDY is…Drew and Emma!
The fourth couple IN JEOPARDY is…Vanessa and Maks!
These people know they're the underdogs, but they have heart and humor. It's definitely more theatrical and classical, but they aren't totally in sync and there aren't really any individual parts, it's all one big group dance. The attitude is right, but the actual dancing is underwhelming. The judges love it and Carrie Ann calls it the most exquisite team dance ever. What the hell were they watching?
Judges' Scores: 10+10+10=30
Seriously? It was better than Team Monster, but far from perfect.
THE RESULTS
It's down to Drew, Vanessa, Nikki, and Terrell.
The fifth couple SAFE is…Drew and Emma!
The sixth couple SAFE is…Terrell and Cheryl!
And then Tom Bergeron drops the hammer that it's a double elimination!
Nikki Bella and Artem Chigvintsev ARE ELIMINATED!
Vanessa Lachey and Maksim Chmerkovskiy ARE ELIMINATED!
Wow. Not only is it shocking that it's a double, but the three stars with the worst scores last week (Drew, Frankie and Victoria) all stayed while these two, who received all 9s last week, are going home. That was brutal.
THE LEADERBOARD
60: Frankie Muniz
57: Victoria Arlen, Drew Scott
54: Jordan Fisher
51: Lindsey Stirling
49: Terrell Owens
What was your favorite Halloween dance?
Dancing with the Stars airs Mondays at 8/7c on ABC.
(Image courtesy of ABC)