The nine remaining couples on Dancing with the Stars are heading to the movies once again. The pairs are performing routines inspired by different film genres, meaning aliens, cowboys, spies, and more. In addition, country singer Shania Twain is here as a guest judge.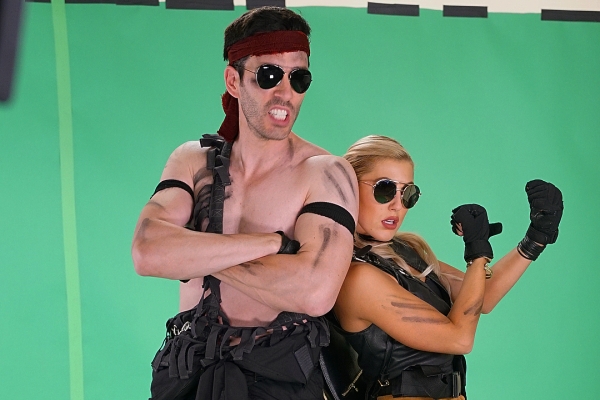 The question for the night is which couple will be eliminated and fail to reach the Halloween team dances next week. So far all of the eliminated couples have been in last or second-to-last on the leaderboard, which would mean that one of the Lacheys will go home. And can Jordan Fisher continue his impressive streak of always finishing first or second on the leaderboard?
LIVE…from Hollywood…this is my Dancing with the Stars live blog!
Shania Twain is in the house, sitting between Len Goodman and Bruno Tonioli, so her sure-to-be overly generous scores will be listed third.
Nikki Bella and Artem Chigvintsev: Foreign Argentine Tango
Nikki is getting frustrated because she knows her technique isn't as good as Jordan or Lindsey, and being vulnerable and opening herself up is hard. The dance captures the enigmatic and romantic spirit of a foreign film, but the dancing is rough. They clearly mess up a few times and it seems to frustrate her. Artem takes the blame for the stumbles and wobbles. The judges like the cinematic romantic quality.
Judges' Scores: 9+9+9+9=36
WTF? That deserved 8s.
The Results, Part 1
We're getting results throughout the episode.
The first couple SAFE is…Nikki and Artem!
The second couple SAFE is…Drew and Emma!
The third couple SAFE is…Frankie and Witney!
The first couple IN JEOPARDY is…Nick and Peta!
The second couple IN JEOPARDY is…Terrell and Cheryl!
The third couple IN JEOPARDY is…Victoria and Val!
Wow, three couples in jeopardy already?
Drew Scott and Emma Slater: Action Paso Doble
He's channeling his inner wannabe action movie star. He's using his karate skills while Emma hopes that his shared Canadian heritage with Shania will help them. The stage-fighting is pretty lame and this is a big step back for Drew. It's not as polished and refined as he's been in recent weeks. Shania is proving to be a rambling hot mess of a guest judge. The judges all call out that he lost timing and had no finesse. They get booed a lot for pointing out that it was rough and he was more focused on the action than the dancing.
Judges' Scores: 7+7+9+7=30
Well, Shania just proved that she has no business being a guest judge. I could maybe understand if she gave them an 8, but this is absurd.
Nick Lachey and Peta Murgatroyd: Western Samba
He's getting very frustrated because he knows he's the worst dancer in the competition and it makes him feel like an idiot. He tries his hardest and he's not terrible, but that's due primarily to Peta's smart choreography which adds a lot of line dancing, which he does well. He doesn't really have the Latin swagger that he needs for this dance, but the judges liked the breakdown that had nothing to do with the Samba.
Judges' Scores: 7+6+7+6=26
Yikes, 6s? Even Shania gave them a 7. It was bad, but not THAT bad. Perhaps they know he's safe tonight and are trying to ensure that he gets eliminated next week because he's getting an absurdly high number of viewer votes.
Victoria Arlen and Val Chmerkovskiy: Sports Paso Doble
It's a hockey theme, and as a treat for Canadian Shania, a shirtless Alan Bersten rides a Zamboni. In rehearsals, Victoria beats Val in a swimming race, which is just an excuse to see Val in a speedo. The concept is cool, but Victoria doesn't quite have the intensity or speed in her body to really pull this off. The judges liked it, but they didn't love it.
Judges' Scores: 8+8+7+8=31
Shania is over-correcting, or maybe she just hates Val or resents that it wasn't an accurate hockey game.
Terrell Owens and Cheryl Burke: Spy Jive
T.O. is taking on James Bond. There's a very funny segment of Terrell in bad spy costumes watching others dance. The premise is that they're spies stealing the 10 paddle from Len's house. The story is elaborate and gets in the way of the dancing, but the actual Jive parts are fun. I just wish the routine was more focused on the dancing than the story. The judges like his oiliness.
Judges' Scores: 9+9+10+9=37
Technically, he now joins Jordan, Lindsey, and Frankie in the 10 Club. But does it even count if it's from the guest judge?
Shania Twain performs her new song "Soldier," which is from a new movie which I guess explains why she's judging this theme.
Frankie Muniz and Witney Carson: Animation Jazz
Their rehearsals are super adorable, with Witney mocking him for looking creepy. It really comes across how much they like each other, like pals in a Nickelodeon show. For Animation, they're dressed like hippies and surrounded by giant, neon mushrooms. It's very silly and trippy, starting with Frankie doing the worm. He does a great job for the most part, but there are a few stumbles for Frankie in the transitions. The judges liked the psychedelic feel, but it was so jam-packed and they noticed all of the slip-ups throughout.
Judges' Scores: 7+8+8+8=31
That was a tad problematic, but I still liked it.
The Results, Part 2
We already have three couples safe and three in jeopardy, so here are the preliminary results for the remaining three couples.
The fourth couple SAFE is…Jordan and Lindsay!
The fifth couple SAFE is…Lindsay and Mark!
The sixth couple SAFE is…Vanessa and Maks!
Wow, so much for predicting that she'd be eliminated. This is bad for Nick.
Vanessa Lachey and Maksim Chmerkovskiy: Musical Quickstep
They're working a lot in rehearsals and she claims that this is the most fun they've had. The routine is fast and nonstop and Vanessa does a fantastic job keeping up and delivering a broad, over-the-top musical moment. There's a wardrobe malfunction at the start with her skirt falling off, but she doesn't let it slow her down. Carrie Ann raves about how the costume problem freed her to go wild.
Judges' Scores: 9+9+9+9=36
Her first 9s, meaning Nick is the only person left who hasn't gotten one.
Jordan Fisher and Lindsay Arnold: Drama Rumba
His gymnastic background injuries and his need for perfection are starting to take their toll. The dancing is great as always and the story is beautiful. They don't even need to set it up, it's obvious that she is playing a dead lover and he is dancing with her memory. Carrie Ann loves that his movements are part of one continuous, fluid motion. Len doesn't like Jordan's "twiddly, fiddly" hand gestures, which Lindsay defends as part of the Drama.
Judges' Scores: 10+9+10+10=39
Compared to the others, Jordan deserves a perfect score every time. But judging him on his own scale, this wasn't his best.
Lindsey Stirling and Mark Ballas: Sci-Fi Argentine Tango
Mark is playing a mad scientist creating a cyborg woman, which seems reasonable for Mark. The dance is riveting, seemingly inspired by the film Ex Machina. Lindsey is extraordinary with her robotic movements, maintaining the character the whole time. It's intense, weird, creepy, unnatural but perfect. Bruno calls it the best dance of the season, and he's not wrong. It's a perfect blend of concept, technique, and execution.
Judges' Scores: 10+10+10+10=40
Jordan got a perfect score last week, now Lindsey matches him.
The Final Results
It's down to T.O., Nick and Victoria. It's obvious which one deserves to go home (Nick).
The seventh couple SAFE is…Victoria and Val!
No duh.
Nick Lachey and Peta Murgatroyd ARE ELIMINATED!
He knows he's not a very good dancer and they definitely deserved to go. He's happy that he gets to play dad and support his wife.
THE LEADERBOARD
40: Lindsey Stirling
39: Jordan Fisher
37: Terrell Owens
36: Nikki Bella, Vanessa Lachey
31: Victoria Arlen, Frankie Muniz
30: Drew Scott
What was your favorite dance of the night?
Dancing with the Stars airs Mondays at 8/7con ABC.
(Image courtesy of ABC)