Well, maybe something good is meant to come out of this batch of changes on CSI: Miami.  Taking the cue from Eva La Rue, who was talking to TV Guide Magazine: "They're gonna go back to the first couple of years of CSI: Miami.  There's a lot more science.  David [Caruso] is back in the lab a lot more now.  They're going to go back to their initial roots."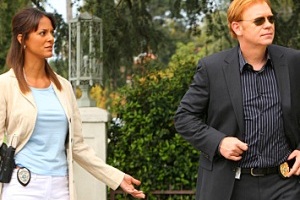 To think yesterday I was saying the show badly needs a shake-up, more because it's somehow gone the way of the soap opera as opposed to its other siblings in Las Vegas and New York.  To be honest, though, I'm pretty much-forgotten details of CSI: Miami's earlier seasons because those other two shows piqued my attention enough.  I can only accommodate so much.
But, of course, there's the step back, but the inevitable step forward.  Yes, yes, Adam Rodriguez isn't returning full time, and perhaps is to say goodbye in the middle of this season.  La Rue pretty much confirmed that, but said there's no idea at the moment on how Delko will be saying goodbye.  "He's going to be here for a little while, so we haven't had to say goodbye yet," she said.  "But it's going to be hard to say goodbye to him.  We love him!  Everybody does."
And I'm hitting my head on the desk for not seeing the connection between Delko's fate and Eddie Cibrian's entry as Jesse Cardoza.  Remember my talk about third-in-commands yesterday?  Seems he'll be filling that, especially if you consider that he's been connected to Horatio in the past.  Inevitably, he's possibly the guy who'll take Delko's place in Calleigh's heart.  "I'm kind of wondering what's going to happen with Eddie, because Emily and Adam were together last year and I'm thinking he's up for grabs," La Rue said.
So maybe we're not losing the soap opera, huh?  Delko remains in a coma, Jesse makes his move, Calleigh gets tortured deep inside…
But if there's something La Rue's promising, it's that CSI: Miami's upcoming season, which starts September 21, will be "the one to watch".  "There's been a lot of changes and it's exciting," she said.  Fingers crossed it doesn't get tagged with a huge "fail" on the face.
– Henrik Batallones, BuddyTV Staff Columnist
Source: TV Guide Magazine
(Image courtesy of CBS)