The anticipated crossover between CSI and Two and a Half Men does not come as a surprise anymore.  Ever since the idea was hatched last year, the proposed switcheroo has somewhat left fans apprehensive, but mostly excited and eager to find out how things will pan out for Anthony E. Zuiker's forensic drama as it trades writers with Chuck Lorre's sitcom.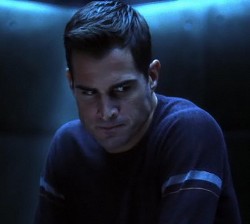 As reported previously, CSI's crossover episode will revolve around a female sitcom star who is killed by someone fed up with her back-stabbing ways.  You can now find out more about this installment, as well as Two and Half Men's crossover episode preview after the jump.
The first part of the crossover begins on May 5, with the Two and a Half Men episode called "Fish in a Drawer," penned by  CSI writers Sarah Goldfinger and Evan Dunsky from a story by CSI executive producers Carol Mendelsohn and Naren Shankar.  This installment revolves around a mysterious death at the home of Charlie Harper, played by Charlie Sheen.
George Eads, who plays crime scene analyst Nick Stokes on CSI, is set to make a cameo on the sitcom, along with guest stars Robert Wagner, known for his roles in the Austin Powers movies and Netherbeast Incorporated, and Jenny McCarthy, who is credited for films like John Tucker Must Die, Dirty Love and Crazy Little Thing.
On Thursday, May 8, CSI will be taking its turn on the crossover deal as it airs the episode "Two and a Half Deaths," written by Two and a Half Men's Chuck Lorre and Lee Aronsohn.  This installment follows Grissom (William Petersen) and the rest of the CSI team as they investigate the death of a diva sitcom star (Katey Sagal) who dies suddenly while her show is shooting in Las Vegas.  This is no laughing matter for the forensic team as the list of suspects includes the entire writing staff, her loser husband, and the actress who serves as her stand-in (Rachael Harris).

-Kris De Leon, BuddyTV Staff Columnist
Source: CBS, TV Guide
(Image courtesy of CBS)