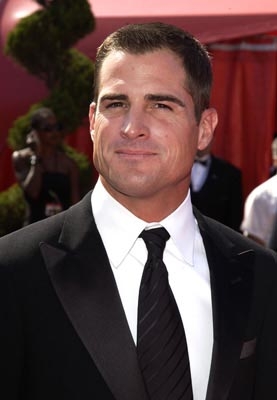 DATE OF BIRTH
March 1, 1967
BIOGRAPHY
George Coleman Eads was born on March 1, 1967 in Fort Worth, Texas. He spent his formative years in Belton, Texas and acquired his diploma from Belton High School. He pursued his tertiary education at Texas Tech University, where he joined the Phi Delta Theta fraternity and from where he graduated with a degree in marketing. With the aim of building his acting career, Eads relocated to Los Angeles on his stepfather's truck, and made his big screen debut in the 1994 film Dust to Dust.
A year later, he began appearing on television, having first been cast in the role of J.R. Dean in the series, Strange Luck. He then appeared as Nick Corelli on the primetime drama Savannah, and despite his character's death in the first episode, the viewers' positive response to Eads compelled the producers to show him again through flashbacks, and to eventually introduce him as an identical twin. He used the money from his stint in Savannah to buy himself a new truck, as the headlights on his stepfather's vehicle were broken. His subsequent television roles were on the shows ER and Grapevine and on made-for-tv movies such as The Ultimate Lie, Crowned and Dangerous, The Spring, Just a Walk in the Park, Second String, Monte Walsh and Evel Knievel.
In 2000, Eads started appearing in the CBS hit series, CSI: Crime Scene Investigation. He is known popularly for his portrayal of CSI Nick Stokes, and out of all his co-stars, Eads admitted that he enjoyed working with Marg Helgenberger the most. Despite the success he gained from the show, Eads almost lost the role in 2004, when he and co-star Jorja Fox failed to arrive on set on time. As a result, they were fired from the show, but the conflicts were settled in just over a week.
PLACE OF BIRTH
Fort Worth, Texas
BIRTH NAME
George Coleman Eads III
GENDER
Male
FUN FACTS
-George owns a Golden Retriever, which he named Maverick.
-At one time George held a job in a gym putting away weights and cleaning.
-When he was a college student he worked nights at a hamburger joint. One night two guys came in and put a gun against his forehead. He used this experience as inspiration when a gun was held to his head in the CSI episode Who Are You.
AWARDS
He's nominated for TV Teen Choice Actor 2006.
George was runner up for "Sexiest Brainiac" in TV Guide's The Sexy Issue (2007).
FILMOGRAPHY
2010: Young Justice (TV series) – Barry Allen / The Flash
2000-2011: CSI: Crime Scene Investigation (TV series) – Nick Stokes
2008: Two and a Half Men (TV series) – George
2004: Justice League (TV series) – Captain Atom/Nathaniel Adam/Robber #2
2004: Evel Knievel (TV movie) – Evel
2003: Monte Walsh (TV movie) – Frank 'Shorty' Austin
2002: Second String (TV movie) – Tommy Baker
2002: Just a Walk in the Park (TV movie) – Adam Willingford
2000: Grapevine (TV series) – Thumper Klein
2000: The Spring (TV movie) – Gus
1997-1998: ER (TV series) – Paramedic Greg Powell
1997: Crowned and Dangerous (TV movie) – Riley Baxter
1996-1997: Savannah (TV series) – Nick Corelli
1996: The Ultimate Lie (TV movie) – Ben McGrath
1995: Strange Luck (TV series) – J.R. Dean
1994: Dust to Dust – Black Wolf
HEIGHT
5′ 11″ (1.80 M)
QUOTES
-My TV's always on SportsCenter, Comedy Central or the Discovery Channel.
-I think in this business, the more you let it go the more it kind of seems to come back to you.
– I think people would be surprised at how much we curse when we screw up. I'm like somebody with Tourette's Syndrome.
-It would take a lot of guts for a guy to stalk me. I'd pretty much take care of that problem myself.
PHOTOS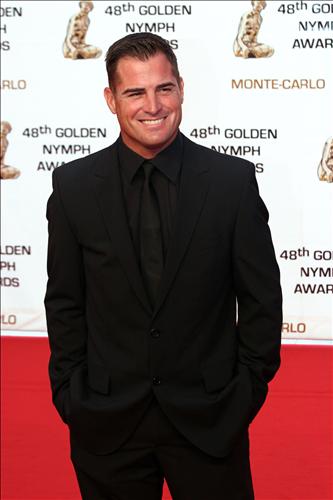 (Photo courtesy of CBS)