Pilots are the first and most essential steps in creating a show. They must entice potential viewers while introducing characters, setting up plotlines, and conveying the overall feel of what is to come with future episodes. It can be challenging for even experienced producers—many television series never make it past their pilots due to subpar writing or simply not connecting with viewer interests.
Related: 10 Best Series Finales of All Time, Ranked by Viewers
But when done right, pilot episodes become iconic flag-bearers for entire TV shows; IMDb users have rated some highly among their all-time favorites. From intense action sequences to humor that sets the tone early on (think Friends), great pilots will always stay burnt into our memories as we look forward to more exciting adventures within any given story universe.
These are viewers' all-time favorite TV series pilots as of 2023.
Top 10 Best TV Pilots According to IMDb
Game of Thrones (2011) "Winter Is Coming" – 8.9
The Newsroom (2012) "We Just Decided To" – 9.0
Breaking Bad (2008) "Pilot" – 9.0
This Is Us (2016) "Pilot" – 9.2
Lost (2004) "Pilot: Part 1" – 9.2
Mr. Robot (2015) "eps1.0_hellofriend.mov" – 9.2
The Walking Dead (2010) "Days Gone Bye" – 9.2
The Last of Us (2023) "When You're Lost in the Darkness" – 9.2
Fargo (2014) "The Crocodile's Dilemma" – 9.3
Chernobyl (2019) "1:23:45" – 9.4
10

Game of Thrones: "Winter Is Coming" (2011)
IMDb: 8.9/10 51K
Genre: Action, Adventure, Drama
The Game of Thrones pilot episode was a stroke of genius. Ever since its debut in 2011, it earned immediate acclaim and has since become one of the most beloved episodes ever aired on television. Written by David Benioff & D.B. Weiss, having been filmed twice due to unsatisfactory results with the first take, this opening sequence immerses viewers into Westeros & Essos while establishing families and relationships that will later form long-standing alliances or follow divergent paths altogether as time progresses through seasons.
Game Of Thrones "Winter Is Coming" (HBO)
It begins with members from House Stark discovering wolf pups before tracking down an escaped member associated with White Walkers; King Robert Baratheon (Mark Addy) visits them shortly after for political purposes, yet their true desires are never fully revealed until late season three when Sansa (Sophie Turner) gets married off against her wishes. The Lannisters maintain a tricky relationship involving multiple hidden secrets, which stands out: Cersei's (Lena Headey) affair alongside brother Jaime (Nikolaj Coster-Waldau), who becomes an experienced swordsman over eight years working towards achieving his aim even if he fails at times…
Finally, shocking twists include Bran (Isaac Hempstead Wright) falling accidentally whilst climbing tower walls accompanied by a breathless sense of urgency showcasing potential danger existing beyond familiar confines throughout the series run up till the finale containing surprise betrayals amidst complex narrative threads blending together elements to intrigue suspense right 'till the end credits roll leaving the audience wanting more closure thus providing satisfying conclusion worthy such accomplishments achieved during eight years.
9

The Newsroom: "We Just Decided To" (2012)
IMDb: 9.0/10 4K
Genre: Drama
The Newsroom, the critically acclaimed series created by Aaron Sorkin ("The West Wing"), was a hit from 2012 to 2014. The show follows news anchor Will McAvoy (Jeff Daniels) as he shakes up his professional life with an incendiary monologue questioning whether America is still the "greatest country in the world." Along this wild ride are Emily Mortimer and Dev Patel's characters, which provide plenty of witty banter and drama that keeps viewers engaged.
The Newsroom S01E01 - We just decided to
Watching it reminds us how much we have changed since only ten years ago when politics were tamer compared to today – making The Newsroom even more timely given our current state of affairs.
8

Breaking Bad: "Pilot" (2008)
IMDb: 9.0/10 39K
Genre: Crime, Drama, Thriller
The initial installment of Breaking Bad (named "Pilot") introduces viewers to Walter White (Bryan Cranston), who is seen in an RV wearing only his underwear and a gas mask. As he hears the far-off wails of sirens, Walt records a final goodbye message for his family before reaching out and pulling up a gun. It's one helluva way to kickstart any TV show; right then, Vince Gilligan sets not just tone but also expectations – this won't be your typical Weeds or CSI clone. This will be something more than that: it'll come across as a Shakespearean tragedy without losing touch of its entertainment factor.
Why The Breaking Bad Pilot Still Rules
Gilligan was responsible for writing as well as directing the very first installment of Breaking Bad, which unfurls around Mr. White, who, upon discovery about having cancer, chooses Jesse Pinkman (Aaron Paul), one of his former learners, to generate and distribute crystal meth so that there remain sufficient funds when he finally passes away from earthy shores. The awesomeness of this opening installment wasn't overlooked by critics who bestowed accolades galore. What followed over the next five years was an exceptional 16 Emmy Awards, 4 of which went straight into Bryan Cranston's pocket.
7

This Is Us: "Pilot" (2016)
IMDb: 9.2/10 7K
Genre: Comedy, Drama, Romance
This Is Us is a captivating family drama that follows the lives and struggles of triplets Rebecca (Mandy Moore), Randall (Sterling K. Brown), and Kevin (Justin Hartley). The show jumps between their childhoods to modern-day adulthood, showing how events from the past affect their present life decisions.
The series was well-received by critics as it provided a festive break away from other bleak dramas on television at the time of its 2016 launch. Sterling K. Brown's mystifying performance earned him an Emmy Award for Outstanding Lead Actor In A Drama Series in 2017 – cementing itself into one of TV's greatest success stories right up until the year when it finally ended after six successful seasons full of emotion-packed storylines which kept viewers hooked throughout each episode.
6

Lost: "Pilot: Part 1" (2004)
IMDb: 9.2/10 12K
Genre: Adventure, Drama, Fantasy
The classic ABC series Lost has become iconic for its thrilling story of survivors trapped on a seemingly deserted island following the crash of Oceanic Airlines Flight 815. Created by J.J. Abrams, Jeffrey Lieber, and Damon Lindelof, this two-part pilot episode introduced viewers to an intriguing cast through flashbacks before launching into six full seasons that earned 10 Emmy Awards in total.
The journey began when 18.6 million people tuned in with anticipation in September 2004 – no one knew then how captivating it would be as secrets from both past and present slowly unfolded over time! From alliances formed between stranded passengers to mysteries hidden within the landscape, each episode left fans wondering what was coming next as they anxiously awaited their rescuers' arrival.
5

Mr. Robot: "eps1.0_hellofriend.mov" (2015)
IMDb: 9.2/10 17K
Genre: Crime, Drama, Thriller
In 2015 viewers were introduced to USA Network's original series "Mr. Robot," featuring star actor Rami Malek's portrayal of computer vigilante hacker Elliot Alderson diagnosed with social anxiety disorder. When a mysterious figure called Mr. Robot (Christian Slater) tries recruiting Elliot's help, he finds himself stuck between balancing stability and fulfilling desires.
Mr. Robot: Season 1, Episode 1 - (Spoiler) 'It's Happening'
Rami Malek's acclaimed performance in Bohemian Rhapsody may be iconic, but his most complex character is Elliot Anderson from "Mr. Robot." At its core, this show follows the journey of a socially anxious and deeply cynical hacker who seeks to wreak havoc on an unethical E-Corp he believes has taken over the world by monopolizing wealth and power.
Sam Esmail knew precisely what he was getting when casting Malek for this role: "[he] auditioned with this vulnerability," says Esmail, "it made me want to reach out and hug him." The exceptional work portrayed by Rami Malek finally reached a new peak winning the Emmy Award for Outstanding Lead Actor In A Drama Series, alongside other awards earned by the entire cast.
4

The Walking Dead: "Days Gone Bye" (2010)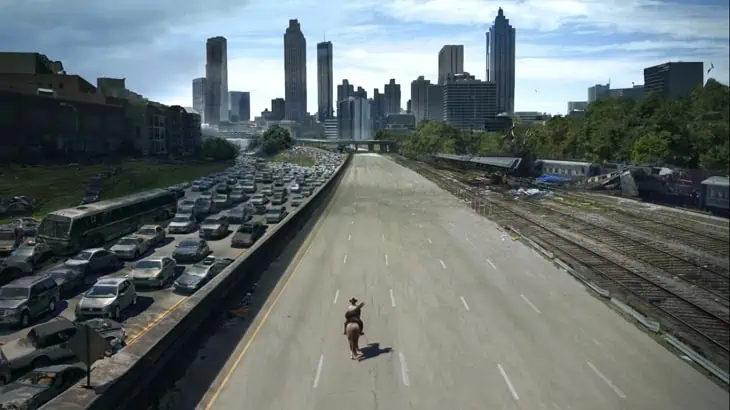 IMDb: 9.2/10 27K
Genre: Drama, Horror, Thriller
The zombie apocalypse series, "The Walking Dead," launched with its iconic pilot titled "Days Gone Bye" in 2010 and is the longest-running show on this list.
The Walking Dead season 01 Episode 01: "Days Gone Bye"
After being shot in the line of duty, Deputy Sheriff Rick Grimes (Andrew Lincoln) awakens in an abandoned hospital to find alarming signs around him. The officer quickly realizes that everything has changed and sets off on a mission back home, hoping his wife and son are still alive. Along the way, he is suddenly surrounded by terrifying creatures – zombies!
To escape this fate, Morgan Jones (Lennie James) reveals that these monsters usually start with infection, followed by re-animation as they hunt for human flesh to survive. Desperate times lead them both towards Atlanta, where Rick can hopefully reunite with his family but is met only by more zombie hordes until finally….a voice over the radio brings hope amidst despair.
3

The Last of Us: "When You're Lost in the Darkness" (2023)
IMDb: 9.2/10 106K
Genre: Action, Adventure, Drama
Set in 2003, the world was thrown into chaos as a parasitic fungal outbreak ravaged countries everywhere. Joel Miller attempted to flee this escalating disaster with his daughter and brother in tow. Fast-forward twenty years later, we now find ourselves caught up in the totalitarian regime of an unforgiving society where our protagonists – hardened survivor Joel and his partner Tess – struggle daily for survival against impossible odds amidst those who seek refuge within its walls: The Fireflies.
Episode 1 - "When You're Lost in the Darkness" | The Last of Us Podcast | HBO Max
The critically acclaimed video game series "The Last of Us" has become one of gaming's most iconic titles over the past decade since it was first released, thanks mainly due to its intricate narrative detailing makeshift father-daughter relationship that struck a chord amongst players worldwide at various stages both young and old alike.
Showrunner Neil Druckmann, alongside Craig Mazin (Chernobyl HBO Series), promised nothing short of excellence upon launching their upcoming TV adaptation, which they delivered through its explosive debut episode.
Blessed with an 80-minute running time plus an all-star cast featuring talented actors such as Pedro Pascal & Bella Ramsey playing key characters like Joel Millar & Ellie, respectively – This premiere episode unleased record-breaking numbers in viewerships on HBO Max, leading many fans, new or otherwise thankful for not just instantly another well-made production but also authentic continuation outside the beloved videogame universe too.
2

Fargo: "The Crocodile's Dilemma" (2014)
IMDb: 9.3/10 15K
Genre: Crime, Drama, Thriller
Highly praised by critics for its innovative take on the Coen brothers' movie of the same title, the FX show "Fargo" started in 2014. It follows interconnecting stories of murder and greed leading to North Dakota city.
Fargo Season 01 Episode 01 - The Crocodile's Dilemma
The cast includes Academy Award Winner Billy Bob Thornton as Hitman Malvo, who meets hapless insurance salesman Lester Nygaard (Martin Freeman).
Things take a deadly turn in the first episode when murders occur and police investigate, leading to further unraveled mysteries each season. New characters enter this sinister yet humorous world inspired by Joel & Ethan Cohen's original film noir masterpiece.
1

Chernobyl: "1:23:45" (2019)
IMDb: 9.4/10 54K
Genre: Drama, History, Thriller
The HBO series Chernobyl has been met with incredible critical acclaim. It was awarded 10 Emmys and nominated for nine more, making it one of the most awarded television pilots ever created. It centers around the 1986 nuclear power plant explosion within USSR Ukraine, offering a deep dive into how it was handled by those with authority to do so and shining light on government corruption at play during this period.
Led by veteran actor Jared Harris (Mad Men) playing Legasov – an official brought in to assess and solve any issues associated with the disaster – audiences are taken through a roller coaster journey from start to end filled not only danger but redemption too. While rooted firmly in historical events, there's no doubt Chernobyl is beautifully crafted storytelling craftsmanship of its own standing that still carries relevance today.