The audition rounds of America's Got Talent have finally come to an end, which means that every act we see from here on out should have at least a modicum of talent. That's assuming that judges Piers Morgan, Sharon Osbourne and Michael Knight, aka the Hoff, were actually paying attention when they let people through to Vegas. It's possible they were zoning out, thinking of the olden days of Baywatch, The Osbournes, and whatever Piers Morgan did before becoming the low-rent version of Simon Cowell. If that was the case, we may have to suffer through more shaky singers, cheesy magicians and wacky celebrity impersonators.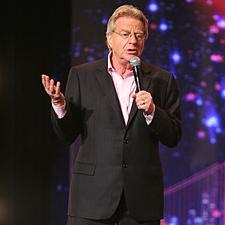 Tonight's two-hour episode sends all the America's Got Talent hopefuls to Las Vegas, where they'll compete in the hopes of securing a place in the top 40.
All 113 acts gather at the performance theater to see the judges, who remind them that $1 million and a chintzy Vegas show are on the line. The trio is going to review each act's audition tape, then decide who to send home immediately and who to move on to Vegas Week. I guess they just flew a bunch of people out to Vegas for nothing, because apparently NBC has cash to burn.
Now that they're jazzed to crush some dreams, the judges stay up late into the night watching videos and deciding who should head back to the airport. They eliminate 19 groups the next morning, but don't worry, the Sinatra and Ozzy Osbourne impersonators make the cut. Each act now has one chance to wow the judges and attempt to make it into the top 40.
Similar acts are grouped together and called out to the stage together, where they watch each other perform for the judges. Speedy brick-breaker Kevin Taylor has kicked things up a notch since the audition rounds. Instead of busting bricks with his hands, he can now do it with his head! I guess that's some sort of improvement. Dan Meyer, who's known for his sword swallowing skills, also makes things crazier by shoving a curved sword down his throat. While I'm tempted to indulge in crude sexual innuendo, I'll instead ask the one question on my mind: How does one learn to swallow swords, anyway? It's not like you can just practice it at home when you're a kid, and there are no sword swallowing classes that I'm aware of. Maybe it's best if I don't know.
Just when things are about to get boring, the celebrity impersonators take the stage. First up is one of the great battles of modern times: Boy Britney versus Boy Tina Turner! Boy Britney performs to "Gimme More," but he automatically loses points with me for cutting out "It's Britney, bitch" at the beginning. Boy Tina is next, but I guess he's more of a Man Tina since he's 37-years-old. Neither of them impress the judges, nor does Elvis impersonator Joseph Hall.
Magician David Martin didn't wow Piers Morgan the first time, but maybe the second time is the charm. He removes a woman's torso in an incredibly fake way, then claims his mistakes were all part of the act. Piers sees right through him. A montage of horrible variety acts shows a man with a giant snake puppet that sings Queen's "Bohemian Rhapsody." I'm frightened.
The child acts are up next. Victoria Jacoby is an adorable contortionist who can do some very freaky things with her body. Jerry Springer thinks her performance was beautiful, but Piers says the same thing he's been saying all night: "It wasn't nearly as good as the first time." A kid named Shakes comes out next and dances to MC Hammer's "U Can't Touch This," which causes me to flash back to my elementary school days when I would dance to the Please Hammer, Don't Hurt 'Em cassette tape in my bedroom. It was cool back then, I swear!
It's time to decide who to cut and who to put through to the top 40. Gone is brick-breaking Kevin Taylor, magician David Martin, and kiddies Shakes and Victoria. Boy Britney, Man Tina, Crusty Sinatra and Underwhelming Elvis all make it through. David Hasselhoff wipes away a manly tear.
The musicians and singers are up next, and we're starting with the opera experts. Michael Smith comes out on stage and sings "Somewhere" from West Side Story, which is an awesome song. Sharon Osbourne thinks he was average. He's followed by three other opera singers, including drag queen Chiquita, who sings both the male and female parts of her song. Chiquita is pretty great, but is she as great as Neil E. Boyd? He sings an extremely underwhelming Italian version of "Unchained Melody" by The Righteous Brothers. Chiquita's got it in the bag!
With the opera out of the way, it's time for four-year-old Kaitlin Mayer and nine-year-old autistic boy David Militello to perform. I'm not blinded by the cuteness of children, therefore I'm not impressed by either of them. Though, I admit, they're both kind of adorable. They don't exactly sound polished enough to sing in a Vegas show, but if they played animated characters in a Disney movie I wouldn't be offended.
Remember Daniel Jens and his sob story about being in Iraq last week? He's back without his guitar, and this time he's not nearly as impressive. He even forgets the words in the middle of his song, which Piers finds shameful. Two R&B singers, Bryan Cheatham and Kyle Rifkin, are the next to duke it out. Bryan does an okay job of "When a Man Loves a Woman," while Kyle belts out Boyz II Men's "I'll Make Love to You." I never really appreciated Boyz II Men until hearing Kyle butcher the song. His voice cracks so much that he sounds like Peter Brady singing "Time to Change."
The never-ending episode lurches on with the female singers taking the stage. Kat Williams belts out "Let the Good Times Roll," and she's followed by the meek and dull Holly Hardin. There are many people in this episode who should have never made it to Vegas, and Holly is one of them. She sings "When God Fearing Women Get the Blues," but she's no Martina McBride. Forty-year-old single mom Queen Emily is up next, singing "I'm Every Woman." The Queen is good enough to make little Holly Hardin shake in her boots.
As Jerry Springer promises me this will all be over soon, the judges deliberate on who to send through to the top 40. Hilariously, O-Town sings over the montage of disappointment and elation as the contestants learn their fates. I haven't heard "All or Nothing" in at least 80 years, but leave it to this show to resurrect a long dead ditty. The adorable children make it through based on their looks alone, while the opera singers make it thanks to their big voices. Daniel Jens slides through for reasons beyond my comprehension. Kat Williams and Holly Hardin are sent home.
There are now 60 acts remaining, which will be narrowed down to 40 when America's Got Talent returns Thursday at 9:30pm. I don't know if I can handle this show twice in the same week. Jerry Springer is trying to kill me.
– Don Williams, BuddyTV Staff Writer
(Image courtesy of NBC)