Let's talk about that electric spark that lights up the screen, that magnetic pull that draws us into a world of desire and passion.
Yes, I'm talking about those movies that don't just tell a story but ignite something deep within us – the sexiest movies that have set hearts racing and left us breathless.
From smoldering glances to scorching encounters, these films turn up the heat and leave an indelible mark on our cinematic journey.
Get ready to immerse yourself in a mix of steamy moments, complex relationships, and stories that prove that sometimes, the sexiest thing of all is the connection between characters.
Ready? Let's dive in!
My Exploration of Cinematic Seduction
As someone who's always been fascinated by the power of storytelling, I can't deny the allure of a film that knows how to play with desire.
Whether it's the lingering tension between characters or the daring exploration of intimacy, these movies remind us that cinema is a realm where fantasies come alive and sparks fly.
There's something undeniably intoxicating about the dance of desire between characters, the tension that crackles in the air, and the anticipation of a passionate embrace.
Related: The 18 Sexiest Movies on Netflix Right Now (2023)
These films showcase the art of seduction and remind us of the universal nature of attraction and the power of chemistry.
Drawing insights from various sources and combining them with my cinematic experiences, I'm thrilled to present a curated list of 15 films that have mastered the art of sensual storytelling.
So, buckle up for a compelling ride through the world of the sexiest movies ever.
We're about to dive into a collection of films that leave little to the imagination and bring passion to the forefront.
1

"Out of Sight" (1998)
"Out of Sight" proves that heat can simmer even in unexpected places.
George Clooney and Jennifer Lopez sizzle on screen as a bank robber and a federal agent, their charged banter and palpable chemistry forming the backdrop for a steamy rendezvous in a hotel room.
Related: Jennifer Lopez Movies List: Ranked Best to Worst
A riveting tale of one of the most successful bank robbers in the world who falls in love with a beautiful and brilliant woman, only to discover she is a Federal Marshal.
Despite being on opposite sides of the law, they're willing to risk it all for love!
2

"Y Tu Mamá También" (2001)
Alfonso Cuarón's Mexican coming-of-age drama is as visually stunning as it is emotionally charged.
The sensual undertones between the characters, played by Gael García Bernal and Diego Luna, crescendo into a passionate exploration of desire during a spontaneous threesome.
This scandalized story is about two young teenage boys living in a cross-country escapade. They meet a beautiful older woman, and the two best friends fall in love with much more than just her.
3

"Body Heat" (1981)
Lawrence Kasdan's neo-noir thriller "Body Heat" is a classic example of steamy storytelling.
William Hurt and Kathleen Turner set the screen ablaze with their chemistry, capturing the essence of forbidden passion in the sultry Florida heat.
Risking it all for love, Ned Racine and Matty Waker hatch a plan using one of his criminal clients' bomb-making skills.
As they scheme to murder Matty's rich husband and elope with his wealth, an unexpected series of betrayals and complications occur.
4

"Eyes Wide Shut" (1999)
Stanley Kubrick's final film, "Eyes Wide Shut," delves into the world of sexual intrigue and obsession.
Tom Cruise and Nicole Kidman navigate a labyrinth of desire, culminating in a masked orgy scene that is both unsettling and undeniably captivating.
The story begins with Dr. Bill Hartford's wife's taboo confession. She admits to having sexual fantasies about another man.
This prompts the couple to dip their toes in unfamiliar sexual situations, and soon, Bill realizes that he has gotten into quite a mess.
5

"Unfaithful" (2002)
Adrian Lyne's "Unfaithful" explores the consequences of infidelity, with Diane Lane and Olivier Martinez igniting the screen with their torrid affair.
The film's passionate encounters are both thrilling and heart-wrenching in their intensity. As the main character learns of his wife's infidelity, her confession expels him into a deep dive and need for information.
However, riddled with disturbing and heartbreaking details, he is filled with rage as he confronts his wife's secret lover.
6

"Basic Instinct" (1992)
"Basic Instinct" is synonymous with provocative cinema.
Sharon Stone's iconic leg-crossing scene and enigmatic allure elevate the film's erotic tension to a fever pitch, leaving audiences both mesmerized and scandalized.
When homicide detective Nick Curran looks into a suspicious death, the main suspect, Catherine Tramell, seduces him. Their intense relationship blinds him, and he loses grip on his intentions for answers.
However, later on, another lover of his, Beth Garner, who also happens to be his psychologist, is linked to a similar murder.
7

"The Notebook" (2004)
"The Notebook" proves that love stories can be as sensual as they are emotionally resonant.
Ryan Gosling and Rachel McAdams infuse their characters' relationship with a blend of yearning and tenderness, culminating in a passionate rain-soaked kiss that has become an enduring cinematic moment.
Related: 10 Best Ryan Gosling Movies, Ranked by Viewers
Two star-crossed lovers, Noah and Allie, find themselves in a tricky situation as the family disapproves of their relationship, and Noah is sent off for work.
They decide to move on, but after a while, he returns to see Allie on the cusp of marrying another man. Their feelings are re-sparked, and their road ahead is a bumpy one.
8

"Atonement" (2007)
Joe Wright's "Atonement" beautifully weaves a tale of forbidden love and tragic misunderstandings.
Keira Knightley and James McAvoy share an electrifying library encounter charged with unspoken desire, setting the stage for a narrative that explores the repercussions of that fateful moment.
Cecelia Tallis and Robbie Turner are two youngsters with deep feelings toward each other. However, after a lie spread by her younger sister, Robbie finds himself torn from Cecelia and imprisoned.
The two later meet again after Turner's release. They find themselves still reeling from the incidents as they navigate the difficult times of World War 2.
9

"Blue Is the Warmest Color" (2013)
This French romantic drama immerses viewers in the intense and complex relationship between two young women, portrayed by Adèle Exarchopoulos and Léa Seydoux.
The film's explicit love scenes are both raw and emotionally charged, capturing the tumultuous nature of first love.
Related: The Best Movies on the Léa Seydoux Movies List
The story follows Adèle Exarchopoulos, who meets an older art student, Léa Seydoux, in a lesbian bar one night. Sparks fly, and this begins their intense relationship.
10

"Call Me by Your Name" (2017)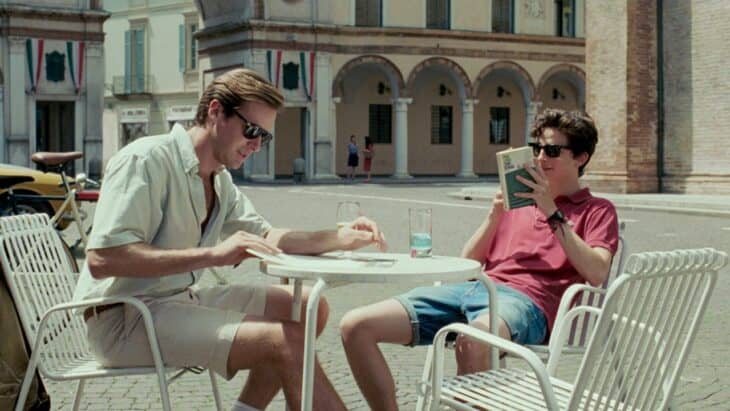 "Call Me by Your Name," directed by Luca Guadagnino, beautifully captures the blossoming romance between Elio (Timothée Chalamet) and Oliver (Armie Hammer).
The film's idyllic Italian setting and the characters' yearning gazes culminate in a heartbreakingly tender yet passionate affair.
The movie revolves around 17-year-old Elio spending the summer in his family's beautiful villa in Italy.
He soon discovers an awakened desire inside him as he spends his days with his father's intern, Oliver.
11

"Vicky Cristina Barcelona" (2008)
Woody Allen's "Vicky Cristina Barcelona" explores the complexities of love and desire through the interactions of its characters, played by Scarlett Johansson, Penélope Cruz, and Javier Bardem.
The film's portrayal of open relationships and passionate encounters challenges traditional notions of romance.
While spending their summer at a friend's house in Barcelona, Vicky and Cristina meet a handsome and seductive artist, Juan.
Sparks fly between the three as they spend a weekend with Juan enjoying the simple pleasure of life. However, once his feisty former lover, things start to really heat up.
12

"Black Swan" (2010)
Darren Aronofsky's "Black Swan" psychological thriller blurs the lines between reality and obsession.
A sensual and intense connection with Mila Kunis' character underscores Natalie Portman's mesmerizing performance as a ballet dancer spiraling into madness.
Nina (Natalie Portman) is a prima ballerina who competes with the newcomer, Lily (Mila Kunis). As the two portray the white and black swan, the rivalry turns into a chaotic and twisted friendship until Nina's dark side starts emerging.
13

"Wild Things" (1998)
"Wild Things" pushes the boundaries of erotic thriller. Denise Richards and Neve Campbell's characters engage in increasingly complex twists and turns, culminating in a revealing scene that leaves audiences questioning motives and loyalties.
After being rejected by her guidance counselor, the young student Kelly falsely claims rape. This soon becomes an emotional roller coaster, and Sam turns Ken, a lawyer, in the hopes of setting things straight.
However, things take a turn once another young girl comes forward, Suzie, making the same accusations against the counselor.
14

"9½ Weeks" (1986)
"9½ Weeks" delves into the world of BDSM and power dynamics. Kim Basinger and Mickey Rourke's characters engage in a passionate yet tumultuous affair marked by exploration, dominance, and submission.
A very heated and intimate relationship blooms between Wall Street trader John and Elizabeth, an art gallery assistant.
As things become hot and steamy, Elizabeth realizes how little she knows about her lover. This leaves her with a tough decision.
15

"Secretary" (2002)
"Secretary" challenges conventions by exploring BDSM within a romantic relationship.
Maggie Gyllenhaal and James Spader's characters navigate a complex dance of control and submission, merging sensual exploration with emotional connection.
Lee, a mentally troubled young woman, gets a job as a secretary at an attorney's office. She starts dating a calm and achingly ordinary man named Peter.
She finds herself extremely attracted to her boss, E. Edward Grey. However, he has quite the dark side, and she finds out firsthand as they begin their sadomasochistic entanglement.
My Final Thoughts on This Journey of Sensuality
And there you have it, my fellow movie lovers – a thrilling journey through the realm of the sexiest movies that have graced the silver screen.
As we end this compelling adventure, I can't help but reflect on the power of cinema to capture the essence of desire and sensuality.
From the fiery passion of "Basic Instinct" to the tender intimacy of "Call Me by Your Name," these films have shown us that seduction is an art form that can evoke a spectrum of emotions.
They've reminded us that storytelling can transcend boundaries and tap into the deepest corners of our hearts.
The Sexiest Movies Ever…
So, as you venture into your next movie night, remember how these films made you feel – the quickening heartbeat, flushed cheeks, and butterflies in your stomach.
Embrace the magic of cinematic connection, and let it be a reminder that, ultimately, the sexiest stories are the ones that leave an imprint not just on the screen but on our very souls.
Happy watching, my friends, and may your cinematic experiences continue to stir your passions.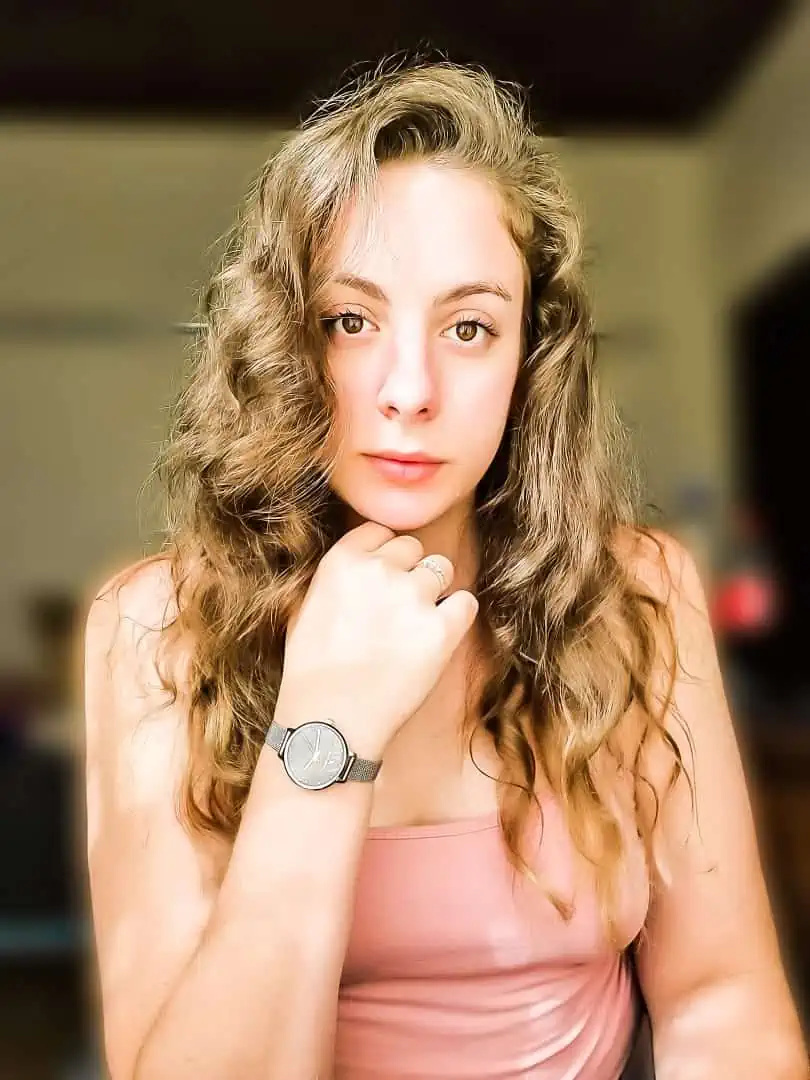 Senior Writer, BuddyTV
Pia Vermaak is an accomplished digital marketing agency owner and professional content writer with a remarkable track record in the industry.
With her keen strategic insights and creative flair, she has carved a niche for herself as a trusted expert in the field.
Whether it's engaging blog posts, persuasive website copy, or compelling social media content, Pia's words have the power to captivate and inspire audiences.