For the past eight seasons, American Idol has chosen what's called a "goodbye song." After a contestant is eliminated, they play a video of their journey on the show with that song playing in the background. It started in season 5 with Daniel Powter's "Bad Day," which became an instant hit around the country. Ever since then, they've kept it within the Idol family, as all the singers have been former contestants (mostly winners), and even the very first champion from the UK's Pop Idol.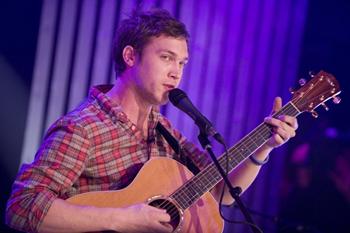 This year, they're going with "Gone Gone Gone" by last year's winner Phillip Phillips. How does it stack up against the previous goodbye songs? Here are our rankings of all eight songs:
8. "Leave Right Now" — Will Young (Season 9)
Will Young is only the second-ever artist to sing the goodbye song and not be an American Idol alum. But it's still keeping it within the Idol family, as he won Pop Idol season 1. This franchise has blown up all over the world and it all started in the UK with a singer named Will Young.
As far as "Leave Right Now" goes, look no further than the title: Leave Right Now! It's a very off-putting title, don't you think? Granted, if you put it in context with the lyrics, it does make sense, but on the surface, it's strange. And it's not a bad song, actually, regardless of the fact that it's very subtle, a more quiet melody. But the reason I've put it so low on the list is that most of the other ones either stick with you more or are more distinct in other ways.
7. "Please Remember Me" — Scotty McCreery (Season 11)
Since Scotty is a country music artist, it only seemed fitting that he'd sing a country song here. To me, "Please Remember Me" is not that memorable — kind of ironic, considering the title of the song. The chorus is what I enjoy the most; when he holds out those notes, I sit up and pay attention, and that's where the title is fitting in that regard. But outside of the chorus, the rest sounds very generic. In the context of American Idol, it obviously works — the words are fitting and are in line with what we've come to expect from these goodbye songs.
6. "Home Sweet Home" — Carrie Underwood (Season 8)
It seems like a given now that if a song has the word "Home" in the title, it has a high chance of being selected, as this was the third goodbye tune in a row to feature that word. But no matter, Carrie Underwood takes on this Motley Crue power ballad and delivers a solid vocal. The chorus does stand out, though it's hard to compete with the likes of "Bad Day" and "Home."
5. "Celebrate Me Home" — Ruben Studdard (Season 7)
Ruben Studdard not only became the first winner to take part in the annual tradition but "Celebrate Me Home" was the first cover, originally by Kenny Loggins. Ruben's smooth and soulful voice shines through beautifully here.
4. "Don't You (Forget About Me)" — David Cook (Season 10)
"Don't You (Forget About Me)" is originally by the Scottish rock band Simple Minds and is best remembered for being featured in The Breakfast Club. What makes this one of the better goodbye songs is that David Cook's raw rock sound is on full display here. Because of not only what the song puts forward, but also what David brings to it, it's not a downer, unlike some of the others.
3. "Gone Gone Gone" — Phillip Phillips (Season 12)
I haven't listened to this as much as the others since his album only came out last fall, but right away "Gone Gone Gone" grabs your attention; the beat is very distinct and reminds me of parts of his hugely successful winning song "Home." The chorus, like many of these tunes, is catchy, and don't be surprised if it gets stuck in your head.
I mentioned that the problem with Scotty's "Please Remember Me" is that everything outside of the chorus is generic. But Phillip Phillips doesn't have that problem here, as the whole entire production, from start to finish, is a cohesive work. And as a goodbye song, you can definitely pick out particular phrases that connect. If anything, it reminds me most of David Cook's "Don't You (Forget About Me)" because of its musical style that stands apart from some of the sappiness we've come to expect from these songs.
2. "Home" — Daughtry (Season 6)
Chris Daughtry became the breakout star of season 5 when he released his debut album. For the following season, Idol chose his new single "Home" as the song that would play whenever a contestant was eliminated. While I'm sure it would still have been successful, having it play every week for about three months straight was enough to lift it into the stratosphere, so to speak. It's not just the lyrics — "Well I'm going home, Back to the place where I belong, And where your love has always been enough for me" — but also the backtrack that is very distinct. It's almost as if the song was written just for this purpose.
1."Bad Day" — Daniel Powter (Season 5)
As with Kelly Clarkson, the first is usually always the best. And that's the same for the goodbye songs. "Bad Day" put Daniel Powter on the map. (Unfortunately, he ended up being just a one-hit-wonder.) Back in 2006, everyone had this song stuck in their heads, whether they liked it or not. With lyrics that include "Cause you had a bad day, You're taking one down, You sing a sad song just to turn it around, You say you don't know, You tell me don't lie, You work at a smile and you go for a ride, You had a bad day, " at this point "Bad Day" has become iconic with American Idol.
Which is your favorite American Idol goodbye song? Are there any you don't like? And do you think the producers made the right decision by choosing Phillip Phillips' current single for season 12?
(Image courtesy of WENN)