Over the years, NCIS has introduced a cast consisting of colorful personalities.  Among the team of special agents, Abby Sciuto distinctly stands out with her quirky techno-geek persona and her unique sense of fashion.  Like most actors, Pauley Perrette positively identifies with her role, but more importantly, she also shares some less-than-stereotypical sensibilities with her character on the police procedural drama.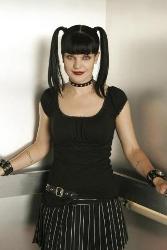 For one thing, Abby Sciuto and Pauley Perrette both have tattoos. While it has already been hinted that Abby has at least nine tattoos, which are located on her neck, arms, back, and ankle, among others, the NCIS actress also reveals her share of body art.
"I think I'm on 13 or 14.  On NCIS, not only do they love my tattoos but they give me more.  The neck one is a vinyl transfer.  It only takes a few minutes to do, but it feels like old chewing gum…I hate it," Perrette told TV Guide.
Though many describe Abby as "gothic," Perrette strongly disagrees with this perception.  In fact, her character has the enthusiasm of a cheerleader, though she appears like the opposite of one.
"[NCIS creator] Don Bellisario told me that when he created Magnum, P.I. he wanted to introduce a Vietnam vet who defied the negative stereotype.  So with Abby, he wanted to take an alternative-style person with tattoos and make her someone who is happy, totally put together, and successful.  All the script said about her was: black hair, caffeinated and smart… She's completely unaware that anybody thinks she looks weird.  She thinks she looks pretty and never calls herself anything other than happy.  And I fight for that," she explained.
Like Abby who has black hair, Perrette has also grown to love her transformation from natural blonde to having dyed-black hair.  However, Perrette and her character's similarities go way beyond their eccentric exterior, as they also share the same optimistic and happy-go-lucky attitude. Furthermore, she is also equipped with much knowledge about forensic science.
"I went to Valdosta University in Georgia and studied criminal science, sociology, and psychology.  I hated high school and got to college and realized they didn't care if I showed up because I'd already paid.  So I decided I'm going to turn this around.  And I did. I got straight A's and was named outstanding senior," she said.
-Kris De Leon, BuddyTV Staff Columnist
Source: TV Guide
(Image courtesy of CBS)