Kevin Smith is invading television.  Not only did he direct the pilot to the much anticipated supernatural comedy Reaper, he subsequently snared a deal to write and direct an episode of the Heroes spinoff Heroes: Origins, now the auteur of all things crude can add Battlestar Galactica to his TV repertoire.  The infamous director whose fearless irreverence made him the standard for everything lewd in the mainstream is living in a nerds paradise after landing the deal, but feeling the pressure more than ever to live up to Galactica's greatness.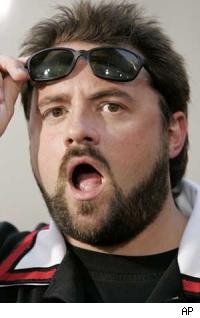 Smith's style is definitely palpable in Reaper, and his experience and knowledge when it comes to comics makes Heroes: Origins seem like a natural fit, but Battlestar Galactica?  Galactica has such a finely honed style that it is very difficult to even tell there is a different director from episode to episode, the style, performances, and general tension is just that consistent.  Can Smith bring anything to Galactica?
"It's cool as someone who is a big fan and a supporter of the show to get up there and do one before they are all done. When I was up there shooting 'Reaper,' we shot on the same lot as ['Galactica'] and even though they weren't in production, our production designer was a production designer on 'Battlestar Galactica' so the dude was able to get me on the sets and show me everything. I walked around the Galactica [ship] and whatnot. But now to go back in a different capacity is more nerve-wracking."  Smith reminisced to AOL.
Smith has no illusions about leaving his mark on the show, though. "…it is scary because it is like, 'What the f—? I can't bring anything to that show.' That show is genius and they have a very distinctive visual style."
At this point, there is no particular episode set aside for Smith, so no information was given as to when his contribution would air.
– Jon Lachonis, BuddyTV Senior Writer
Source: Aol.com
(Image Courtesy of AP)