Season 8 of Food Network Star has officially begun, and this time it's all about the food celebrity-led teams. Much like NBC's The Voice, the Food Network has decided to get food icons Bobby Flay, Giada De Laurentiis and Alton Brown more involved as mentors/ leaders of their own teams, giving the stars a personal stake in the competition. In a jam-packed ambitious challenge, we get our first look at this season's 15 Food Network Star hopefuls – some who quickly emerge as contenders, and others who fail to rise to the challenge (for a quick run-down of the contestants, check out our slideshow).
Star Challenge: Restaurant Impossible
With all the contestants and their team leaders standing in an empty loft, Robert Irvine of Restaurant Impossible arrives to announce the Star Challenge: each team must create their own restaurant from the ground up in their own version of Irvine's makeover show, except with half the time and half the money. It's like Top Chef's Restaurant Wars, but before any of the contestants know each other or have even cooked on the show. Clearly Food Network wants to start this season with a bang, but it's unclear if these 15 newbies are up to the task.
As the teams frantically try to grasp all the responsibilities ahead of them, each team selects a team leader and a restaurant concept and name. Alton's team decides to focus on Southern cuisine with their restaurant Do South, with the retro Emily as their leader. Giada's team elects Ippy, the pleasant Hawaiian chef, as their leader and goes with the name Blu to embody their clean California cuisine. Lastly, Team Bobby member Nikki, an outspoken girl with sass nominates herself as leader and the group names their restaurant Tasting Space, where diners will get a taste of each of the cooks' unique flavors.
Some Rise, and Some Fall
As the teams rush off to buy their food and begin cooking (each contestant must create their own dish), it's clear who is already struggling on the show. First, there's Cristie from Team Alton. A passionate healthy living cook, Cristie struggles from the beginning when all her entrée and dessert ideas are shot down by her team and she's stuck with making a soup. She decides on a black-eyed pea puree with cabbage, which her co-contestant Judson remarks is lacking flavor and visually unappetizing. Then when she's tasked with training their servers, she seems frazzled and lost.
Then there's Justin, the "rock n' roll chef" from Giada's team who was set on making a dumpling soup, but blindsided when his team member Yvan accidentally forgot to buy his eggs. Justin seems unable to improvise, until team leader Ippy suggests he fries the dumplings. Still uncertain, the rocker-chef goes with the suggestion, but seems lacking in the confidence needed. Lastly there's Eric from Team Bobby, who quit his job as a California winery chef to join the show. Eric is adamant about making lasagna by hand – including creating his own pasta and ricotta, an overambitious goal that results in Eric trying to get his milk up to temperature surrounded by pots and claiming "I can't bend physics!"
Dining Hour with a Twist
When it's time to open their restaurants, Irvine arrives again with a surprise: each team must prepare a two minute presentation for the diners and the judges, Food Network magic makers Bob Tuschman and Susie Fogelson. After Bobby, Giada and Alton prep their teams for the presentations, it's go time and again, Cristie and Josh flop when the former recites an awkward poem and the latter inexplicably somersaults onto the platform. On the plus side, the judges think Emily was a quirky standout and the spikey-haired Michele (Team Bobby) had a bold personality that shined through.
Team Giada/Blu: Josh's dumpling soup leaves Irvine with an odd fattiness lingering on his lips (not a good sign), Ippy's warm mushroom salad wins points, Yvan's meatball was a bit overcomplicated, Martita (Giada's "fiery Latina" of great potential) gets surprisingly tongue-tied in front of the judges and Linkie's key lime pie leaves Alton with one word: "cafeteria." Uh-oh.
Team Bobby/Tasting Space: Confident Nikki starts with a roasted corn salad that Susie loves, Malcolm's shrimp and grits was tasty but he seemed to lack star quality and Eric's handmade lasagna pays off food-wise, but his rambling talk leaves the table uncertain. On the other hand, Kara's dessert is so delicious Susie demands the pan and she has a "controlled enthusiasm" that's promising. The star of the group is Michele, whose "sexy mussels" inspires a humorous line that has the whole room laughing.
Team Alton/Do South: Martie (the oldest contestant) starts with her deviled eggs, but she's described as "fizzy but a little bit dizzy." On the flip side, Justin, the youngest chef seems to get a bigger reaction from Giada and Susie for his boyish charm than his outside-the-box crab cakes disguised as croutons. Cristie predictably ruins her presentation by angrily defending America's need for healthier eating, but Judson's shrimp and andouille sausage, plus his gracious and welcoming demeanor make him a clear contender. Emily rounds out the team with her bourbon peanut butter pie with pork crust, a winner at the table.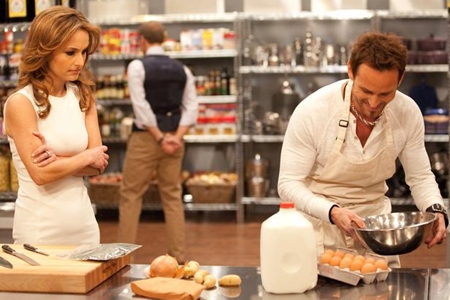 The Feedback and Producers Challenge
After Bobby, Giada and Alton give their teams their personal feedback, Susie and Bob meet all the contestants with their good news/bad news. The good: Judson had the best dish on the table, the diner's loved Ippy's salad and Michele's eccentric personality matched her excellent dessert. Considering each team as a whole, the judges deem Bobby's team the winners, and they walk out slowly to display their pride. That leaves — no surprise – Josh and Cristie at the bottom from Giada and Alton's teams and they must face off in the Producers Challenge to determine who will go home.
The challenge is to cook a brunch dish in honor of Mother's Day in 30 minutes and to present the dish in one minute filmed segment. Josh makes a colorful frittata, but his on-camera presentation is a train wreck (let's just say Josh made a reference to mothers and their "eggs"). But Giada is there to strongly steer him in the right direction and he ends up sharing a warm story about his mother. Cristie is super nervous, but Alton's calm presence helps her settle on a story of her brother returning from Iraq on Mother's Day to go with her Scottish egg.
The Pitch Room
The judges, the bottom two and their mentors all convene in the Pitch Room, "where we decide the fate of shows and talent." After watching Cristie and Josh's segments and tasting their dishes, it's not clear who will be eliminated, as both stumbled a bit on camera, but their food is tasty. Ultimately, the judges decide on the winner…
It's Josh! Which means Cristie, the awkward and at times defensive healthy cook is given the boot. Josh, who ranged from air-kicking rock star to the insecure guy rattling off uncomfortable egg remarks, is given another chance. With the up-and-down personas these two showcased, either one could have justifiably gone home. Tune in next week to see who will continue their dream of being a Food Network Star – and if Team Bobby will continue to claim victory.
(Images courtesy of Food Network)