3 in 4 People Say That a Television Show Influenced Their Career Path
It is no secret that TV shows can be pretty influential. It is always interesting to hear how "The West Wing" inspired someone to major in political science or how "Grey's Anatomy" made someone want to become a doctor. 
Related: Is Comedy Doomed?
In the survey detailed below, we asked over 1,000 people how they have been influenced by a TV show career-wise. How much did that weigh in their choice of studies or career? And, did they get all the way through college and start their dream job? Finally, we looked at how people who chose the same profession as their inspirational show evaluated the accuracy of the show.
Key Takeaways
80% of respondents said their career was influenced by a television show and that number was higher among men (84%) than women.
The most influential television show was "Grey's Anatomy," and the most influential character was Dr. Meredith Grey.
People in health care and medicine were most likely to be inspired by the way characters helped others, while those in information and technology were most likely to be influenced by the wealth depicted on the television show. 
How Much Do TV Shows Influence Careers?
First, we asked respondents how much influence the television shows that they watched impacted their career decisions. Only 19% of people indicated that their career was not at all influenced by a TV show, which means that for over 80% of people, there was at least some influence. Interestingly, 1 in 4 respondents said their career choice was very or extremely influenced by TV shows.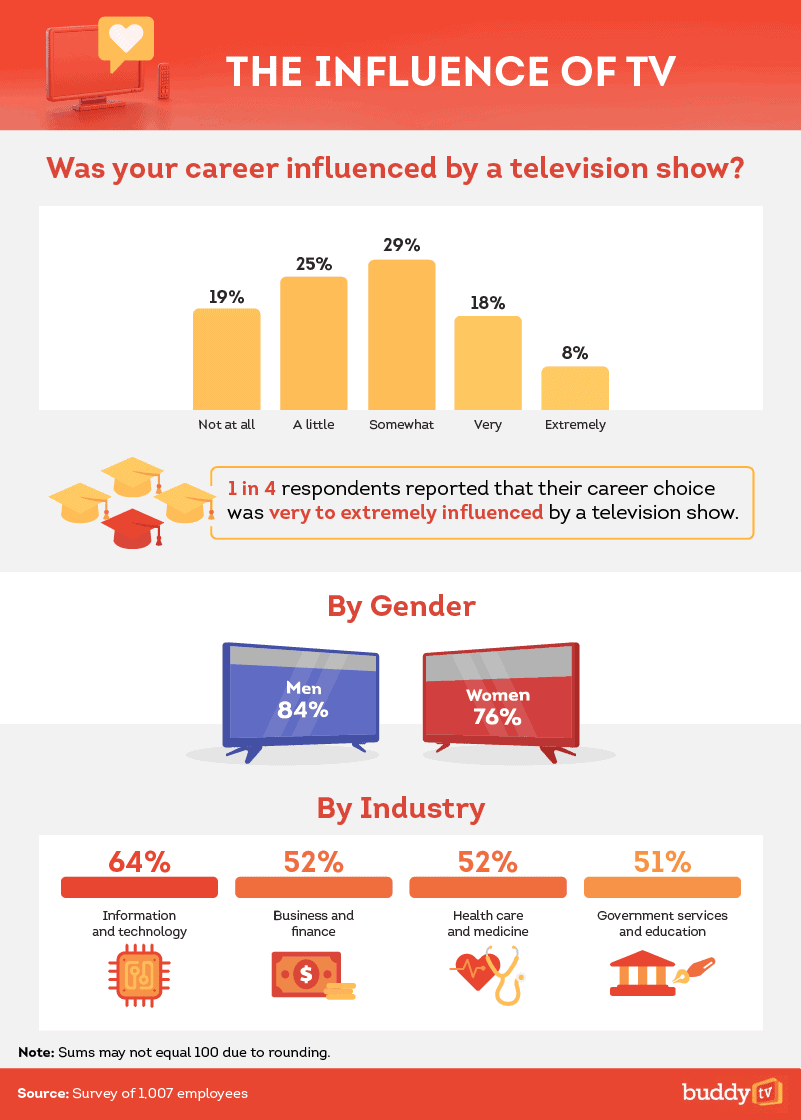 Breaking it down further, men were more likely than women to be influenced by shows. And it seems that information and technology was the industry that was influenced the most, followed by health care, business and finance, and government services and education. 
Most Influential TV Shows 
"Grey's Anatomy," "The Office," and "CSI: Crime Scene Investigation" were listed by respondents as the top three most influential shows. In the top ten, medical, legal, and crime shows were very influential. Other popular categories such as cooking or government shows, surprisingly did not make the top ten.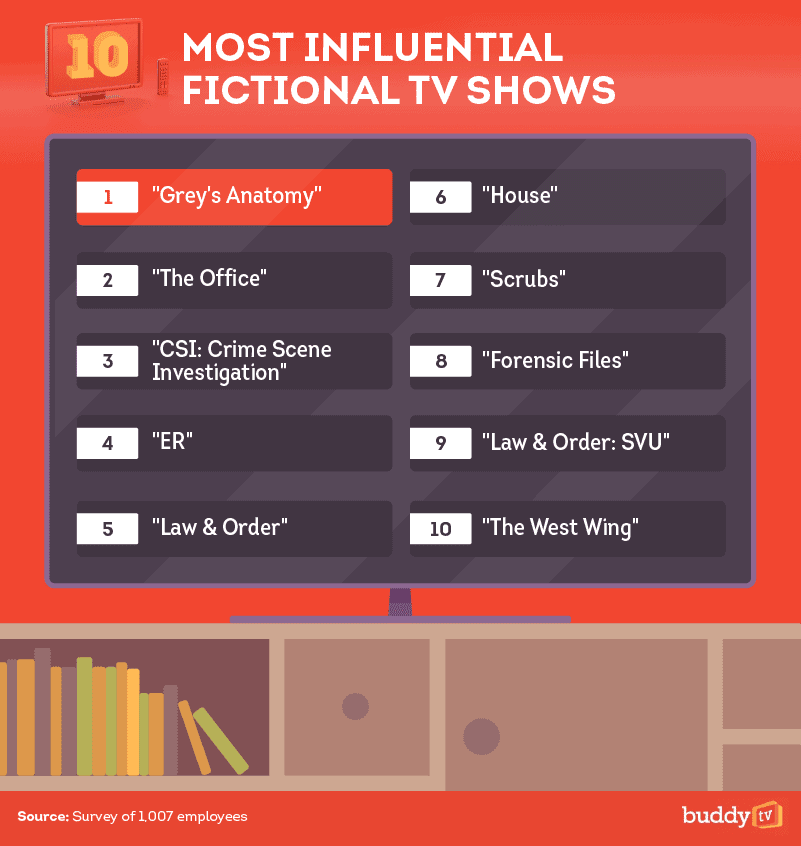 If we segment by the industry portrayed in each show, "Grey's Anatomy" and "CSI: Crime Scene Investigation" took first place in their respective categories. Respondents also mentioned "Law & Order," "Master Chef," and "The West Wing" as being influential in their own genres.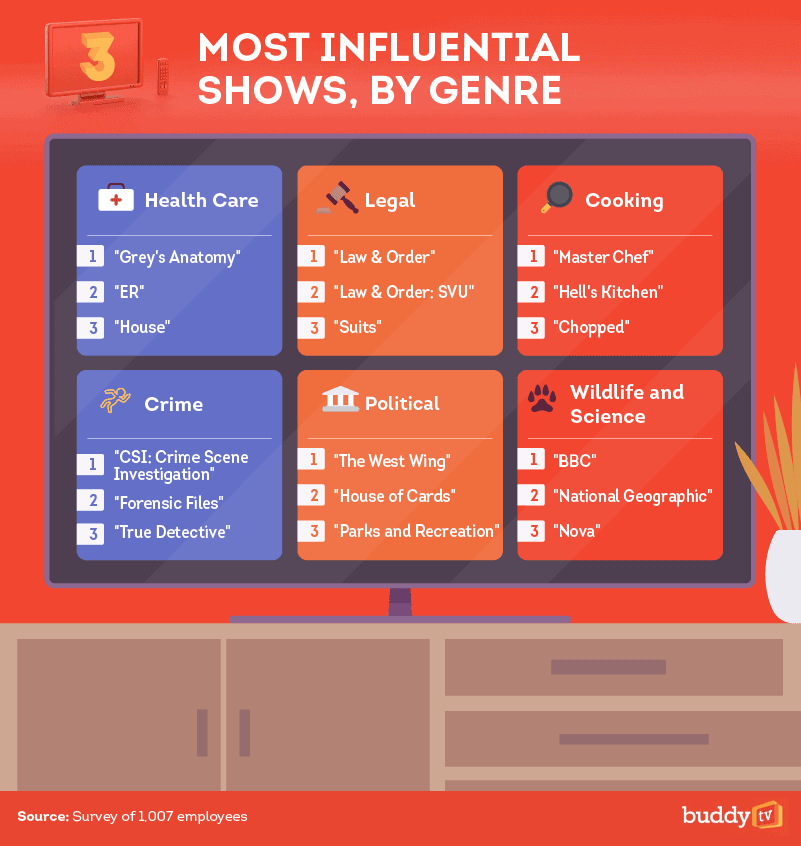 As for characters, it will likely come as no surprise that the main character of the most influential show was also the most popular: Dr. Meredith Grey from "Grey's Anatomy" ranked number one.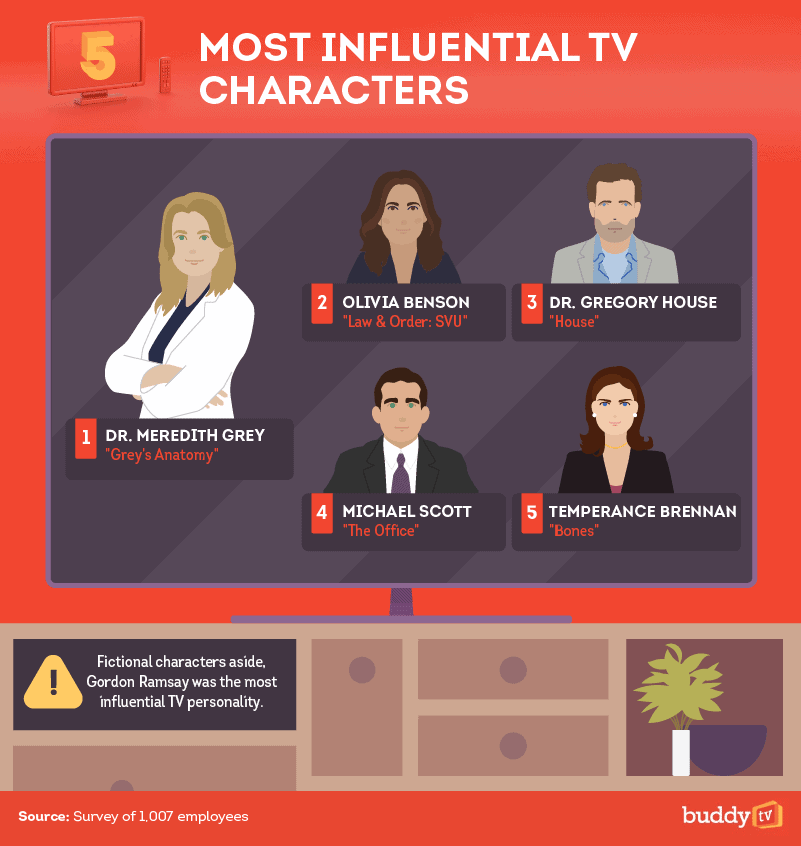 Some other characters ranked as most influential were Olivia Benson ("Law & Order: SVU"), Dr. Gregory House ("House"), Michael Scott ("The Office"), and Dr. Temperance Brennan ("Bones"). For nonfiction personalities, Gordon Ramsay was ranked as the most influential. 
Sources of Inspiration and Appeal
Respondents listed various factors that appealed to them regarding the career of their favorite characters. Type of work, daily tasks, and ability to improve lives were the most popular. On the other hand, characters' spending too much time working and the work looking too difficult were listed as some of the most unappealing aspects.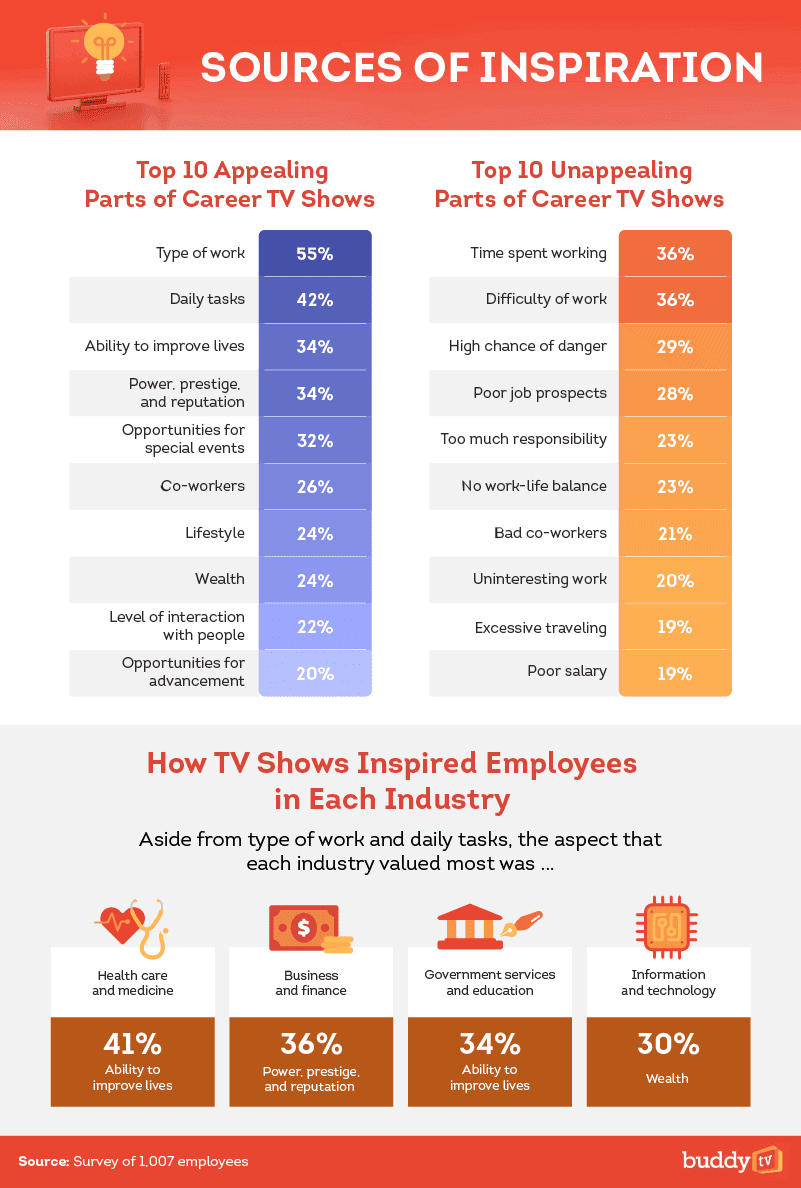 Employees working in each industry were inspired by different parts of the TV show they watched. For government, education, and health care-related professionals, respondents found the way the position had the ability to improve lives as most appealing. However, the portrayed career's power, prestige, and reputation was the most appealing reason for those in business and finance, and information and tech-related employees valued the wealth they saw on TV. 
To Pursue or Not To Pursue a Career
While being inspired by some of their favorite characters, not everyone will pursue a career in the same field. The main reasons to forgo doing so were people already having a different job (53%) or not having the required qualifications to pursue a specific career path (34%). Only 14% of the respondents said they lost interest in the field somewhere along the way.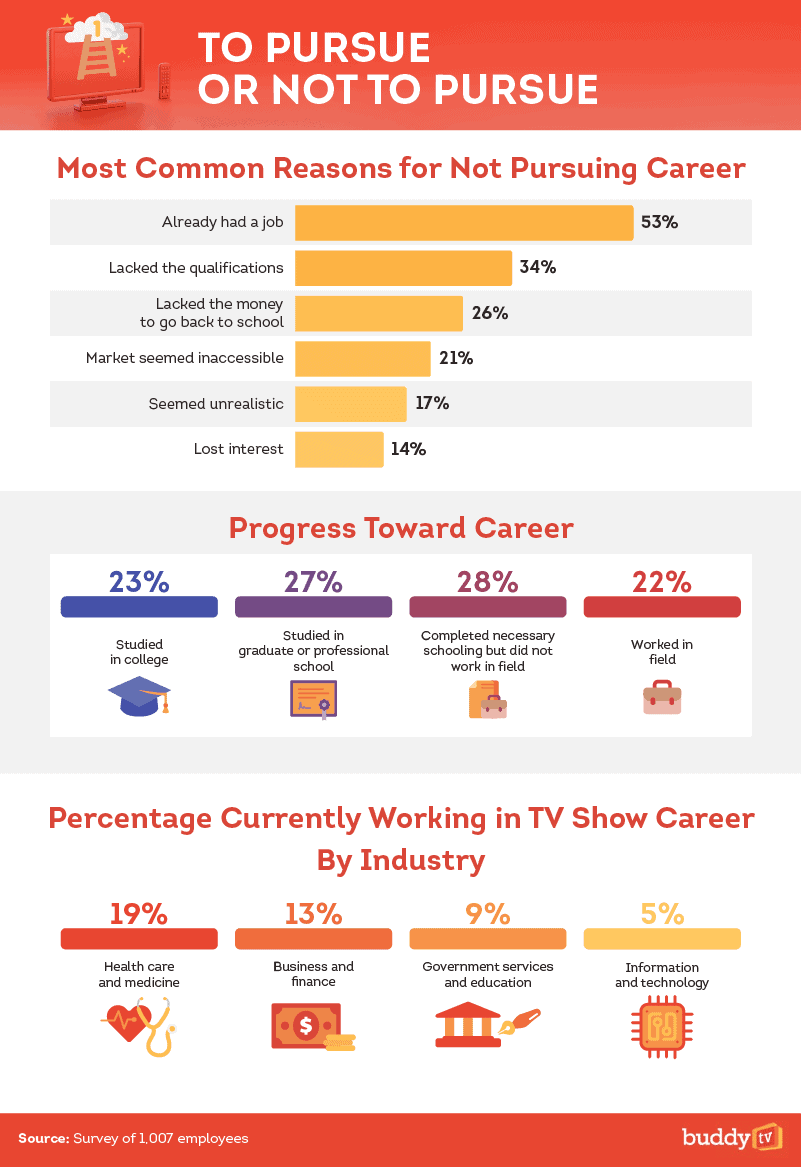 Half of the respondents studied toward their interests in college or graduate school. Another 22% said they now work in the field inspired by TV shows and their characters. Interestingly, 28% said they completed the required qualifications but did not end up working in the industry after all, maybe losing interest at some point or struggling to find a job. The industry that had the most active employees that were inspired by a TV show was health care and medicine with 19%, compared to only 5% of those in information and technology.
Accuracy of TV Portrayal
For those who picked a career in a similar field to their favorite TV show, it turns out that the portrayal of their dream job was not always accurate. Twenty-seven percent said their job was described very or extremely accurately by TV shows, while 34% of respondents thought it was only a little or not at all accurate.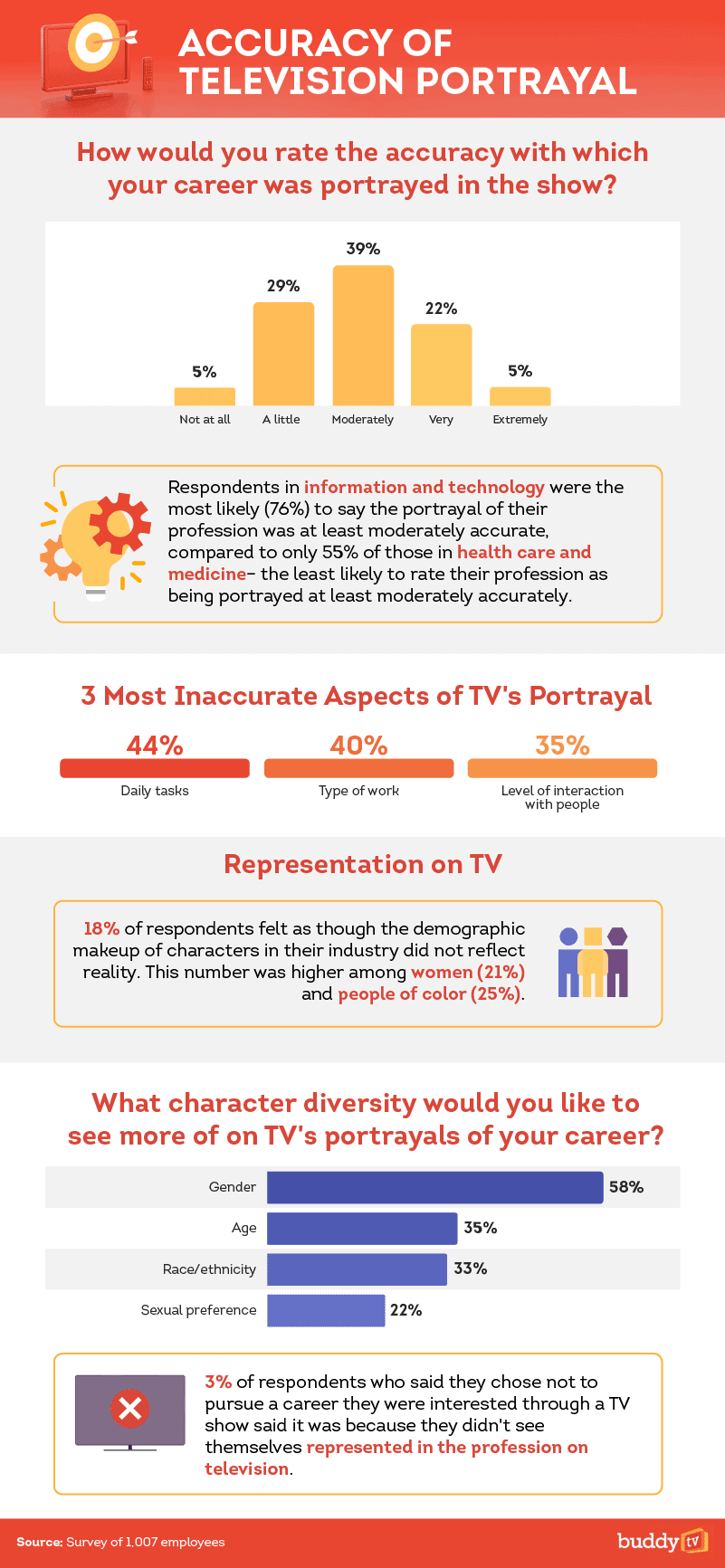 The TV shows that were the most realistic and accurate when it comes to working in a specific field were those in information and technology. In contrast, those working in health care answered that the portrayal was the least accurate when it comes to their job. Across all industries, the daily tasks, type of work, and interaction with other people were listed as the most inaccurate aspects when comparing fiction to reality. 
Regarding the accuracy of gender and race in the field portrayed by TV shows, 18% of respondents said this was inaccurate compared to their experience. And respondents were hopeful that shows would change to reflect this in the future with over half of respondents saying they hoped to see more gender diversity in their career representations on television.
TV Impact
A large portion of people reported that television had an impact on their career paths. And it seems that the medical field is particularly influential over people with four of the top ten shows being medical dramas and three of the top five most influential characters being doctors. 
Despite some inaccuracies related to tasks or daily work or gender, race, and human interactions, it seems that TV shows really inspired people to study a specific field or even pick a career path. While most people ended up choosing a different field, in the end, it seems that those who pick a similar career to their favorite character do not regret it and would recommend the TV shows that inspired them to others. 
If you're looking for a new TV show to inspire you to pursue a new career or to see how your own profession is represented on television, BuddyTV can help find the show for you. With news about the latest TV programs, their celebrities, and sports. Visit BuddyTV today to find your next workplace show. 
Methodology and Limitations
We surveyed 1,007 respondents about how the television shows that they watched influenced their career choices. 599 respondents were men, 405 were women, and three were nonbinary. Additionally, for our industry breakdowns, 309 respondents worked jobs in business and finance, 147 worked in government or education services, 218 respondents worked in information and technology, and 151 respondents worked in medical and health care services. 182 respondents worked in careers in other categories that were not included in the industry breakdowns. 
Due to the nature of the topic, this study relies heavily on self-reported information collected in a survey. There are several limitations associated with self-reported data, including exaggeration, selective memory, and telescoping. None of our hypotheses were statistically tested. This study is an exploration into the potential role that TV shows have on shaping our careers. 
Fair Use Statement 
Do you think your friends and family might enjoy reading about TV's potential influence on career paths? Feel free to share these findings – we only ask that you do so for noncommercial use and provide a link back to this original page so contributors can earn credit for their work.