Movie soundtracks can elevate ordinary stories, adding depth and resonance to beloved films. The lasting impact of these soundtracks is evident in the instantly recognizable songs that continue to endure. Sometimes, the music becomes a movie's highlight, compensating for weaker storylines or characters.
Classic movie musicals like West Side Story have stood the test of time, while films like The Bodyguard provided a platform for legendary artists to showcase their talents. The longevity of these soundtracks is often measured by their chart performance, reflecting their profound influence on generations.
The intertwining of music and cinema is a magical combination. The closing notes of The Breakfast Club, the era-defining mix of Dazed and Confused, and the genius of Prince in Purple Rain are just a few examples of the powerful synergy between sound and vision.
It is impossible to imagine certain movies without their iconic musical moments. Radio Raheem's blaring boombox in Do the Right Thing, Dick Dale's cataclysmic surf-rock guitar in Pulp Fiction, and Curtis Mayfield's haunting croon in Super Fly all contribute to the transcendence of these films. Songs can elevate struggle, enrich landscapes, and deepen the portrayal of heroes and villains.
Movie soundtracks can transform films into unforgettable experiences. They enrich storytelling, evoke emotions, and leave a lasting impact on audiences.
Let's look at the highly considered best movie soundtracks of all time.
Top 10 Best Movie Soundtracks of All Time, Ranked
Goodfellas (1990) – 8.7
Above the Rim (1994) – 6.6
Trainspotting (1996) – 8.1
Pulp Fiction (1994) – 8.9
Dazed and Confused (1993) – 7.6
The Graduate (1977) – 8
The Bodyguard (1992) – 6.3
Super Fly (1972) – 6.4
Saturday Night Fever (1977) – 6.8
Purple Rain (1984) – 6.5
10

'Goodfellas' (1990)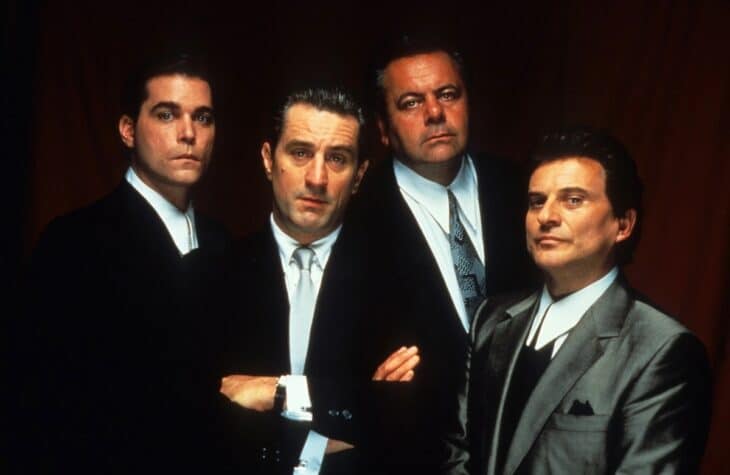 IMDb: 8.7/10 1.2M | Popularity: 17 | Top 250: #217 | Metascore: 92
In Martin Scorsese's Goodfellas, music is a brilliant contrast between feminine innocence and hyper-masculine violence. The soundtrack features iconic songs from 1960s girl groups like the Crystals, the Shangri-Las, the Ronettes, and Darlene Love, creating a powerful juxtaposition with the characters' actions.
Towards the film's end, the helicopter scene is a sonic tour de force, with frantic cuts between Harry Nilsson, Mick Jagger, The Who, and George Harrison mirroring Henry Hill's mania. It's a masterful display of sound and visuals working together.
Related: 10 Best Crime Movies of All Time, Ranked by Viewers
The needle drop of Sid Vicious' cover of "My Way" in the credits perfectly accompanies Henry's closing reflection on the bygone era. The piano keys of "Layla" kicking in as the camera pans up to a pink Cadillac signify the end times for a certain kind of gangster, creating a standout moment.
Goodfellas meticulously curates a soundtrack with 54 carefully chosen songs from different decades. Tony Bennett's "Rags to Riches" and The Shangri-Las' "Remember (Walking in the Sand)" enhance specific scenes and leave a lasting impact.
Scorsese employs songs unexpectedly, such as Donovan's "Atlantis" during a brutal beating or the Crystals' "Then He Kissed Me" in the famous Copacabana tracking shot, breaking new ground. The music becomes intertwined with the film, influencing its mood without overpowering it.
Ultimately, "Layla" has become synonymous with unrequited love and mobster violence, thanks to its use in Goodfellas. Scorsese's unparalleled understanding of sound and vision's complementarity makes the film's soundtrack truly remarkable.
The carefully curated soundtrack, featuring iconic songs from various eras, enhances the film's narrative, creating memorable moments. Scorsese's unique approach to incorporating music elevates Goodfellas to the status of a cinematic masterpiece.
9

'Above the Rim' (1994)
IMDb: 6.6/10 16K
Tupac's rise to fame was evident in Above the Rim, where he played Birdie. The Death Row-produced soundtrack capitalized on his stardom with standout tracks like "Pour Out a Little Liquor" and "Pain" (deluxe version). It showcased Tupac's talent and added depth to the album.
The Above the Rim OST featured massive songs from Death Row artists like Lady of Rage's "Afro Puffs" and Tha Dogg Pound's "Big Pimpin'." It blended hip-hop and R&B, exemplified by SWV's "Anything" and its Wu-Tang Clan remix. Warren G and Nate Dogg's "Regulate," a G-funk masterpiece with a Michael McDonald sample, stole the spotlight.
While not the top '90s basketball movie, Above the Rim's soundtrack takes the crown. Death Row embraced G-funk and R&B, impressing with Snoop Dogg, Lady of Rage, and DJ Quik. Surprisingly, Tupac's emotional "Pain" was only a cassette bonus.
Related: 10 Best True Story Sports Movies on Disney Plus
Released in 1994, Above the Rim resonated with rap fans, capitalizing on Tupac's popularity. The soundtrack, produced by Tupac, Suge Knight, and Dr. Dre, captured the movie's struggles and triumphs. "Pain" served as an emotional climax.
Above the Rim showcased basketball glory, while the soundtrack embraced Death Row's prime, offering bold G-funk, seductive R&B, and breezy new jack swing. The laid-back grooves added playfulness to the intense drama.
Featuring Dr. Dre, Lady of Rage, Tha Dogg Pound, Nate Dogg, and Snoop Dogg, the star-studded lineup gave the soundtrack an edge. It highlighted the contrasting worlds of the characters. Above the Rim's soundtrack offered an enjoyable escape.
8

'Trainspotting' (1996)
IMDb: 8.1/10 699K | Popularity: 589 | Top 250: #166 | Metascore: 83
Trainspotting's soundtrack perfectly captures the essence of the film and the era it was released in. It serves as a mixtape for the film's junkie characters and reflects the rising British music scene.
Danny Boyle skillfully incorporated the music of Pulp, Sleeper, Primal Scream, Blur, Underworld, New Order, and Brian Eno into his black comedy about heroin addiction. Songs like Eno's "Deep Blue Day" accompany intense scenes, while Reed's "Perfect Day" adds an ironic touch. The soundtrack's popularity led to a second release, satisfying the fans' demand for more.
Listening to the Trainspotting soundtrack evokes a certain buzz, an electrifying mix of electronic and post-punk beats. It captures the intensity of late nights, with tracks like Underworld's "Born Slippy" signaling something ominous. Lou Reed's "Perfect Day" adds a dismal irony, reminding us of the impending hangover.
Trainspotting and its soundtrack mirrored the destructive consequences of drug addiction. While it inspired a wave of similar British films, the soundtrack's clash of indie and club tracks reflected a fleeting cultural moment. From Renton's sprint to Iggy Pop's "Lust for Life" to the transformative dive accompanied by Brian Eno's "Deep Blue Day," the soundtrack captivates. The absence of major stars like David Bowie and Oasis turned out to be a blessing, allowing for a resourceful selection that mythologized an era on the brink of decline.
Despite its cultural significance, the Trainspotting soundtrack endures because it exudes ecstasy rather than angst. It captures a brief, blind optimism that defies all evidence to the contrary. It remains a timeless snapshot of a generation and an era, both for British listeners and international admirers of Anglophile cool.
7

'Pulp Fiction' (1994)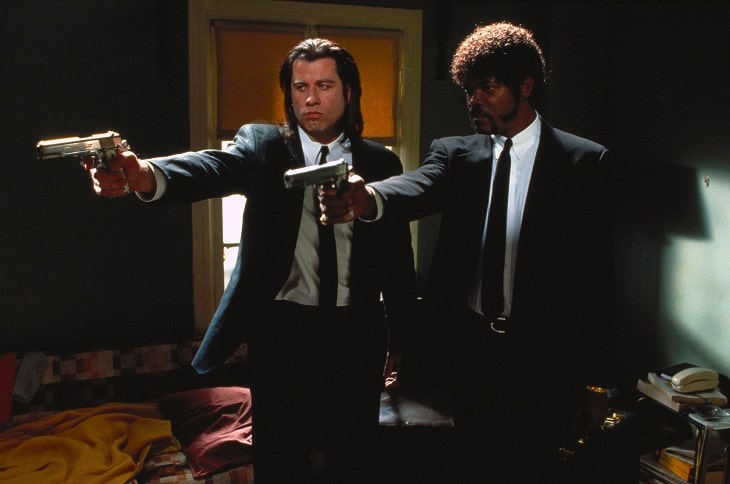 IMDb: 8.9/10 2.1M | Popularity: 93 | Top 250: #8 | Metascore: 95
According to Quentin Tarantino, selecting the right songs for his films is essential to capturing their spirit. The Pulp Fiction soundtrack exemplifies this approach with its eclectic mix of music that adds depth and humor to the scenes.
From the opening credits, where Dick Dale's "Miserlou" seamlessly transitions to Kool & the Gang's "Jungle Boogie," the soundtrack sets the movie's tone, showcasing its scrapbook-like nature. Memorable moments like Marsellus and Butch's tense meeting accompanied by Al Green's "Let's Stay Together" and Vincent and Mia's twist scene to Chuck Berry's "You Can Never Tell" are elevated by the well-placed songs.
Related: Top 10 Best Actor-Directors Right Now, Ranked
However, the Pulp Fiction soundtrack is best enjoyed individually rather than at a gathering. It represents Tarantino's love for surf rock, pop, and soul, creating a nostalgic yet unsettling atmosphere. The inclusion of dialogue snippets and lesser-known tracks adds to the film's unique appeal.
Tarantino's talent for repurposing older songs is evident in Pulp Fiction, where he revives classics like Chuck Berry's "You Never Can Tell" and Dick Dale's "Miserlou." These selections showcase the film's distinctive style and set the stage for a memorable mob story. The soundtrack's success even brought surf music back into the spotlight.
The music in Pulp Fiction reflects the film's diverse cultural influences, combining elements from different eras and genres. Tarantino's meticulous approach to sampling songs mirrors the techniques used by skillful rap producers. The soundtrack reintroduced forgotten gems to a contemporary audience, exposing them to artists like Dusty Springfield and Ricky Nelson.
The Pulp Fiction soundtrack is a testament to Tarantino's pop-culture obsession and ability to create captivating cinematic pairings.
6

'Dazed and Confused' (1993)
IMDb: 7.6/10 190K | Popularity: 194 | Metascore: 80
Dazed and Confused is renowned for its exceptional soundtrack, spawning two popular albums that became staples in music collections.
The film's music perfectly captures the teenage experience of cruising under the moonlight, searching for belonging. Songs heard through car radios add authenticity. Despite expensive licensing, Director Richard Linklater's deliberate song selection contributes to the film's unique vibe.
"Sweet Emotion" and "Jim Dandy" strike a rebellious chord, while "Love Hurts" and "Why Can't We Be Friends" evoke memories of carefree summer days. "Tuesday's Gone" reflects hungover gazes in rearview mirrors.
The soundtrack reflects the authenticity of the '70s youth culture in the film. It embraces the era's cheesier side with tracks like "Low Rider" and "Tush." Music intertwines with memories of parking lots and basements.
Dazed and Confused's soundtrack is essential to the story, playing through radios and headphones. It complements the hazy, nostalgic atmosphere of the last day of school. From Alice Cooper's "School's Out" to the Runaways' "Cherry Bomb," it captures the era's essence. Even Foghat's "Slow Ride" becomes a mantra-like experience in the film.
The music transports viewers to a bygone era, immortalizing teenage experiences. The soundtrack showcases Linklater's masterful curation and ability to evoke powerful youth emotions.
5

'The Graduate' (1977)
IMDb: 8/10 279K | Popularity: 1,045 | Metascore: 83
The Graduate's soundtrack is more than just an accompaniment; it's integral to the film. Simon and Garfunkel's music becomes deeply intertwined with the narrative, capturing the aimless protagonist's state and propelling the story forward. Director Mike Nichols used their tracks strategically throughout the movie.
From the opening scene at LAX with "The Sounds of Silence" to Benjamin's desperate actions driven by "Mrs. Robinson," the songs perfectly encapsulate his disconnection and unease. The music represents the passage of time, his infatuation with Elaine, and his despair upon learning of her impending marriage.
"The Sound of Silence" stands out, poignantly used during contemplative moments and Benjamin's uncertain future with Elaine. It harmoniously captures the uncertainty of adulthood. Nichols discovered Simon & Garfunkel's album Parsley, Sage, Rosemary, and Thyme during filming, realizing it was a perfect fit for his characters' lost souls.
Initially skeptical, the folk duo's songs deepened the film's sense of alienation. "The Sounds of Silence" became an emblematic anthem of generational anxiety, while "Mrs. Robinson" offered a blithe ode with underlying themes of mourning. Alongside atmospheric contributions from composer Dave Grusin, the soundtrack played a defining role in The Graduate.
It was one of the earliest examples of a director curating popular music for a film. The music goes beyond being a backdrop; it becomes an essential part of the narrative, capturing emotions and uncertainties. Iconic tracks like "The Sound of Silence" and "Mrs. Robinson" resonate with viewers, adding depth to the story. Nichols thoughtfully integrated the music, making The Graduate a pioneering film using pre-existing popular music.
4

'The Bodyguard' (1992)
IMDb: 6.3/10 141K | Popularity: 584 | Metascore: 39
Whitney Houston shines in The Bodyguard, portraying an Academy Award-winning actress facing a stalker, while Kevin Costner joins her as the titular bodyguard. Their resonating love story leads to a heart-wrenching ending scene.
The film's iconic soundtrack, highlighting Houston's incredible talent, solidifies her status. Her powerful voice more than compensates for her previous Grammy loss.
Houston's immense success with The Bodyguard soundtrack is undeniable, earning her the Album of the Year award at the Grammys. Hits like "I'm Every Woman," "I Have Nothing," and "I Will Always Love You" dominated the charts for five remarkable months.
The chemistry between Costner and Houston, along with Houston's extraordinary singing, captivates audiences. The bestselling soundtrack of all time showcases hits like "I Will Always Love You" and "I Have Nothing," highlighting Houston's brilliance.
Synonymous with Houston, The Bodyguard's soundtrack features her unforgettable rendition of "I Will Always Love You." The album's Grammy win and Houston's range from the dance-worthy "Queen of the Night" to the gospel-infused "Jesus Loves Me" further demonstrate her talent.
Houston's legendary performance of "I Will Always Love You" leaves an indelible mark on pop culture. The 18x Platinum album, featuring other fantastic tracks like "I'm Every Woman" and "Queen of the Night," solidifies Houston's unmatched vocal prowess.
In summary, The Bodyguard's unforgettable soundtrack, dominated by Whitney Houston's powerful vocals, showcases hits like "I Will Always Love You," "I Have Nothing," and "I'm Every Woman." Houston's iconic performance and the soundtrack's massive success make it a classic.
3

'Super Fly' (1972)
IMDb: 6.4/10 8.1K | Popularity: 4,411 | Metascore: 67
Curtis Mayfield's Super Fly soundtrack delves deep into the complexities of the film's narrative. With low-key funk, "Pusherman" humanizes the nameless drug dealer, offering social commentary that stands on its own.
Super Fly captures the essence of Oakland, with songs like "Little Child Runnin' Wild" and "Freddie's Dead" providing context and evoking memories. Through his music, Mayfield aimed to spark positive change, shedding light on societal issues.
In Super Fly, he explores society's double standards and gives voices to victims and predators. He elevates soul music, reminding us of the importance of observing the moral compass in a growing gray area.
Mayfield's soulful rumination in "Freddie's Dead" exposes the exploitation and pain that drive the drug trade, offering insights absent from the script but abundant in the soundtrack.
The Super Fly soundtrack builds a world of its own, weaving a tapestry of broken relationships and presenting Youngblood Priest as a dignified yet dangerous character. Tracks like "Pusherman" capture the pride and allure of the drug trade.
Super Fly challenges the script while remaining true to it, creating tension throughout the soundtrack. "Freddie's Dead" scolds the world that killed Freddie while remaining funky and haunting.
The enduring appeal of Super Fly lies in Mayfield's ability to infuse depth and groove into pulp roles. The soundtrack becomes an essential listen, showcasing Mayfield's imagination and his realization of an unrealized film. It's a subversive act, projecting the vision Mayfield saw in his head.
2

'Saturday Night Fever' (1977)
IMDb: 6.8/10 83K | Popularity: 1,745 | Metascore: 77
John Travolta's standout performance in Saturday Night Fever solidified its status as a disco-era classic. The movie's unforgettable soundtrack, heavily reliant on music and dancing, encapsulates the spirit of the time and serves as a time capsule.
Dominating the Saturday Night Fever soundtrack, the Bee Gees showcase their peak musical prowess with hits like "Stayin' Alive," "Night Fever," and "More Than a Woman." These timeless dance tracks paid homage to disco and held the Number 1 spot on the Billboard Top 200 chart for 24 weeks.
Related: 10 Best John Travolta Movies in Order, Ranked by Viewers
While other artists contributed to the album, the Bee Gees shine as the soundtrack stars, and their music cues have become iconic and often referenced. John Travolta's dance floor prowess as Tony Manero adds a touch of magic to the film, beautifully complemented by the Bee Gees' syrupy, joyful sound.
Despite being considered past their prime, the Bee Gees' music in Saturday Night Fever revitalized their career and captured the communal promise of disco. The soundtrack evokes a belief that anyone can rock a flared suit on the dance floor.
Saturday Night Fever's Grammy-winning, 15x Platinum-selling soundtrack stands out as an album synonymous with an entire genre and cultural movement. In under 20 tracks, it became the embodiment of an era. The album's power is undeniable, even in the face of disco skepticism.
Featuring standout tracks like "Boogie Shoes" by KC and the Sunshine Band and "If I Can't Have You" by Yvonne Elliman, along with unique pieces like "A Fifth of Beethoven" by Walter Murphy and "Night on Disco Mountain" by David Shire, the groovy 76-minute vinyl remains one of the greatest movie soundtracks of all time.
1

'Purple Rain' (1984)
IMDb: 6.5/10 23K | Metascore: 55
Purple Rain stands as a timeless rock musical, showcasing the artistry of music legend Prince. The film may lack a cohesive plot and dialogue, but its incredible soundtrack continues to captivate listeners.
In 1983, driven by his chart-topping hits, Prince pursued a major studio film with his name in lights. Despite its flaws, the movie feels like a glimpse into Prince's unique dream.
Prince's project, Purple Rain, encompasses some of his best work. The soundtrack dominated and ranked #1 on Billboard's chart for 24 consecutive weeks.
"Purple Rain" marked the pinnacle of Prince's rise to pop royalty, featuring hits like the reflective "When Doves Cry."
Constructed from nine killer songs, the soundtrack to Purple Rain launched Prince to superstardom and could easily be considered one of the best albums ever made.
It transcends the typical soundtrack, symbolizing Prince's world-conquering genius. From the energetic frenzy of "Let's Go Crazy" to the emotional release of the title track, the album showcases Prince's musical, lyrical, and erotic powers.
At the film's end, Prince's statement, "Baby, I'm a star," feels like an understatement after witnessing his talent. Purple Rain is a moment of pure genius and vision, rarely seen in both film and music. Prince's performances are captivating, whether writhing through "Darling Nikki" or delivering the "Computer Blue" breakdown.
Purple Rain would be a masterpiece, even if it had been Prince prancing around and singing for 90 minutes. It captures Prince in his prime, audacious and sensual. The film, accompanied by the powerful music it showcases, stands as a testament to Prince's artistry and remains a lasting gem of popular music.
Still not convinced this is the best movie soundtrack of all time? Check out the absolute gems Prince had to leave off this album in his post-mortem deluxe edition of Purple Rain.