John Joseph Travolta, a household name in Hollywood, shot to fame as an American actor in the vibrant 1970s. Born on February 18, 1954, his career in showbiz has been awe-inspiring. Starting on TV, he won many fans with his magnetic role in "Welcome Back, Kotter" from 1975 to 1979.
Related: 10 Highest-Grossing Movies of All Time, Ranked by US Box Office
But it was in movies that Travolta started to shine. In this blog post, we'll journey through the highlights of his stellar career, looking at how he rose to stardom and his memorable roles.
10

'Bolt' (2008)
IMDb: 6.8/10 222K | Popularity: 3073 | Metascore: 67
Duration: 1h 36m | Genres: Animation, Adventure, Comedy | Director: Chris Williams, Byron Howard
Cast: John Travolta, Miley Cyrus, Susie Essman
Debuted in 2008, 'Bolt' shines as a touching computer-animated comedy adventure from Walt Disney Animation Studios. The film highlights a standout cast, with John Travolta voicing the lead character Bolt and contributions from Miley Cyrus, Susie Essman, Malcolm McDowell, Diedrich Bader, Nick Swardson, and Greg Germann.
The plot revolves around Bolt, a dog starring in a TV series as a superhero. The catch? He genuinely thinks he has superpowers thanks to the show's planned stunts and effects.
With its entertaining premise, 'Bolt' was a hit. Made on a budget of $150 million, it earned a solid $310 million, cementing its place in Disney's animated history.
9

'Saturday Night Fever' (1977)
IMDb: 6.8/10 84K | Popularity: 1859 | Metascore: 77
Duration: 1h 58m | Genres: Drama, Music | Director: John Badham
Cast: John Travolta, Karen Lynn Gorney, Barry Miller
1977 brought the world the unforgettable dance drama "Saturday Night Fever." Directed by John Badham and produced by Robert Stigwood, it showcased John Travolta as Tony Manero, a young man from Brooklyn who loses himself in a disco every weekend.
Based on the 1976 article "Tribal Rites of the New Saturday Night" by Nik Cohn, the film boosted Travolta's budding fame from "Welcome Back, Kotter." He even landed an Academy Award nomination for Best Actor thanks to his portrayal of Tony.
Created on a budget of just $3.5 million, it raked in a whopping $237.1 million at the box office.
Beyond its captivating music and dance, "Saturday Night Fever" is a cultural landmark.
8

'Get Shorty' (1995)
IMDb: 6.9/10 87K | Popularity: 4599 | Metascore: 82
Duration: 1h 45m | Genres: Comedy, Crime, Thriller | Director: Barry Sonnenfeld
Cast: Gene Hackman, Rene Russo, Danny DeVito
In the realm of crime comedies, "Get Shorty" stands tall as a 1995 American classic. Under Barry Sonnenfeld's direction and inspired by Elmore Leonard's novel, this film showcased John Travolta in the lead, with stars like Gene Hackman, Rene Russo, Delroy Lindo, James Gandolfini, Dennis Farina, and Danny DeVito in supporting roles.
The story follows Chili Palmer (Travolta), a Miami mobster who juggles debt collecting with his love for vintage films.
The film's charm led to a 2005 sequel, "Be Cool," rooted in another Leonard novel. Produced on a $30 million budget, "Get Shorty" raked in an impressive $115.1 million. Its unique mix of crime and Hollywood satire makes it a standout in Travolta's career and a treat for movie lovers.
7

'A Love Song for Bobby Long' (2004)
IMDb: 7.1/10 27K | Metascore: 48
Duration: 1h 59m | Genres: Drama | Director: Shainee Gabel
Cast: Scarlett Johansson, John Travolta, Gabriel Macht
Travolta stars in this poignant American drama that plunges viewers into New Orleans' soulful backdrop. Adapted from Ronald Everett Capps' "Off Magazine Street" by director Shainee Gabel, the film sees John Travolta as Bobby Long, an aging alcoholic. Scarlett Johansson plays a young woman reconnecting with her roots in New Orleans after her mother's death.
At its heart, this film celebrates human bonds, capturing themes of redemption, forgiveness, and the intricate ties that shape family by birth and choice. With memorable performances by Travolta and a young Johansson, this movie offers a profoundly moving cinematic journey.
For those drawn to touching narratives, "A Love Song for Bobby Long" is a defining piece in Travolta's filmography.
6

'Grease' (1978)
IMDb: 7.2/10 291K | Popularity: 570 | Metascore: 70
Duration: 1h 50m | Genres: Comedy, Musical, Romance | Director: Randal Kleiser
Cast: John Travolta, Olivia Newton-John, Stockard Channing
It's more than a movie; it's a cultural phenomenon. Under the direction of Randal Kleiser, the film brings to life the sizzling romance between Danny Zuko (John Travolta) and Sandy Olsson (Olivia Newton-John).
Set against the backdrop of high school life, the story captures the spark between bad-boy Danny and sweet Sandy after a summer fling. It's filled with memorable songs, energetic dance numbers, and a timeless exploration of young love and identity.
Produced on a $6 million budget, the movie soared, grossing $366.2 million and earning its iconic status. More than just a box office hit, its infectious tunes and relatable themes made it a staple in cinematic history.
Thanks to "Grease," Travolta's star power lit up even brighter, cementing the movie's legacy in film and our hearts.
5

'Face/Off' (1997)
IMDb: 7.3/10 391K | Popularity: 1400 | Metascore: 82
Duration: 2h 18m | Genres: Action, Crime, Sci-Fi | Director: John Woo
Cast: John Travolta, Nicolas Cage, Joan Allen
Venturing into the realm of sci-fi action, this film, directed by John Woo, is an unmistakable standout in John Travolta's film journey. Teaming up with Nicolas Cage, the duo delivers a gripping cinematic experience.
Related: Nicolas Cage Movies List: Ranked Best to Worst
Travolta plays FBI Agent Sean Archer, fueled by revenge against Cage's character, terrorist Castor Troy. The film's standout twist? A face transplant allows Archer and Troy to swap identities, propelling them into a high-octane game of cat and mouse.
Produced with $80 million, it scored big, raking in $245.7 million. Beyond its earnings, the bold narrative and captivating performances by the leads highlight Travolta's versatile acting range. While it might not top critics' lists, its daring concept and star power ensure "Face/Off" has a solid place in Travolta's film history.
4

'Blow Out' (1981)
IMDb: 7.4/10 59K | Popularity: 3424 | Metascore: 86
Duration: 1h 48m | Genres: Crime, Drama, Mystery | Director: Brian De Palma
Cast: John Travolta, Nancy Allen, John Lithgow
Delving into the suspense-filled universe of John Travolta's roles, this 1981 film emerges as a notable entry. Crafted by Brian De Palma, this neo-noir mystery thriller reveals Travolta's exceptional ability to delve deep into his character's psyche.
In the narrative, Travolta embodies Jack Terry, a movie sound technician in Philadelphia. As he works on enhancing the sound of a horror film, he accidentally captures an audio snippet that hints at a chilling assassination plot against a rising political figure.
Despite being made on an $18 million budget and garnering $13.8 million at the box office, the real value of "Blow Out" lies in its suspenseful atmosphere, symbolized by the tagline, "Murder has a sound all of its own."
Travolta's portrayal of the engrossed and troubled Jack Terry and the movie's narrative ensure it remains an unforgettable installment in his diverse and storied career.
3

'Carrie' (1976)
IMDb: 7.4/10 197K | Popularity: 1174 | Metascore: 86
Duration: 1h 38m | Genres: Horror, Mystery | Director: Brian De Palma
Cast: Sissy Spacek, Piper Laurie, Amy Irving
One of the early milestones in John Travolta's acting journey, "Carrie" (1976), is a testament to the power of supernatural horror films. Directed by the skilled Brian De Palma and inspired by Stephen King's haunting debut novel, this film set a benchmark in American horror storytelling. The story revolves around Carrie White, a quiet and socially awkward teenager masterfully portrayed by Sissy Spacek.
Endlessly teased and bullied, Carrie's traumatic school experiences escalate as she discovers her latent telekinetic powers.
Made on a modest budget of $1.8 million, the movie took the box office by storm, raking in $33.8 million. Brian De Palma's captivating rendition of King's dark tale paved the way for multiple adaptations, solidifying the story's legacy in horror cinema. With Travolta featuring in one of his early roles, "Carrie" is a significant chapter in his eclectic cinematic repertoire.
2

'The Thin Red Line' (1998)
IMDb: 7.6/10 195K | Popularity: 1159 | Metascore: 78
Duration: 2h 50m | Genres: Drama, History, War | Director: Terrence Malick
Cast: Jim Caviezel, Sean Penn, Nick Nolte
This American epic war film delves into the complexities of human nature amidst the chaos of battle. Directed and written by Terrence Malick, this cinematic masterpiece offers a fresh perspective on war, adapted from James Jones' novel.
Set during World War II, the film provides a fictionalized account of the Battle of Mount Austen, a pivotal engagement in the Guadalcanal Campaign in the Pacific Theater. It centers around the experiences of the soldiers of C Company, giving voice to their innermost thoughts and struggles.
The film earned seven Academy Award nominations, including Best Picture, Best Director, Best Adapted Screenplay, and Best Cinematography.
With a budget of $52 million, "The Thin Red Line" garnered $98.1 million at the box office. It is a testament to John Travolta's involvement in diverse and thought-provoking projects, solidifying its place among his best film endeavors. This war epic is a poetic and introspective take on the harrowing realities of conflict, making it a must-see for cinephiles seeking a profound cinematic experience.
1

'Pulp Fiction' (1994)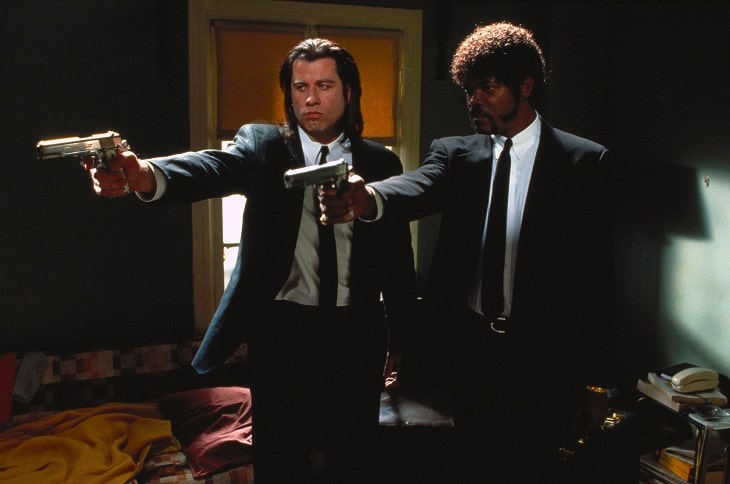 IMDb: 8.9/10 2.1M | Popularity: 77 | Top 250: #8 | Metascore: 95
Duration: 2h 34m | Genres: Crime, Drama | Director: Quentin Tarantino
Cast: John Travolta, Uma Thurman, Samuel L. Jackson
We have an undisputed gem at the top of the list, marking a significant collaboration with the visionary Quentin Tarantino. This American crime film weaves a complex tapestry of crime and violence in the gritty streets of Los Angeles, California.
The film boasts a stellar ensemble cast, with Travolta sharing the screen with Samuel L. Jackson and Bruce Willis. Their performances, alongside Tarantino's signature storytelling, contribute to the film's enduring appeal.
Related: Samuel L. Jackson Movies Ranked: Best to Worst
Penned by Tarantino in 1992 and 1993, with some scenes initially intended for the film "True Romance" (1993). One of the defining features of the movie is its non-linear narrative, a deliberate choice that adds layers of intrigue to its interconnected tales of crime and redemption.
With a production budget ranging from $8 to $8.5 million, it achieved box office success, grossing an impressive $213.9 million. The film's impact on the crime genre and its enduring cultural significance testify to the artistry of Quentin Tarantino and John Travolta.
John Travolta's role in this film is just one highlight in his storied career, making "Pulp Fiction" an essential entry in any list of his best movies.
In the grand tapestry of cinematic achievements, John Travolta has graced us with his talent in various captivating roles. From iconic dance floors to crime-ridden streets and war-torn battlefields, his filmography reflects an actor of remarkable versatility. As we've journeyed through the best John Travolta movies in order, we've explored the highlights of his career, each film a unique testament to his craft.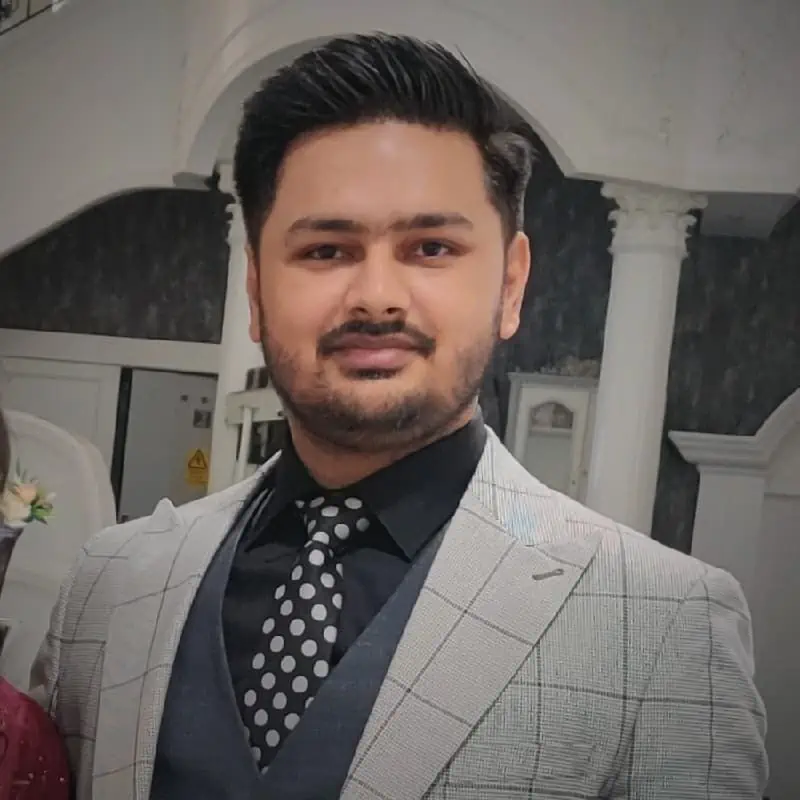 Senior Writer at BuddyTV | Experienced Writer and Graphics Designer