It's his good looks that seem to be the talking point when discussing The Voice coach Adam Levine, but lest you forget, he's a Grammy-winning singer, songwriter, and multi-instrumentalist who also happens to be an outstanding coach on the NBC hit series (and not just because he won last season).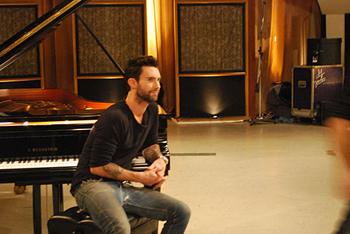 Levine came to The Voice with nothing to prove. With his band Maroon 5, he'd released three successful albums (a fourth, Overexposed, is due June 26), won three Grammys (among numerous other awards and nominations), and built a devoted fan following worldwide. He was clearly an established musician with no need for a career boost. Yet with the popularity, there persisted the stigma that he was little more than a pretty face.
That was a misconception to begin with; not only is Levine the lead singer for Maroon 5, but he also plays guitar, drums, and even the piano, and writes or co-writes most of the band's songs. The Voice has given him a platform to show those talents, as well as his smarts, charisma, compassion, and a refreshing honesty.
Of all the coaches, it's Levine who's gotten attention for his willingness to tell it exactly like it is on national television. Last year, when the other three coaches evenly split their semifinal scores between their artists, Levine weighed his heavily in favor of eventual winner Javier Colon and promptly let Casey Weston know that he felt he had to push Colon through because it was possibly his last chance at success. (A statement that ended up being proven right when Colon later told reporters that without the show, "I would be doing something other than music.")
And it was Levine's comment about the season two artists not singing up to their full potential during performance shows that led the Voice producers to introduce this season's instant eliminations. Whether it's on the show or on Twitter (@adamlevine), he's unafraid to shoot straight.
That honesty is the quality about him that's most appreciated by many of the artists who have been part of Team Adam. "It's been great being on Adam's team," Kim Yarbrough confided during a recent interview, "because he really has a strategy for everything that he does. He doesn't just have a strategy for winning The Voice. This is his M.O. In this industry, nothing is really a coincidence. No one's an overnight success. Every bit of it is planned. You really have to set yourself up for success, and he does that. It's refreshing to see that somebody's not going to lie to you and say, 'I just happened up here.'"
Agreed Katrina Parker, "What I've taken from him is that everything he says, he says with intention. Everything he says is thought out and is for you to be the best you can possibly be. He really knows what he's doing."
That includes knowing when to take a step back out of the spotlight. Last year, Levine very clearly played second to Colon during their finals duet of "Man In The Mirror," choosing to complement his finalist's vocals. This season, we saw him elect not to sing during his team's group performance, content to play the drums on their version of "Instant Karma" and let them be the center of attention.
His own attention is very definitely focused on developing the artists on his team, but not just with advice and experience; he's giving them the support one expects from a coach and then some. In the six weeks of Voice live shows this season, I've seen Levine interact with his artists more than any of the other coaches. He's gone backstage to talk with them before their "last chance" performances, and come onstage to give them encouragement before the results of America's votes are revealed.
That's not only an investment of time, but it also shows an investment of emotion, well beyond what one might expect from a celebrity coach who's also doing about a dozen other things at any given moment. During this season of The Voice alone, he's worked on that new Maroon 5 album, debuted and shot the video for the single "Payphone," revealed that he'll be in the new season of FX's American Horror Story, and won the Golf Channel's The Haney Project. Levine joked during a recent appearance on Last Call with Carson Daly that he thought his next day off might be in the fall of 2012.
As accomplished as he is, and as busy as he is, Levine would seem to have plenty of excuses to check out, or to have a rock star-worthy ego. While he refers to himself as cocky, and he has his pride (he enjoyed needling his fellow coaches during blind auditions by pointing out repeatedly that his team won last season), I'll say that he is the sweetest, most caring person I've met in this business.
Being a fan of Maroon 5, when I began to cover The Voice last year, I was merely hoping to shake Levine's hand and say hello. I was speechless when he introduced himself to me and then struck up an entire conversation. This happened to be the week before I was going into the hospital…which I mention because the next time he saw me, he immediately came over to ask how that had gone and make sure I was all right. That kindness is something I still hold onto to this day.
You can imagine my surprise when this season – almost a year later – he again spotted me and walked straight over to grab me into a hug and again ask how I was feeling. He's given me his support when he certainly didn't have to. If I often sound like I'm in his corner, it's because I've gotten to meet and been honored to know a truly classy, compassionate individual who just happens to be talented and yes, ridiculously good-looking.
But he doesn't need my help, or anyone else's, to prove his worth. Adam Levine is the complete package: he can sing, he can play instruments, he writes his own material, he makes people laugh, he makes girls swoon, he's won awards, and he's also one of the nicest guys in the business. He may be getting attention for his sex appeal, but he deserves it for that and a whole lot more.
You can see more of Levine as The Voice finals air tonight at 8 PM ET/PT and a winner is named tomorrow at 9 PM ET/PT on NBC.
Image courtesy of NBC