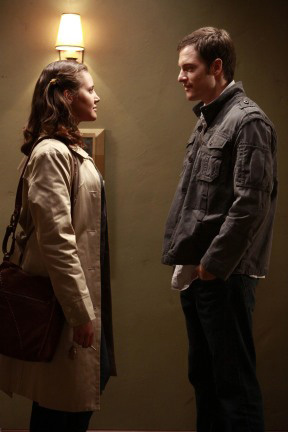 DATE OF BIRTH
May 20, 1975
BIOGRAPHY
Canadian actor Tahmoh Penikett was born on May 20, 1975, in Whitehorse, Yukon. The son of former Yukon premier Tony Penikett, he is a graduate of the Victoria Motion Picture School and also studied at the Lyric School of Acting in Vancouver. He made his debut in the 1996 television movie Murder on the Iditarod Trail, but only started acting at the entry of the 21st century, when he appeared in numerous roles on television. Early television gigs included guest roles in Stargate SG-1, Dark Angel, and The L Word, as well as roles in a number of films.
Penikett's first regular television role was in the Canadian police drama Cold Squad. Premiered in 1998, he joined the show's final season in 2004, as Corporal Ray Chase. The series was canceled shortly after.
In 2003, Penikett started his involvement with the remake of the hit science fiction series Battlestar Galactica. The reimagined take on the 1970s show saw him play the role of Karl Agathon, an electronic countermeasures officer paired with Sharon Valerii (Grace Park). He first appeared in the miniseries, where he sacrificed his seat to be able to accommodate a doctor into his Raptor and, consequently, into safety. The writers originally planned to kill him off after the miniseries, but they, as well as the fans, applauded his performance, eventually giving him a slot in the resulting television series. Premiered in 2004, Penikett's character unwittingly became part of a Cylon experiment to determine whether a viable Cylon/human hybrid child can be created.
Penikett's next notable television role was in the acclaimed Canadian thriller series Whistler, where he appeared in four episodes in 2007 as Elias Noth. He also signed on to be part of the Joss Whedon drama series Dollhouse, where he played FBI agent Paul Ballard, who became romantically obsessed with lead Echo (Eliza Dushku).
PLACE OF BIRTH
Whitehorse, Yukon, Canada
BIRTH NAME
Tahmoh Penikett
GENDER
Male
FUN FACTS
His character Helo in the Battlestar Galactica miniseries was not supposed to return for the regular run of the show. The audience response to Helo was so strong the producers created an entire subplot for the character in the second series, set on the destroyed homeworld of Caprica.
FILMOGRAPHY (Movies and TV Shows)
Past Film & Video
Year
IMDb
Rehab
Jacob Cardinal
2022
Bones of Crows
Major Stevens
2022
8.2
The Last Victim
Richard Orden
2021
4.8
Kiri and The Girl
Dan
2021
Supposition
Professor Peterson
2021
The Sinners
Pastor Dean Carver
2020
4.2
2 Hearts
Eric
2020
6.2
Killbird
Postman
2019
5.1
The Devil Has a Name
Anders
2019
5.4
Deep Space
Duke
2018
4.0
Pure Pwnage
Charles McBean
2016
6.7
All Cock and No Bull!
Actor
2016
6.2
Painkillers
Cafferty
2015
4.1
Justice League: Gods and Monsters
Steve Trevor
2015
7.0
Check, Please!
Dax
2015
6.4
The Portal
Alar
2014
7.7
Down River
Chris
2013
7.0
Man of Steel
Jed Eubanks
2013
7.1
The Hostage
The Figure
2010
7.8
Run Rabbit Run
Dwayne
2008
6.5
The Green Chain
The Firefighter – Brett Hall
2007
4.7
Trick 'r Treat
Henry
2007
6.7
Taming Tammy
Wilson
2007
6.2
Trapped Ashes
Young Leo
2006
4.7
Stanley's Girlfriend
Stanley
2006
6.7
Sandra Goes to Whistler
Conrad
2005
6.4
Go-Go Boy (Prelude)
Aaron Fitz (Go-Go Boy)
2002
9.2
Past Television
Year
Episodes
IMDb
Devil in Ohio (2022)
(TV Mini-series) – Malachi
2022
5
5.9
GenZeroes (2022)
(TV Series) – Ranger
2022
1
Circle of Deception (2021)
(TV Movie) – Jim Huden
2021
5.1
Medinah (2020)
(TV Series) – Ezra
2020
4
7.9
The Hillywood Show (2015–2019)
(TV Series) – Luther Hargreeves / Dancer
2019
2
8.4
BH90210 (2019)
(TV Series) – Jack Carlisle
2019
2
6.9
Ride or Die (2019)
(TV Movie) – Quincy
2019
Deep Six (2018)
(TV Series) – Duke Cagle
2018
6
6.1
Taken (2018)
(TV Series) – David Ramsey
2018
5
6.5
Personal Space (2018)
(TV Series) – Digital Producer
2018
28
6.5
Altered Carbon (2018)
(TV Series) – Dimi 1 / Dimitri Kadmin
2018
2
7.9
Deadly Secrets by the Lake (2017)
(TV Movie) – Santos Alvarez
2017
5.2
Rogue (2017)
(TV Series) – Paul Rainsford
2017
2
6.8
Incorporated (2017)
(TV Series) – Goran
2017
4
7.2
Con Man (2016)
(TV Series) – Randy Lane
2016
1
7.7
Beauty and the Beast (2016)
(TV Series) – Kane
2016
2
7.0
Motive (2016)
(TV Series) – Vince Hutton
2016
1
7.4
Real Detective (2016)
(TV Series) – C.W. Jensen
2016
1
8.0
Angel of Christmas (2015)
(TV Movie) – Derek Hamilton
2015
6.1
Riftworld Chronicles (2015)
(TV Mini-series) – Alar of Caer Caladh
2015
8
8.2
Justice League: Gods and Monsters Chronicles (2015)
(TV Series) – Steve Trevor
2015
1
7.5
Strange Empire (2014–2015)
(TV Series) – Marshal Caleb Mecredi
2015
8
6.2
Supernatural (2013–2014)
(TV Series) – Gadreel / Ezekiel
2014
6
8.4
Reign (2014)
(TV Series) – John Prevo
2014
1
7.4
Continuum (2012–2014)
(TV Series) – Jim Martin
2014
5
7.6
Bomb Girls: Facing the Enemy (2014)
(TV Movie) – Clifford Perry
2014
7.2
Bomb Girls (2013–2014)
(TV Series) – Clifford Parry
2014
6
7.8
Star-Crossed (2014)
(TV Series) – Officer Jack Beaumont
2014
2
7.1
Criminal Minds (2014)
(TV Series) – Michael Hastings
2014
1
8.1
Whisper of Fear (2013)
(TV Movie) – DA Jacob Waring
2013
5.1
Arrow (2012)
(TV Series) – Nick Salvati
2012
1
7.5
Castle (2012)
(TV Series) – Cole Maddox
2012
2
8.1
The Killing (2011–2012)
(TV Series) – Greg Linden
2012
2
8.3
Fairly Legal (2012)
(TV Series) – Mark Ellison
2012
1
7.3
Big Time Movie (2012)
(TV Movie) – Agent A
2012
6.1
Innocent (2011)
(TV Movie) – Jimmy Brand
2011
5.5
Haven (2011)
(TV Series) – Simon Crocker
2011
1
7.5
Jabberwock (2011)
(TV Movie) – Francis
2011
3.4
Mortal Kombat: Legacy (2011)
(TV Series) – Lt. Kurtis Stryker
2011
2
7.3
Human Target (2010)
(TV Series) – Pete
2010
1
7.7
Riverworld (2010)
(TV Movie) – Matt Ellman, Stunts
2010
4.8
Dollhouse (2009–2010)
(TV Series) – Paul Ballard
2010
27
7.7
Titan Maximum (2009)
(TV Series) – Troy Hammerschmiddtt
2009
4
7.0
Battlestar Galactica (2004–2009)
(TV Series) – Captain Karl 'Helo' Agathon / Lt. Karl 'Helo' Agathon
2009
65
8.7
Whistler (2007)
(TV Series) – Elias Noth
2009
4
6.9
Battlestar Galactica: Razor (2007)
(TV Movie) – Lt. Karl 'Helo' Agathon
2007
7.6
Robot Chicken (2007)
(TV Series) – Karl C. Agathon / Scott Trakker / Armpit
2007
1
7.7
Smallville (2004–2007)
(TV Series) – Wes Keenan / Vince Davis
2007
3
7.5
Battlestar Galactica: The Story So Far (2006)
(TV Movie) – Lt. Karl C. 'Helo' Agathon
2006
7.4
Lesser Evil (2006)
(TV Movie) – Greg
2006
4.5
Hush (2005)
(TV Movie) – Noah Hamilton
2005
4.8
Cold Squad (2004–2005)
(TV Series) – Constable Ray Chase
2005
13
6.8
The L Word (2004)
(TV Series) – Sheriff
2004
1
7.6
Battlestar Galactica (2003)
(TV Mini-series) – Lt. Karl Agathon
2003
2
8.5
Just Cause (2003)
(TV Series) – Principal Joe Decker
2003
1
6.8
Under the Cover (2003)
(TV Movie) – Jonas
2003
6.0
Stargate SG-1 (2002)
(TV Series) – Third
2002
1
8.4
Wildfire 7 (2002)
(TV Movie) – Ranger
2002
4.6
Below the Belt (2002)
(TV Short) – Actor
2002
Dark Angel (2002)
(TV Series) – ND Cop
2002
1
7.3
Glory Days (2002)
(TV Series) – Eric Forester
2002
1
6.5
The Cold Heart of a Killer (1996)
(TV Movie) – Actor
1996
6.3
HEIGHT
6′ 2 1/5″ (1.89 m)