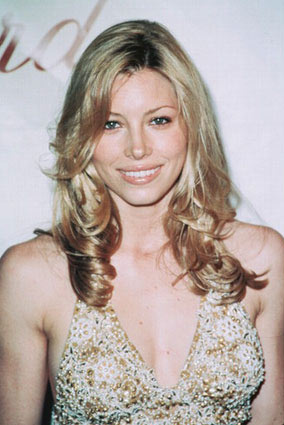 DATE OF BIRTH
March 3, 1982
BIOGRAPHY
Born March 3, 1982 in Ely, Minnesota, Jessica Claire Biel is an American actress and former model. She initially trained to become a vocalist, appearing in several musicals in her hometown. She was given lead roles in productions such as Annie, The Sound of Music and Beauty and the Beast. She has also attended the International Modeling and Talent Association Conference when she was 12. This led her to be discovered and signed on by an agency. She then did modeling work in print ads and commercials.
In 1994, Jessica Biel played the lead role in a musical short called It's a Digital World, but the film was never released. At 14, she was cast as the oldest daughter in the family drama 7th Heaven, the highest-rated show on The WB. She also landed the lead role in the critically acclaimed Ulee's Gold, and I'll Be Home for Christmas. Her portrayal of Casey Jackson in Ulee's Gold earned her a Young Artist Award. She also starred in The Rules of Attraction and in Summer Catch.
At the end of 7th Heaven's sixth season, Jessica Biel was given the role of the lead heroine in the remake of The Texas Chainsaw Massacre in 2003. The next year, she was given a cameo in Cellular and played the role of Abigail Whistler on the third installment of the Blade series, Blade: Trinity. In 2005 she was cast in Stealth, which was a box office failure. She then auditioned for the romantic comedy Elizabethtown, but lost the role to Kirsten Dunst. She got a minor part in the film, which was followed by a performance in the independent movie London. Jessica Biel's film career improved when she starred as a duchess in the period drama The Illusionist, co-starring Paul Giamatti and Edward Norton. For her performance, she was awarded with the Rising Star Award at the Palm Springs International Film Festival, as well as winning an Achievement Award at the Newport Beach Film Festival. She then surprised fans by returning to the series finale of 7th Heaven. In 2007, she was cast in Next and I Now Pronounce You Chuck and Larry. The next year, she starred and produced a short film, Hole in the Paper Sky. She then appeared on films like Powder Blue, Valentine's Day and The A-Team. She also voiced the character Neera in the animated film Planet 51.
PLACE OF BIRTH
Ely, Minnesota
BIRTH NAME
Jessica Biel
GENDER
Female
FILMOGRAPHY
2010: The A-Team – Charissa Sosa
2010: Valentine's Day – Kara Monahan
2009: Planet 51 – Neera (voice)
2009: Saturday Night Live (TV series) – Jessica Rabbit
2009: Powder Blue – Rose Johnny
2008: Easy Virtue – Larita Whittaker
2008: Hole in the Paper Sky (short) – Karen Watkins
2007: I Now Pronounce You Chuck & Larry – Alex McDonough
2007: Next – Liz Cooper
2006: Home of the Brave – Vanessa Price
1996-2006: 7th Heaven (TV series) – Mary Camden/Mary Rivera
2006: The Illusionist – Sophie
2005: Elizabethtown – Ellen Kishmore
2005: London – London
2005: Stealth – Lt. Kara Wade
2005: Family Guy (TV series) – Brooke
2004: Blade: Trinity – Abigail Whistler
2004: Cellular – Chloe
2003: The Texas Chainsaw Massacre – Erin
2002: The Rules of Attraction – Lara
2001: Summer Catch – Tenley Parrish
1998: I'll Be Home for Christmas – Allie
1997: Ulee's Gold – Casey Jackson
1994: It's a Digital World – Regrettal