Love. It makes the world go round. It also keeps many of our favorite TV shows moving along. The relationships on television in 2011 take many forms, but all are wonderful in their own ways. We now celebrate 30 of the very best TV relationships of the year.
---
#30 Best Sudden Lurch Forward into Love: Bones
Tragedy may have brought up a hint of increased intimacy, but the real push — after 6 seasons of inching along — came when Brennan unexpectedly told Booth he was the father of her future baby. The beginning of season 7 thus thrust us into a Booth-Brennan couplehood, in all its glory.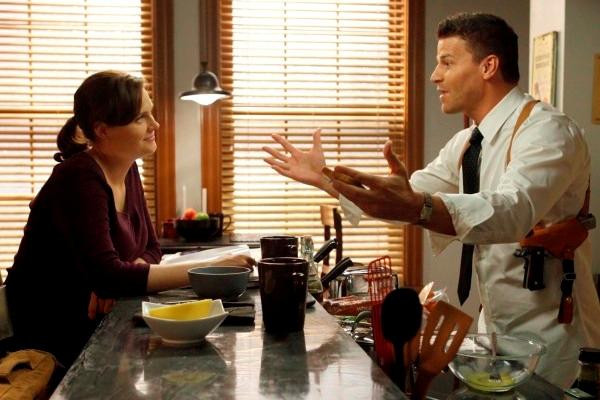 ---
#29 Best Relationship Sacrificed for the Greater Good: Supernatural
At the end of season 5, Dean Winchester had lost his brother (boo!) while saving the world from Armageddon (yay!). He deserved a nice home life. And he got it with Lisa and her son, Ben. Alas, the domestic tranquility could not last, and Dean was soon demon-hunting again. Things just got worse for the family in 2011, when Dean eventually gave up the relationship for good. Now that Lisa and Ben don't even remember Dean's existence, there's no going back.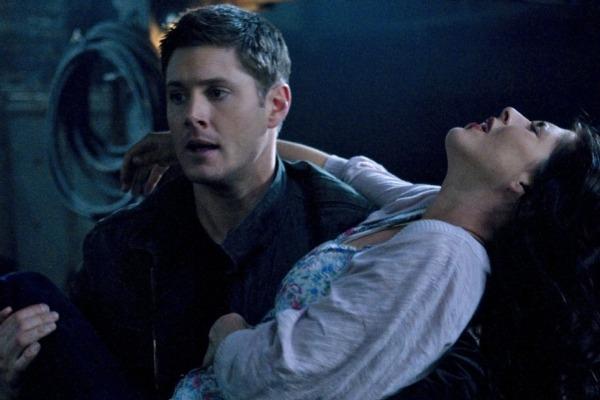 ---
#28 Best Happily Ever After (For Now): Chuck
Sure, we always knew Chuck and Sarah were destined for each other. But it's nice to get proof. Not only did the spy couple affirm their relationship by getting engaged (in "Chuck vs. the Push Mix"), but they kept right on going into married bliss by the season 4 finale.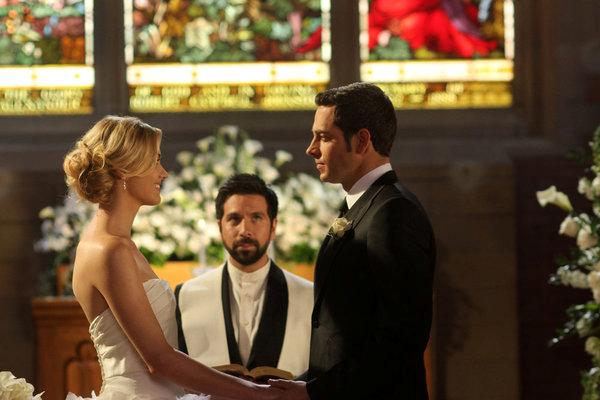 ---
#27 Best Love Polygon: The Vampire Diaries
Elena loves Stefan. Stefan loved Elena until Klaus made him stop. Klaus is obsessed with Stefan and needs Elena to meet his hybrid-making needs. Damon hates Klaus but loves Stefan, even when the latter is a heartless killing machine. Damon also loves Elena. Elena has feelings for Damon but is still stuck on her love for Stefan. And then there's Katherine. Katherine just complicates everything.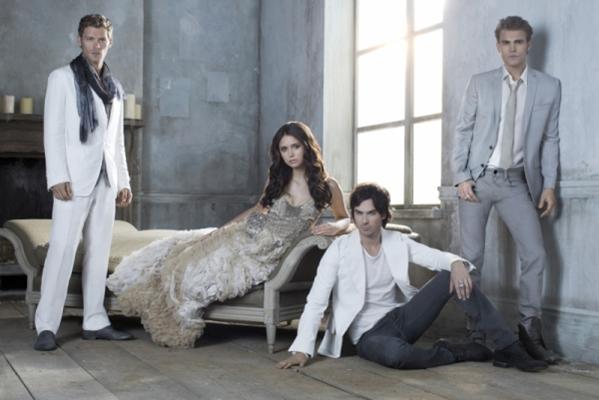 ---
#26 Best Relationship That Survived a Bunch of Crap: Grey's Anatomy
In the ultimate story of triumph over adversity, Callie and Arizona forged ahead despite the fact that they had to deal with their separation when Arizona went to Africa, Callie having Mark's baby, and the two of them getting into a horrific car crash after Arizona proposed. It was a bumpy road, but the two got their wedding day and their healthy baby. On a show where most relationships are doomed from the start, at least one couple got a happy ending.
---
#25 Best Unlikely-But-Awesome Pairing: Parks and Recreation
At the beginning of 2011, April and Andy weren't even dating. But Andy's puppy-dog enthusiasm eventually won over April's determined cynicism, and the two got back together. Then, they had a fancy party and got married. Of course they couldn't last.
But they have. And it's awesome.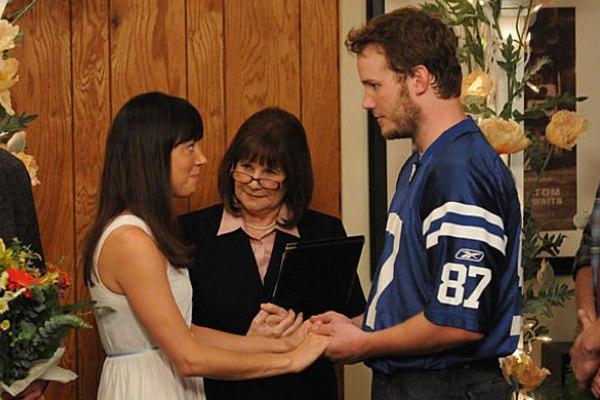 ---
#24 Best Competing BFFs: Glee
Kurt and Rachel have always competed within the glee club, but this year has taken their competition — and their friendship — to new heights. Whether vying for a spot at the Midwest's most competitive music school, running for student body president or auditioning for the school play, these ultra-competitive singers somehow manage to keep it cordial. Most of the time.
---
#23 Best Relationship Negated by Non-Existence: Fringe
After three seasons of friendship, off-putting cases and the occasional jaunt into another universe, Peter Bishop and Olivia Dunham finally got on the right road to romance. But then Peter accidentally erased himself from existence. Oh well.
---
#22 Best Example of a Happily-Married Couple: Raising Hope
Sure, they married as knocked-up teenagers, but that doesn't mean that Virginia and Burt Chance aren't the sweetest couple of television. Even their fighting oozes with affection, and their overtly-loving moments — like when Burt created Virginia's dream wedding in Las Vegas — are enough to make anyone believe in love.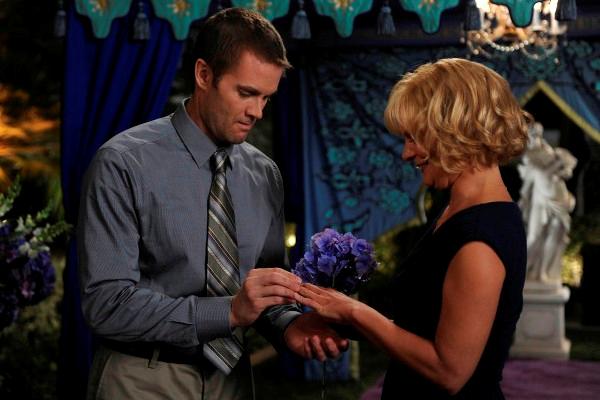 ---
#21 Best Unexpected Relationship: Gossip Girl
After years of hostility and hatred, the unthinkable happened as Dan and Blair became Dair. Even more surprising than the two of them getting together was the fact that it actually worked and made us care about this unlikeliest of romances.
---
#20 Best Hook-Up with a Best Friend's Ex: True Blood
After being gang-raped by the were-panthers, Jason was saved by Hoyt and Jessica — specifically by Jessica's vampire blood. Thus began an attraction between Jason and Jessica. The connection deepened when Jason saved Jessica from going into the light, thus leading to sex (as everything seems to do on True Blood).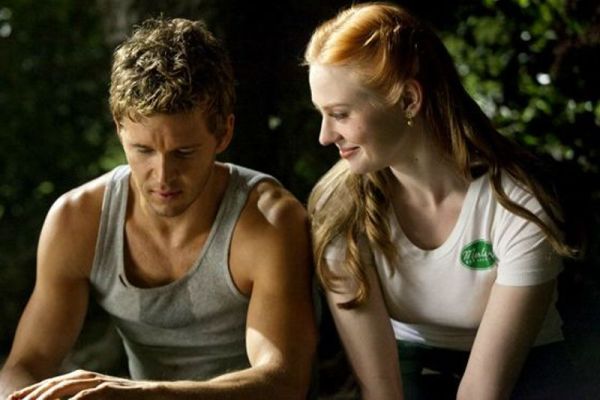 ---
#19 Best Hook-Up with an Ex's Best Friend: The Vampire Diaries
Once her formerly-clueless, human boyfriend found out that Caroline was a vampire, the relationship was doomed. Fortunately, Tyler — a brand-new werewolf at the time — was ready to take his best friend's place with the bloodsucking cheerleader.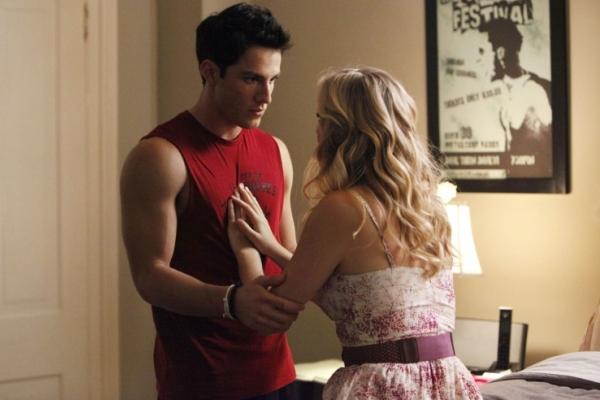 ---
#18 Best Delayed Relationship: Castle
They kissed. They exchanged many an emotional look. They saved each other's lives repeatedly. Still, not even Castle's profession of love, uttered over Beckett's bleeding body, could get that relationship off the ground. Maybe they'll work through their issues in 2012…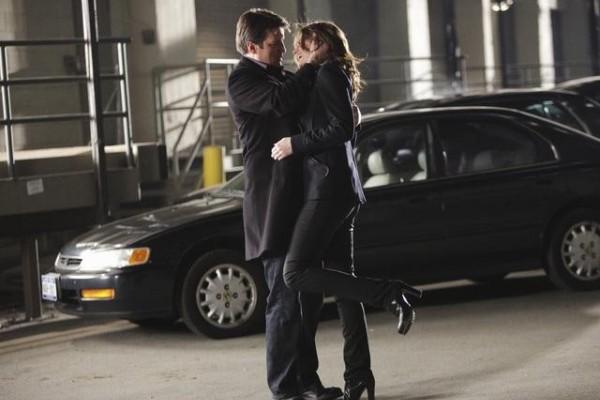 ---
#17 Best Bromance: Community
Abed and Troy took their relationship to the next level this season and moved in together. The best friends can now sleep in the same blanket fort, watch Inspector Spacetime in their bathrobes, and share a Dreamatorium.
---
#16 Best Crush: Dancing with the Stars
It probably shouldn't come as a shock that Carson Kressley had a crush on Maksim Chmerkovskiy. I mean, seriously, who doesn't? The man is gorgeous. The surprising part was how willing Maks was to accept Carson's infatuation. Carson may not have gotten a dance with his dream man, but he seemed happy to make do with younger-brother Val.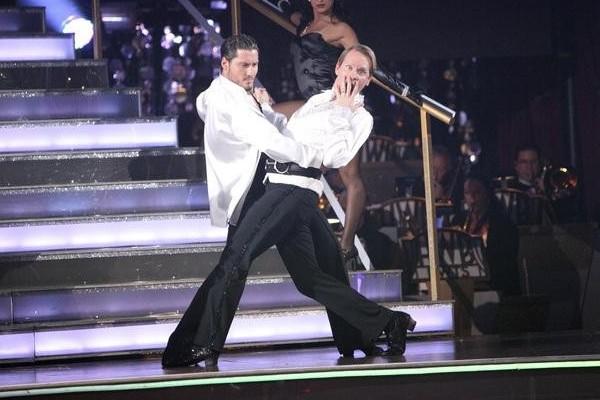 ---
#15 Best Example of Sleeping with the Enemy: Revenge
Nolan has his own way of plotting revenge. When asked to keep the scheming Tyler out of Emily's way, the lonely billionaire decided to lure his grifter target into bed. It was an interesting choice, and the fallout can't be over yet.
---
#14 Best Example for Alternative Teens: Glee
Kurt's open homosexuality has always been a touchstone for kids trying to define their own path. But he started out on that path all alone. Enter Blaine, a good-looking, well-adjusted and popular guy perfect for Kurt's attentions. It took awhile, but eventually the two boys managed to form a healthy and admirable partnership, no matter what hostility came their way.
---
#13 Best Political Alliance Hampered by Politics: Parks and Recreation
It is arguable that no television couple has ever been more perfect than Leslie Knope and Ben Wyatt. These two political nerds love only each other more than their jobs. Considering that those jobs were put in jeopardy by Ben and Leslie's relationship, it's probably good that love conquers all.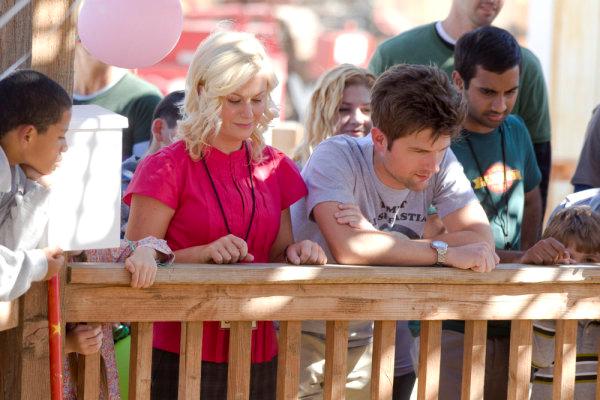 ---
#12 Best Totally-Doomed-And-We-All-Knew-It Relationship: Grey's Anatomy
When Teddy married Henry, the charming and attractive patient with a dangerous condition and a lack of medical insurance, it was only a matter of time before it all ended badly. And it did.
---
#11 Best Roommates: New Girl
As anyone who has ever lived with roommates knows, it can be tough. You never have the same tastes, schedules or levels of cleanliness. Usually, however, the results aren't very funny. That's not the case on New Girl. Three immature guys and a perpetually singing, sunny girl actually give roommates a good name.
---
#10 Best Relationship with a Dead Man Clad in Rubber: American Horror Story
When you move into a gothic house of horror, you've got to expect relationships to have a few issues. But typically those relationships do not involve a dead man clad in a rubber sex suit. Vivien's intimacy with said man has since resulted in a pregnancy and may yield the Antichrist. So maybe it's for the best that this is an unusual relationship.
---
#9 Best Not-So-Secret Secret Relationship: The Good Wife
Alicia and Will spent most of the fall of 2011 sneaking around so that no one in their law firm would find out about their relationship. Too bad their co-workers totally figured it out…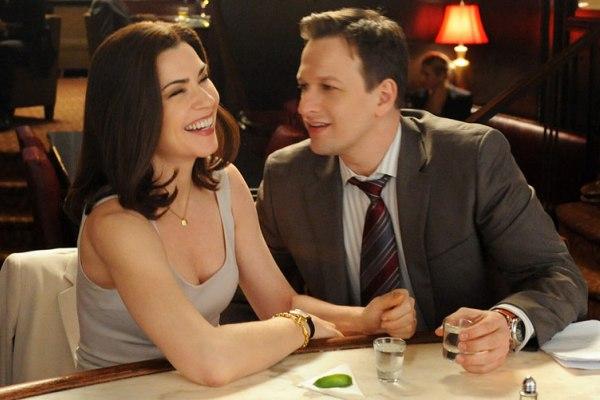 ---
#8 Best Union of Nerds: Eureka
Considering they're in a town filled with nerds, most of Eureka's central couples are decidedly less-than-geeky. That's why it was great when Dr. Holly Marten found Dr. Douglas Fargo this year. Both take nerdy to new heights — while simultaneously being as cute and sweet as can be.
---
#7 Best Relationship That Can Never Be: Revenge
Jack has carried a torch for his childhood sweetheart, Amanda, for years. Alas, Amanda has become Emily, whose vengeful activities leave no time or emotions for honest romance. Will Jack ever truly realize that his present-day crush is also the girl of his dreams? For his safety and sanity, let's hope not.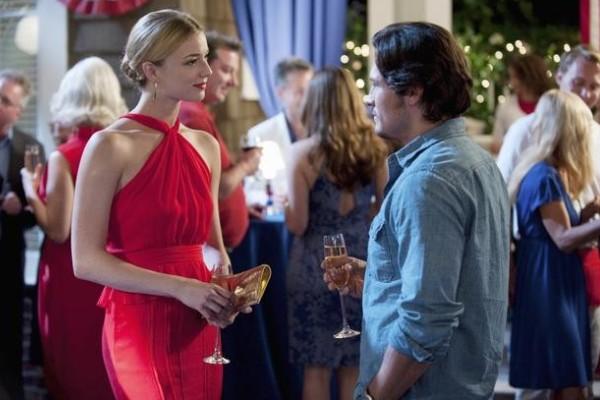 ---
#6 Best Platonic Friendship: Happy Endings
Sure, they used to date (before Max realized he was gay), but it's kind of hard to imagine a better relationship between Penny and Max than the friendship they have now.
---
#5 Best Relationship Derailed by Random Casting Changes: Glee
Mercedes needed a guy. Sam needed a girl, especially one less self-involved than Quinn. They weren't an obvious couple, but the chemistry worked. Mercedes and Sam ended Glee season 2 happy and healthy. And then Chord Overstreet left (or was kicked off — we'll never know for sure) the show. Sure Mercedes found a replacement, but he was no Trouty Mouth!
---
#4 Best Relationship with Communication Problems: Switched at Birth
They say relationships are about communication, so what about two people who literally can't communicate? In the case of Bay and Emmett (who is deaf and hates speaking), it somehow works.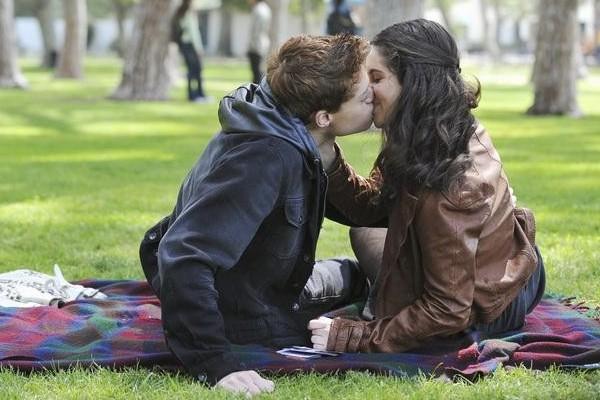 ---
#3 Best Advertisement for the Nuclear Family: Modern Family
While they are technically the "alternative" version of family depicted on the show, Cam and Mitchell may in fact be the best advertisement for the classic, nuclear family. Loving and caring parents, the two men are absolutely devoted to each other and to their family. It's a lovely thing to see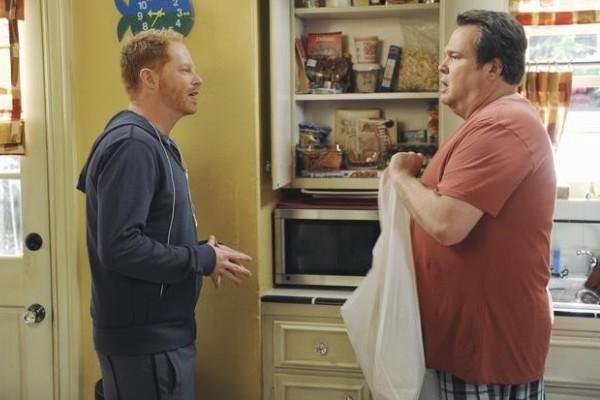 ---
#2 Best Bad-Ass, Crime-Fighting Couple: Nikita
Can romance flourish between a pair of ruthless assassins working against a nefarious government-ish agency that wants them dead? Yep.
---
#1 Best Bad Ending to a Relationship: House
Sure, no one really thought that there would be a "happily ever after" in House and Cuddy's relationship. But it would have been hard to predict that ending. When a series of downward-spiraling actions were not enough for House to deal with his feelings of rejection, he crashed his car. Into Cuddy's house. When she was at home. Even for House, that's kind of extreme.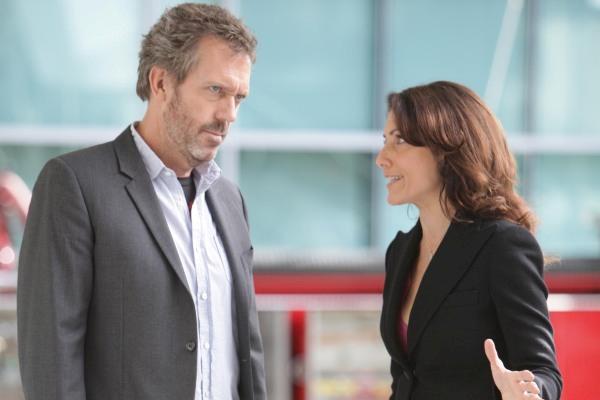 With a collective experience in film analysis and entertainment journalism, our team, comprised of avid movie buffs, has always been on the frontline of exploring cinematic universes, from the enchanting realms of Disney to the action-packed scenes of the MCU.
Our passion has led us to exclusive interviews with notable figures, early access, and active participation in the industry.
Recognized by the press, we dive deep into various genres, including drama, cartoons, comedy, and foreign films, always eager to bring fresh insights to our readers.
Connect with us or explore our journey to learn more about our adventures in unraveling the magic of the big screen.