Octavia and Lincoln are in a delicate position with her sick from the poisoned arrow and with him breaking his exile from his community. They are both in precarious situations in this new place. He risked his life by returning to get her the antidote for the poison. In The 100 Season 2 Episode 2, "Inclement Weather," Octavia fights for her own life, while also risking it to save his.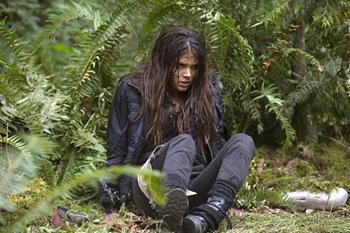 Marie Avgeropoulos spoke with BuddyTV and other reporters from The 100 set in Vancouver about the sacrifices Octavia and Lincoln will make for each other, how far Octavia's willing to go, and the troubles the "adults" will face now that they are on the ground. Check out the video interview with Marie Avgeropoulos and highlights below.
Highlights from the interview:
Octavia and Lincoln continue to make sacrifices for each other. Some of the sacrifices will be extreme. Nothing will stand in the way of their love.
They will kill in order to protect her people and protect the alliance they are trying to create.
She "holds a grudge against her own people" from being hidden and thrown in jail. Lincoln shows her love and loyalty. She's only seen love from Bellamy before. 
She will do whatever is necessary to re-pay Lincoln's courtesy, even if it costs her life or loyalty to her own people.
When the adult generation" shows up and tries to maintain the same "order" from the Ark, they "don't even know what they are in for." They don't know the dangers, including the Grounders or Mount Weather.
"It's time for the adult generation to really let our voices be heard and be take us more seriously because we have a lot of good information that can help with the survival of our people."
The adults need to "refuse their instinct on what's right." The kids know what's going on and where the dangers are. "They'll get what's coming…"
Octavia's learning the Grounder language from Lincoln.
Avgeropoulos speaks the language.
Octavia's a fighter and a warrior. She wants to find the middle ground between the two groups.
The 100 airs Wednesdays 9pm ET on the CW. (Image courtesy of the CW / Video: Carla Day)