Everyone is looking for Harriet Warner's "Tell Me Your Secrets" spoilers. The show is a perplexing thriller centered on three characters with dark histories.
Emma Hall (Lily Rabe) is a witness protection patient who has memory loss due to an abusive past; Mary Barlow (Amy Brenneman) is a mother searching for answers after her teenage daughter vanishes without a trace.
Related: "Tell Me Your Secrets" Season 2: Coming Soon?
Everyone thought she is dead. Still, Mary herself and A convicted predator, Tyler (Hamish Linklater), strives to live a crime-free existence while dealing with the aftermath of his past.
The series is composed of rich character backstories that intertwine with one another in the season finale, which is episode 10. Although certain aspects of the series might be difficult to follow, the conclusion ties up several characters' loose ends.
For example, it leaves viewers wanting more narrative after it concludes on a cliffhanger. If you're confused about the finer points, here's a detailed explanation of the "Tell Me Your Secrets" conclusion.
With a twisting storyline and somewhat sinister subject matter, "Tell Me Your Secrets" has established itself among some of the more popular TV shows produced by Amazon Studios.
Focusing on a spree of dark crimes involving serial sexual predators, possible wrongful convictions, and missing daughters, "Tell Me Your Secrets" captivated audiences throughout its electrifying first season. Fans of Lily Rabe, who plays the show's main character Emma Hall, are already clamoring for a second season.
Read on to learn all of the latest and most relevant information on the hit TV show.
Where Can You Watch "Tell Me Your Secrets"?
Originally, "Tell Me Your Secrets" was filmed for TNT in 2018. However, TNT elected not to air the series in 2020 and so it was picked up by Amazon and aired for the first time on February 19, 2021.
Because it is considered an Amazon Studios exclusive, "Tell Me Your Secrets" is only available for streaming on Amazon Prime Video. Individuals who have signed up for Amazon Prime membership have automatic access to Amazon Prime Video, while non-Prime customers can find several ways to watch through a free trial.
What Is "Tell Me Your Secrets" About?
"Tell Me Your Secrets" is an American thriller drama with a plot centering around a trio of characters with colorful pasts. One such character, a young woman called Emma (formerly known as Karen Miller) is played by Lily Rabe. Emma and her boyfriend Kit Parker (played by Xavier Samuel) have been arrested and charged with a gruesome set of nine murders, all involving women.
Although she is serving active jail time for her part as an accessory to these murders, Emma claims she has no recollection whatsoever of any of these events. The second major character, Mary Barlow (depicted by Amy Brenneman), believes that Emma and Kit hold the keys to unraveling the mystery of her missing daughter and strives to get a confession out of Emma. These two alleged criminals and the grieving mother reveal storyline details through tense interrogation and often violent flashbacks.
The last of the trio is John Tyler, played by Hamish Linklater. John is an admitted rapist and serial predator that is now seeking redemption. Mary Barlow hires him to investigate her daughter's disappearance. Audiences enjoy the riveting ways that moral boundaries are routinely crossed in order for these three very different characters to maneuver around one another toward their individual motives, both stated and unstated.
Is "Tell Me Your Secrets" a True Story?
Although writer and creator Harriet Warner has said that "Tell Me Your Secrets" is not based on specific details from an individual crime, she has been vocal about drawing inspiration for Emma's character from real-life sources. Many of the show's more intriguing and shocking aspects are drawn from information Warner gathered from the wives and girlfriends of real-world serial killers.
Warner particularly focused on real women who had seen judicial or police attention turn to them when their boyfriends or husbands had been involved in vicious crimes. As the show plays with many themes of "guilt by association," these real women's stories have lent a palpable feeling of raw truth to Emma's dialogue and screen presence.
Is "Tell Me Your Secrets" a Good Show?
Audience votes are in and "Tell Me Your Secrets" has received a 90% audience score on Rotten Tomatoes, with a 4.4 average rating. Out of 22 critic ratings, 11 called this show "fresh" on Rotten Tomatoes.
However, the 327 individual audience voices that have been heard tell a different secret: "Tell Me Your Secrets" is quite popular and beloved by its frequent watchers. Set in the murky Louisiana bayou, "Tell Me Your Secrets" has drawn fans from across multiple viewing groups including Louisiana residents, legal professionals, and those who simply love a twisted mystery story.
About the Cast of "Tell Me Your Secrets"
"Tell Me Your Secrets" features a talented cast of actors playing a wide range of fascinating, and sometimes devious, characters. The following list provides the character name first, followed by the actor portraying each.
Emma Hall – Lily Rabe
John Tyler – Hamish Linklater
Mary Barlow – Amy Brenneman
Jake Barlow – Elliot Fletcher
Theresa Barlow – Stella Baker
Saul Barlow – Charles Esten
Kit Parker – Xavier Samuel
Peter Guillory – Enrique Murciano
Lisa Guillory – Ashley Madekwe
Rose Lord – Chiara Aurelia
Diana Lord – Katherine Willis
Bodie Lord – Richard Thomas
Jay Abellard – Bryant Tardy
Tom Johnston – Marque Richardson
Jess Cairns – Emyri Crutchfield
Adam – Chase Stokes
About the Creator of "Tell Me Your Secrets"
Harriet Warner is a Hollywood writer and producer who has many impressive credits to her name outside of her work as executive producer for "Tell Me Your Secrets." She has also written and produced 2007's "Waterloo Road" and "Sinbad" in 2012.
She has likewise contributed her writing skills to popular shows such as "Call The Midwife," "Totally Frank," and "The Fugitives."
Most recently, Warner has completed scripting for her forthcoming television rendition of "Dangerous Liaisons," starring Carice van Houten.
Is There a Season 2 of "Tell Me Your Secrets"?
Much like other popular suspenseful crime-based dramas such as "The Undoing," "Tell Me Your Secrets" managed to build a tremendous amount of interest in just 10 short episodes across its first season. While eager fans are certainly ready for the storyline to unspool further, no official premiere date is set for season two as the show has not yet been officially renewed.
With the first season ending in a way that would allow for a continued arc surrounding all three of the major characters, fans will have to wait for a formal casting announcement to find out which roles will be reprised if there is a second season in store for "Tell Me Your Secrets."
"Tell Me Your Secrets" Spoilers
The viewers want to know what's next…they can't wait till the end. Here's a detailed explanation that will settle your curiosity.
Rose's Troubles Have Led Her to Murder
The Rose Lord (Chiara Aurelia) is the daughter of the town's most influential individuals, as evident from her first appearance. She appears to be troubled from the start. Her urge to flee the city and get away from her mother's emotional abuse leads her to the point of no return.
She is unaware that her father, who lives at Saint Jerome House with his family, terrorizes the neighborhood's young girls in secret. Rose interrupts Emma Hall's (Lily Rabe) attempt to explain her father's deeds when she confesses her love for Emma and becomes enraged at Emma's rejection and accusations against her father.
It is revealed in the final episode that Lord is to blame for the death of a young girl who was attempting to reveal her father's abuses to her. The Rose finale concludes with her coming to the awful truth that her father is, in fact, a monster who preys on young women. Her reaction to this fact remains unclear.
John Tyler Reverts Back to Old Habits
When a convicted predator tries to get back into society, he is pushed by a grieving mother. He begins committing unspeakable acts all over again. The conclusion is a battle between life and death as John Tyler (Hamish Linklater) loses all of his control after discovering Emma (Kirstie Way), whose real name is Karen.
John was finally able to find Karen, but it came at a cost. After Mary forced him into finding her for their plan to go smoothly, he went back on what they agreed upon and became more predatory than ever before when searching for his target. A man attacked viciously, but they fought back. The brutal attack leaves him bloody with unconsciousness in the woods outside of Karen's cabin.
The two women believe that John is dead and seal him in Karen's pantry, where they depart. When John's time in the episode concludes, Bodie Lord (Richard Thomas) is snooping around Karen's cabin, covered in blood. John appears menacingly behind him, indicating an open opportunity to return in Season 2.
Pete's Murky Past Is Starting to Come to Light
Pete (Enrique Murciano) is a strange psychologist assigned to help Karen adjust to her new life as Emma Hall once she has been released from jail. Pete hides Hall in a cabin that he has been hiding from his wife, and it is no simple thing to hide someone who has become linked with a murderer.
To say the least, Peter's narrative is somewhat murky: he acknowledges committing a felony in his twenties. He has worked at the Saint Jerome House, but the finer points of his tale are unclear, and the truth about where he came from still isn't fully revealed at the conclusion of this season.
However, throughout the show, Pete's behavior towards Emma becomes more possessive and unprofessional. The finale features a small glimpse of Pete's dark history when he receives a phone call from Bodie Lord, who threatens to harm Emma.
In response, Pete screams that he wants out of whatever Bodie is up to before being told that he'll never get out. Naturally, there are a lot of unanswered questions about what Pete is involved in and what his background is.
Everything About Theresa Barlow
The daughter of Mary Barlow, who has been missing for years, is Theresa Barlow (Stella Baker). She was presented as a victim of senseless and horrendous violence throughout the season. However, when Season 1 comes to an end, it throws a significant curveball at the audience when it's revealed that Theresa is the original killer.
When Theresa's obsession and jealousy drove her to murder nine women, attempt kidnapping Emma Hall, and steal her newborn baby. Theresa can live a double life due to Emma's avoidable memory loss and her efforts to keep a low profile.
Even after her parents and younger brother began looking for her for almost a decade, Theresa remained hidden. Everyone believed that she was dead at one point in the show.
In the final scene of season 1 of "Tell Me Your Secrets," Theresa drives a car to a mountainous road with Emma's baby, now a youngster, sitting next to her in the passenger seat. Given what we know about Theresa, this is a highly ominous end.
Mary's Devastation Drives Her to Perform Horrible Things
Mary Barlow is Theresa's mother. Mary never gave up looking for her, even though many other people had given up hope. She willingly lied to her family, neglected her child, and collaborated with a convicted predator to maintain searching for Theresa.
Mary's loss drove her slowly insane, as Emma correctly informs her that Theresa is, in reality, the murderer. When she tells Mary where to find Theresa's diary, she refuses to believe what she is saying.
Mary discovers Theresa's belongings in the yard. She learns that her daughter's swimming coach maltreated her daughter ever since she was a kid. Mary holds a press conference, and the audience is optimistic that she will correct things so that Emma may live a normal existence. Mary's refusal to face reality causes her to lie and claim that Emma is Karen Miller and is the real murderer, putting Emma at significant risk.
Karen Miller's Identity Revealed
Karen is the show's primary protagonist and, perhaps more significantly, its greatest victim. Her mistake was to fall in love with the wrong person. Her infatuation with a murderer blinded her to his true nature. Also induced her down the road toward Theresa, a jealous and violent woman.
In the final episode, John assaults Emma in her own house after she spent time with him in the bar. Emma was unaware of his true nature. Mary successfully knocks him out, and Emma tells Mary the truth about her daughter.
The season finale ends with the public thinking that Emma is a murderer because of Mary's press conference. Bodie Lord is now hunting for her to take responsibility for the killing of a young girl in the Saint Jerome House.
Learn More About Your Favorite Movies and Shows on BuddyTV
The season comes to a close on several cliffhangers, leaving audiences with more questions than answers. While there has been no confirmation of season 2, fans waiting for positive news about the show. So cross your fingers!
Check out BuddyTV to get information on a wide range of popular shows appearing across Netflix, Amazon, HBO, and all of the major streaming platforms. You can also get details on special events like the Oscars. No matter which television shows captivate your interest, you can stay up-to-date with BuddyTV.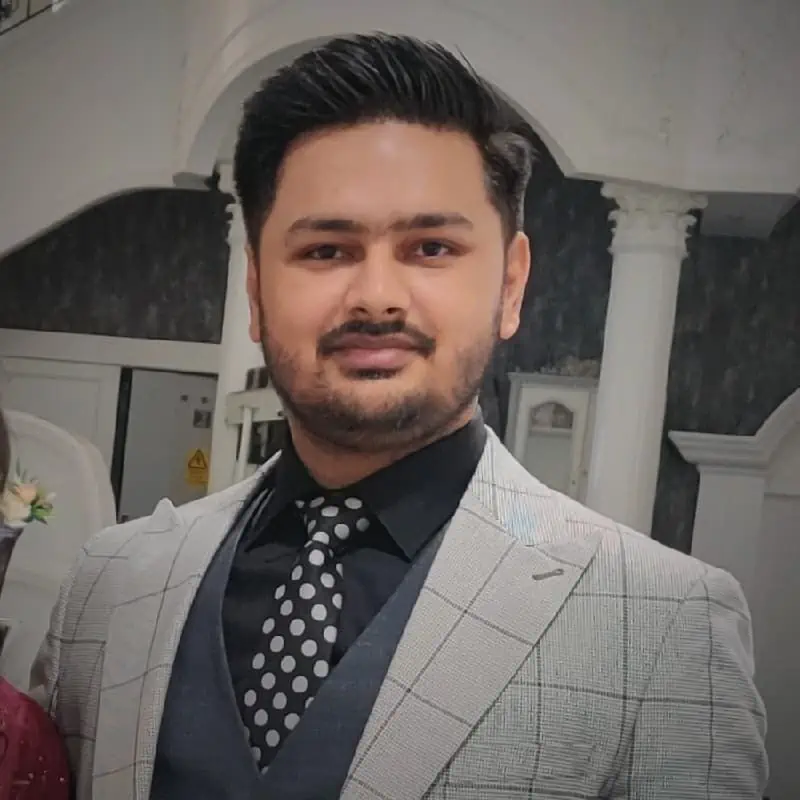 Senior Writer, BuddyTV
Experienced Writer and Graphics Designer