Fans of the show could not help but notice that Linda Hamilton, who plays spy matriarch Mary Bartowski, has thus far been absent from Chuck season 5. But we do not have to fear that Mom Bartowski will be gone for good — Linda Hamilton is set to return to Chuck for the season 5 — and series — finale in January.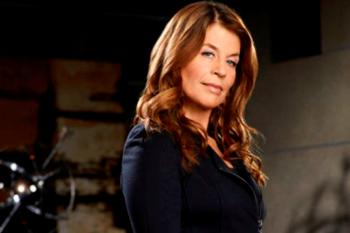 According to a report from TVGuide.com, Hamilton's return will coincide with the two-hour series finale of Chuck scheduled to air on Friday, January 27. There is no word yet as to whether any other guest stars from Chuck's past might also make a reappearance in the final episode.
Long-absent from both her children's lives and the show, Mary Bartowski returned to Chuck with a bang (literally — she shot a guy) in the season 4 premiere. References to the woman earlier in the series indicated only that she was gone, having left her family some time before the also-absent dad, Stephen Bartowski.
But things are never what they seem on Chuck. As we had already learned in the case of Stephen Bartowski — actually the computer scientist who created the Intersect stuck in Chuck's brain — Mary's absence could also be explained by espionage. She had gone on an undercover mission to infiltrate an arms-dealing business, never to return.
Until season 4, that is. Thanks to the relentless rescue efforts of Chuck and company, Mary Bartowski was reunited with her family just in time to witness the birth of her first grandchild (in the season 4 mid-season episode, "Chuck vs. the Push Mix").
Hamilton's Mary Bartowski was seen in a handful of additional episodes throughout season 4, but the woman has been absent throughout the early episodes of season 5. No explanation for this absence has been given. Probably the show wants us to think that she's just babysitting off-screen.
Now, however, we know she will be back. Why will Mary Bartowski make a return to Chuck? Will it simply be for family reasons, or is there a more nefarious explanation? We will find out all too soon when the Chuck series finale airs in January.
Why will Mary Bartowski return? How will Chuck end? What other guest stars do you want to see again before Chuck is over? Let us know in the comments section below!
(Image courtesy of NBC)