Sarah Lampert's hit Netflix show Ginny and Georgia has become a certified hit following its first season! When it became one of the streaming service's most-watched programs of all time, there was no surprise that viewers wanted a Ginny and Georgia season 2.
This article examines the 11 most surprising moments from the Ginny & Georgia season 2 saga.
Related: Top 10 Most Popular TV Shows of the Decade, Ranked
A Bit About the Characters of 'Ginny and Georgia'
The cast has gripped its audience online as they seamlessly transform into their characters for the new and exciting chapter of the show.
Antonia Gentry, along with Sara Waisglass, Chelsea Clark, Brianne Howey, and others, take it up a notch in this riveting roller coaster that is season 2.
With all this talent, you can bet there were plenty of heartstrings being tugged as well as twists no one saw coming. All played out wonderfully by the carefully curated cast.
So, if you love the captivating and great storylines of Gilmore Girls, you'll undoubtedly love Ginny and Georgia season 1 and now 2!
Related: 'Supernatural' Star Jared Padalecki Teases 'Gilmore Girls' Revival Scene
The Unforeseen Roller Coaster of 'Ginny and Georgia' Season 2
While the series revolves around a dynamic mother-daughter duo played by Brianne Howey and Antonia Gentry.
There was no way for fans to be ready for the wild plot twists and turns revealed in Ginny & Georgia's latest season, cleverly written by Sarah Lampert.
From Georgia Miller's astoundingly clever plan to avoid prison to the roller coaster love triangle between Ginny and Georgia's daughter, Marcus, and Hunter, the show had plenty of surprises that left audiences reeling.
Georgia's Hidden Letters that Impact Austin's Life
It is revealed in season 2 that Georgia had another dirty secret and one that I found myself cringing about. She has been hiding the letter Austin Miller, played by Diesel La Torraca, had been writing to his father all these years.
Right after Austin discovers these hidden letters, Gil Timmins makes his appearance, and this is where everything else goes downhill. This is also the major turning point for the next events that happen in Ginny and Georgia season 2.
Ginny's Breakup
The tension between the Ginny and Georgia duo was a major running theme throughout the season. But it ramped up considerably in the ninth episode.
This is when Ginny finally breaks up with Marcus in order to prove her loyalty to her mother.
This was the first sign that suggests there could be major repercussions for the relationship between the two in the future.
Ginny's Daughter's Rebellion
In Season 2, Antonia Gentry's character, Ginny, begins to rebel against her family and the constraints of her small-town life.
She becomes involved in a progressive friendship with Abby, a troubled teenager, leading her down a path of self-destruction.
Ginny's rebellion adds a new layer of tension and complexity to the Miller family dynamics as they try to save her from spiraling out of control.
Gil's Secret Identity
Gil, Georgia's ex-husband, and Austin Miller's biological father, resurfaces in the second season with a shocking revelation. He has recently been released from prison. He is forcing his way back into Miller's life.
His aim is to exploit and seek revenge on Georgia. Which in turn brings up some skeletons that were meant to stay buried.
As Gil's secret identity unravels, the implications for his relationship with Ginny, Georgia, and Austin become increasingly significant, setting the stage for a confrontation that will change their lives forever.
Friendship Turmoil and Recovery
We all loved MANG! Consisting of Chelsea Clark, Sara Waisglass, Antonia Gentry, and Katie Douglas characters, we were undoubtedly heartbroken when the group split up.
Sara Waisglass, who played the character Max, was partially to blame for the group's separation. After discovering the secret of her little brother (they are actually twins, but she considers herself the bigger and better sister) and her best friend have kept hidden, she becomes distraught and withdrawn from her friends.
Sara Waisglass did an amazing job of portraying Max's betrayal in this episode. We all felt the anger and disappointment through the screen as she constantly made her disgust known.
Thankfully after some rough times, Sara Waisglass and Antonia Gentry's characters made amends, and MANG was better than ever!
Mark and Ginny's Moment on the Balcony
In the middle of the eleventh episode, Ginny Miller and Marcus Baker (played by Felix Mallard) had a heart-to-heart on the balcony, in which Marcus confessed that he still had feelings for Ginny.
Despite rejecting Marcus, it became clear that she still had feelings for him, too—even if she wasn't going to act upon them.
No Truth in the Letter
It was revealed that the letter Georgia had written for Ginny was actually an act of fraud. After revealing the truth to Ginny, it caused serious rifts between both of them.
It was a major turning point in their relationship, and it showed the audience a new side of the seemingly infallible Georgia Miller.
Mayor Paul Randolph's Proposal
After his rocky relationship with Georgia, it seemed like Mayor Paul Randolph (played by Mathew Scott Porter) was going to leave the family for good.
However, in a surprising twist, he decided to stay in town and propose to Georgia!
It was a shocking turn of events that left fans confused as to what it meant for their relationship going forward.
Georgia's Wedding Plans
Amidst the chaos and turmoil, Georgia decides to get married to her new fiance. However, her wedding plans are derailed when she decides to tell Paul, known as Mayor Paul Randolph (played by Scott Porter), who she really is.
Paul must confront the truth about Ginny, Georgia, and Austin and make a difficult choice that will impact their future happiness.
The unexpected twists surrounding Paul, played by Scott Porter, and Georgia's wedding plans keep viewers guessing about the outcome of her tumultuous love life.
Ginny Miller's Journey of Self-Discovery
Throughout the second season, Ginny embarks on a journey of self-discovery, grappling with her identity, relationships, and aspirations.
In Ginny's therapy session, she talks about her self-harm and the struggles that she has had to face. Opening up to her father, Zion (played by Nathan Mitchell).
As she confronts her insecurities and learns more about her family's secrets and Georgia's past, Ginny's character undergoes significant growth and transformation.
This personal journey adds depth and relatability to her character, resonating with viewers of Ginny and Georgia on an emotional level.
Georgia Season 2's Final Arrest
One of the biggest nail-biters in the second season of Ginny & Georgia is the unexpected arrest of Georgia Miller.
It is revealed that the charismatic and cunning mother of the titular characters in Ginny and Georgia season 2 has been involved in various illegal activities, including fraud and identity theft!
Her arrest raises questions about her mysterious past and forces Ginny, Georgia's daughter (played by Antonia Gentry), and her younger brother Austin Miller (played by Diesel La Torraca) to confront the reality of their mother's actions in this emotional Ginny and Georgia episode.
This jaw-dropping twist sets the stage for Ginny and Georgia season 2 to be filled with revelations and consequences!
In my personal opinion, the arrest of Georgia Miller was a real shock. Georgia's past came to the surface, as does everyone. For Ginny and Austin, it must have been an incredibly difficult situation to navigate. The scene where Austin witnesses his mom's arrest is really one that tugs at my heartstrings!
Coming from a mother who was seemingly so devoted to providing a better life for her children, the discovery of her illegal activities was a real eye-opener. And creator Sarah Lampert portrayed that in the most heartbreaking way. It definitely made me think about the extent of her dedication to her children and her own hidden motivations.
I also couldn't help to think of Zion, played by Nathan Mitchell, and how this would affect him, not even to mention Paul, played by Scott Porter, and what this would do for his reputation in the coming season 3.
A Playlist of 'Ginny & Georgia' Season 2: All the Songs From the Netflix Show
The soundtrack of Ginny and Georgia Season 2 includes songs from a wide range of artists, letting the audience feel an emotional connection with each scene.
From "I Hate It" by Again&Again, which plays during the first scene of the season, to "Let Me Down Slowly" by Alec Benjamin, which Ginny and Marcus dance to during their fateful first date. These songs easily establish the mood and setting of the show.
As the songs move along, so does the plot of season 2, introducing new characters and secrets with each song.
From Axel Mansoor's "The Other Side"—which is played when Ginny and Hunter decide to bury the hatchet and become friends again—to "Missing Me" by Angie McMahon, which captures the heartbreaking moment when Marcus tells Ginny that he thinks it might be better if they split up.
At the end of it all, "Chapel of Love" by The Dixie Cups gives us a fitting close to Ginny and Georgia season 2 and reminds us that things may not always end the way you think.
If you're looking for an emotional tune-up or just want to feel some familiarity with the show, Ginny and Georgia's Season 2 soundtrack has something for everyone!
Unanticipated Twists and Turns of Ginny and Georgia Season 2…
Sarah Lampert's writing in Ginny & Georgia's Season 2 was even wilder than anticipated, with plot twists and surprises around every corner.
From Georgia's past to the heartache that determined Ginny's fate, it was a rollercoaster of emotions that kept audiences guessing in every episode of the show's new season.
With Ginny and Georgia Season 3 already in production, fans can look forward to even more surprises in the future!

As a fan of Ginny and Georgia, I thought that Sarah Lampert's writing in Season 2 really blew me away. It was even more intriguing and unexpected than I could have ever anticipated!
The show really pulled no punches when it came to delving into Ginny's and Georgia's past and discovering the surprising details that have shaped her life. It was a thrilling ride with twists that I didn't see coming. I can't wait to find out what Sarah Lampert has in store for us in the next season!
Related: 10 Longest Running American TV Shows Ever, Ranked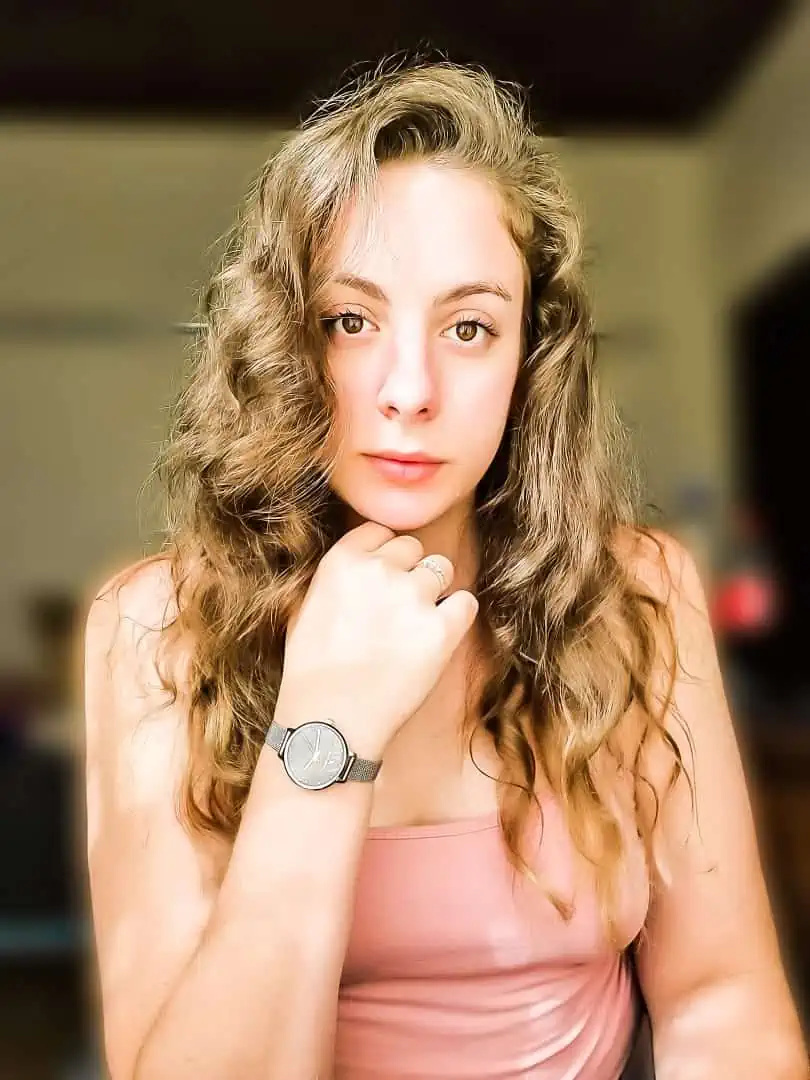 Pia Vermaak is an accomplished digital marketing agency owner and professional content writer with a remarkable track record in the industry.
With her keen strategic insights and creative flair, she has carved a niche for herself as a trusted expert in the field.
Whether it's engaging blog posts, persuasive website copy, or compelling social media content, Pia's words have the power to captivate and inspire audiences.