After Buffy the Vampire Slayer went off the air in 2003, fans found solace in a series of sold-out sing-alongs known as Buffyokes, where loyal fans, usually dolled up as their favorite characters, turn up for midnight screenings of a musical episode of the cult series entitled "Once More With Feeling."  Unfortunately, the sing-alongs are now being canceled.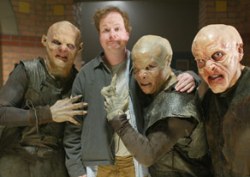 According to Clinton McClung, the organizer of Buffyokes who stared the shows in Boston before spreading them across the country, the event became a surprising hit phenomenon that's consistently selling out in every place they perform in. Though the sing-alongs had been picking up steam since it launched last year, the cast weren't necessarily making a profit since the goal was just to create something self-sustaining, and the ticket price was just an attempt to cover the materials and travel expenses.  Nevertheless, they were charging, which caught the attention of the Screen Actors Guild.
Last week, SAG took action and sent 20th Century Fox Television a six-figure bill for unpaid actor residuals.  Since Fox had been unaware on the hype and strong following of Buffyokes, it called Criterion, which had been given a license to exhibit Buffy the Vampire Slayer and had in turn given McClung the approval to mount the shows.  Ultimately, FOX's response was to withdraw the license.
Like many fans, Buffy creator Joss Whedon, who also wrote "Once More with Feeling," was disappointed to learn about the cancellation of Buffyokes since he considers it as "the best thing ever," considering he didn't really expect the musical episode to have that much afterlife.
"This is hugely depressing," Whedon said in a statement.  "I will do everything in my power to find out the exact reasoning for this and try to convince those responsible what a mistake it is.  Of course, the words 'my power' might confuse my gentle readers into believing I have any.  I don't know what I'll be able to do, and I've no idea even where to start.  Nor do I think this was done maliciously or capriciously.  But it's lousy news and it's bad business."
Despite the cancellation news, fans are not giving up that easily just like in Buffy world where death is never final.  After all, Buffy herself has died twice.  Meanwhile, McClung has set up a petition for Buffy fans to let FOX know "we are here if they want to take our money in exchange for some Buffy action."
"Within 24 hours, we had over 1,000 signatures," Caroline O'Connor, who plays Willow in Buffyoke stagings, said.  "That's pretty awesome.  In the meantime, we'll laugh, we'll play, we'll sing, we'll dance, and hopefully, soon, we'll be able to do it for an audience."
-Kris De Leon, BuddyTV Staff Columnist
Source: CNN, MTV
(Image courtesy of Associated Press)