Last week, we had the honor of sitting down with Josh Schwartz, the mastermind behind The OC, for an exclusive BuddyTV interview. Josh created The OC at the age of 26, becoming the youngest person to ever be in charge of the day-to-day operations of a major TV show. We talked about the origins of The OC, the creative resurgence of the fourth season, and the the show's future. The OC airs on FOX every Thursday at 9PM ET/PT.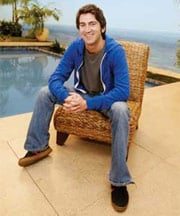 BuddyTV: You were the youngest person to ever be in charge of a prime time network TV show. How did you get into the business at such a young age?
Josh Schwartz: I've always known I wanted to be a writer since I was a little kid. That was always the dream. I went to film school at USC, and when I was a junior there, I wrote a screenplay – we had to write a script for school, for homework basically, and it was my first screenplay about my senior year in high school and I ended up selling it to Sony Pictures. It never got made, but it got me out in the world of agents and stuff, and I'd written a couple of pilots right after that, that had gotten produced but hadn't made it to the air, and then The OC happened. So I had been working for a few years before The OC as well.
BTV: The OC's pilot is very highly regarded; it's certainly one of my favorites. Where did that idea come from?
JS: Well, I had a general meeting at Wonderland Sound and Vision, which is McG's production company, with a woman named Stephanie Savage who was running the company at the time. And we just started talking about TV and worlds and she mentioned Newport Beach as a potential world for a show, because that's where McG's from.
And, having gone to USC as a Jewish kid from Rhode Island, and showing up in the land of water polo players, and as you may or may not know, Newport Beach has sort of a direct pipeline into USC, they just basically drop their kids down a chute and they get funneled right into USC right out of Orange County. So I had a lot of exposure to that world and to those kids, and I said that to her, and went off and cooked up some characters, and came back and we took it from there. Really, the show is designed as my revenge against water polo players, because they got all the girls in college. (Laughs)
BTV: The OC burst on the scene and, right away, became a phenomenon. How hard was it to keep the forward momentum? How much pressure was involved?
JS: Yeah, there's a lot of pressure. You know, I always liked TV but never really watched that much television before. I certainly never watched a lot of one-hours, and I definitely didn't watch any soaps. So, you know, I kind of almost just jumped in. We had to do almost 30 episodes the first season and, like you said, it all happened really, really fast.
When you're a writer, especially if you're a young writer, your first goal is like, "I just want to write the best pilot that I can," because it's so competitive. There's like 70 scripts that get bought, and of that, six pilots get made. So your focus is on the pilot, and then if you're so fortunate to get your show picked up, then you're just like, "I want to have the next season."
Well, initially we didn't even think we were going to make it out of the summer. We had a seven episode trial run in August, which we thought we would be lucky to survive, so that was like let's do it all there. At every point, it was sort of like short term planning; we just tried to maximize our opportunity. So we burned through a ton of story, which I think is what made the first season really, really fun, but also can kind of create sustainability issues going into the future. Because, like I said, you want to write a great pilot, and all of a sudden you blink and it's season three, if you're lucky, and you have to keep figuring out stories. So, I don't know if I felt pressure so much in terms of maintaining the show at that point, because I was literally just jumping in and wasn't even thinking about it. But, certainly, as we got on after a couple of seasons, then you started feeling that pressure about being able to sustain stuff.
BTV: In the first season you wrote a majority of the episodes yourself, which is a ridiculous amount, but then less in season two, and barely any in season three. Why? Was this a conscious decision?
JS: I think the first season I probably ended up writing more because there's just a lot of scripts in the first year, it's your show, and you know, there are a lot of writers coming in and out trying to find the show, so it was a lot of writing that first season. And then the second season I still wrote a lot, but definitely not as much as I did the first season, and then last year, I didn't write very much at all. But yeah, some of it's conscious because you kind of get tired, also part of it is wanting to let other writers grow into the show. And this year, I think we're having our best season creatively that we've ever had, certainly since season one. And it's a testament to the other writers that I work with as well and I think it's because they had the opportunity to write a lot. I never wanted to be one of those guys that came in and had to have every word be mine. And it's sort of something I had to do in the beginning because we were still finding the show. But as the seasons went on, I wanted other people to have the opportunity to write the show, and after writing a lot of episodes as well, you start to feel like "Okay, maybe it's time to get a fresh pair of eyes on it," and I think that's really worked to the advantage of the show this season particularly, because it's a really great team effort.
BTV: How hard is it to integrate new writers on the fly?
JS: It's hard to do. I've been really lucky that I've found some really great writers who've come on and really surprised me with the stuff they've brought to the show as well. It takes a little while to form a staff and then for everybody to grow into it, but we have a great staff now. You know, that was something I had no experience doing before but I think I have a much better understanding of it now and the importance of building a really great team as fast as possible.
BTV: I've read before that you used to pay a lot of attention to, or still do, online fan forums. How difficult is it to balance pleasing the fans with telling the story you want?
JS: Yeah, I mean, I had a lot of jumping in like I did with not a lot of experience. There were a lot of learning curves, or I guess it was all one big learning curve, with many lessons along the way. I think one of them is when you write a pilot, or even the first handful of episodes before they've aired, it's yours. And, especially a pilot because you're in your boxer shorts writing in your house or in your apartment. But as you start to bring in other people, and everyone's got a point of view, and then you bring in the network and even the cast has a point of view.
Everybody has opinions and that's great, they should. But, it becomes about how do you hold on to your vision as more and more cooks crowd into the kitchen, and the fan forums are yet another cook. Fan reaction is really, really important to me, and you do these things because you want to entertain people and you want fans to be happy and it's a balancing act. There's a lot of really valid, intelligent insight that you can get from these forums, and then there's a lot of stuff you kind of just have to roll with. Some people just like to log on to complain and some people like to log on because they really care and they have some really valuable things to say, so I think it's about taking it all in stride and with perspective. I've certainly enjoyed reading forums this year because they've been super positive, so that's way more fun to read about.
BTV: FOX's former President of Entertainment, Gail Berman, resigned shortly after your second season. Did her leaving affect the show creatively?
JS: It definitely did. It definitely did. Gail was a champion of the show. It was her show and she developed it, and she was a really big fan of the genre and the characters. So, she was very protective of it. And I think the new regime at FOX certainly wanted the show to succeed, but your level of investment when its not your show is not as great. I will just say that Gail has been missed.
BTV: Did that have anything to do the increased screen time for certain characters (i.e. the adult characters) last season?
JS: Yeah, last year some decisions got made that were more about trying to please the powers that be and about ratings, and some were decisions that were requested of us, and some were decisions that were made on our own. I would say that was stuff that was made in a purely creative vacuum, and we kind of split around the schedule a little bit and the time slots were getting harder that we were put into. Different decisions got made for different reasons, not necessarily pure creative ones. And that's why the focus of this season, my big goal in coming back to the show this year more full-time, was to really make decisions that were going to be the best thing for the show creatively, especially knowing the time slot that we were going to be in, and that ratings were going to be a challenge and that we couldn't worry about that and just try to make the show as good as possible. And I think that's the reason why the show has really gotten back on track this year, because everybody working on the show just did the kind of stories they wanted to do and thought the fans would love.
BTV: I agree that season 4 has been the best since season one. Do you think some of that is because of Marissa's death and how it forced all the characters to deal with it and react in their own, unique way?
JS: Absolutely. It's one of the big reasons why we felt like we needed to do something to kind of shake the show off its foundation at the end of last year. I think another issue last year that everyone was feeling, the writers and cast included, was that especially a show like this, where you don't have cops or lawyers or doctors or franchisers to go to, you kind of live and die by your relationships and those stories. And, for the first time, the show started to feel a little formulaic and predictable last year in some of those dynamics, in that we had to make a change that would liberate both the show and some of the characters. And once it became clear what we needed to do, what was the way to do that that was most organic to those characters, and in the case of Marissa, who was a tragic character, and it felt like her death was sort of inevitable.
When you trace back, the first time you meet that character is when she's passed out in her driveway from drinking. So, it's not a reflection at all of Mischa; she was a huge part of the show and she's been missed this year. But it definitely felt like we needed to change up the dynamics so that the show could be liberated and go into some sort of new and heretofore unseen stories.
BTV: Did you ever entertain other directions for the show, post-high school? There's always so many options once your characters graduate.
JS: Well, we knew we wanted to not send everybody to the same school. We talked a lot about how we didn't want to have OCU as a potential destination for the characters. We knew we would be challenged in terms of having some characters spread out, but it was a challenge that we were all pretty excited about. And being able to write for Chris Brown and for Chris Pratt's character Ché, both have been a real delight to work on.
BTV: This season Fox tried you out for an episode in that Wednesday time slot and ultimately decided to keep you on Thursdays…
JS: "Tried" is a pretty strong word (laughs), give us a little credit…
BTV: Okay, "threw" you into the Wednesday slot. Do you have anything to say about what FOX has done to you scheduling-wise over the past couple seasons?
JS: You know, it's hard for me to complain because the show has been such a great thing for me and has been such an amazing experience, and I'm so proud of it. I know a lot of the people that have watched the show have gotten a lot out of it. I think I've been forthcoming about things that I think we could have done differently creatively last season, in terms of if that's had any affect on the ratings. But, you know, I think you can talk to about anybody who works in television and in the business and they will tell you that we have been mismanaged as a show on the schedule, and that has had a real detrimental affect on the long-term lifespan of the show. So, that's frustrating, especially when you're doing a season like this year that you're really proud of something which you wish more people could see. But, you know, you get lucky a little bit in TV, and we were in the beginning; we got the post-Idol slot. And then the last two years, we got the shorter end of the stick, scheduling wise. But, like I said, all in all, it's been an amazing experience.
BTV: When did you know you were going to do 16 episodes this year, instead of a full season? Did that effect how any of the story lines were going to play out this year?
JS: Well, we had gone in and pitched our pretty radical take on what we wanted to do at the end of season three, and everybody seemed pretty excited about that. That's how we went ahead and executed that. It wasn't until after we were done that we found out that it would be 16 episodes. However, I can tell you after doing an enormous amount of episodes every year (27 our first year, 25 last year) the idea of doing 16 episodes had its advantages. We felt like we could really dig in and focus and make every episode great, or at least try.

BTV: There's been a lot of talk about this being the last season of The OC. How do you feel about that? Would you like to do a fifth?
JS: You know, I'm open to anything. If this is the last season, I'm incredibly proud that we could have a final season that was one of our best seasons creatively, if not our best. And, if there's an opportunity to continue telling the story, I'll examine that, but I certainly don't want to make a decision to keep the show on just to keep it on; I want to do what's best for the show. I'm incredibly proud of this year and want to make sure that if there was an opportunity to go forward, it would only be because we felt that we could continue to do it at the level of quality that we've been doing it this year.

BTV: Is that tough, with your future up in the air, when you're mapping out the stories for the season? Do you have any alternate routes for the last couple episodes, depending upon whether you get picked up for another season?
JS: I think we're pretty locked in to what we're going to do for the end of the year, and if the opportunity comes up that makes us rethink what we've done or double back, I guess we'll cross that bridge when we come to it. But right now, it's about what will be best for the episodes this year.
BTV: What made you decide to push Taylor and Ryan together this year?
JS: That was something that a lot of the writers really felt passionate about and Taylor was a real bright spot last year. She was somebody that everybody really gravitated towards and writing for Autumn Reeser, as well, was really joyful. The idea that Ryan was in a really dark place, probably in a darker place than we've ever seen him was coming into this season, and who is the character that was best suited to bring him into the light. You know, when we started down the road, we definitely left the door open that if it was just too weird and too out there to put these two characters together, we could get out of it fairly quickly. But, once we got the first couple dailies in of these two actors playing off each other and these two characters interacting, we knew we had something that was really special.

BTV: Taylor Townsend started off as a relatively minor character last season. Was it similar to Rachel Bilson in season 1, in that you felt like she was such a great character that you decided to give her a bigger role?
JS: That's exactly right. That's a perfect example, actually. Rachel Bilson, I think, had three lines in the pilot, one of them which was, "I gotta pee." So, to be able to watch her grow, and the more we gave her, the more she was able to deliver, and it really organically grew. That's one of the real pleasures of working in TV: being able to watch characters evolve and actors really come into their own. And with Autumn, the more we gave her, the more we loved her. And the more we were able to add depth and humanity to her character, until this point where she can become a real legitimate romantic lead.
BTV: Can you give us a sneak peak at what's coming after the holiday break?
JS: After the holiday break? What can I tell you…wedding bells for an unlikely couple…Taylor's past comes back to haunt her in French. You may get an opportunity to meet Taylor's French ex-husband. Caitlin will have a relationship with a band geek at Harbor played by Chris Brown. I don't know, is that enough? I don't want to give too much.
BTV: That's more than enough! Thanks a lot!