Joe Jonas, known for his pop-rock band the Jonas Brothers and for appearing on the special feature Camp Rock, is presently being teased for dating Camp Rock costar Demi Lovato. On the other hand, the 18-year-old singer-actor explains that the rumor is not true, insisting that he hasn't been mixing business with pleasure.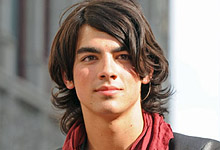 Lovato, who played aspiring singer Mitchie Torres in the hit Disney Channel film Camp Rock, has been opening for the Jonas Brothers on their Burning Up tour, which started on July 4 in Toronto. In the movie, she plays the female protagonist and eventual love interest for Joe Jonas' character, Shane Gray.
"If anything, [it's] probably just because I'm her costar," the Camp Rock star told E!
"You know, I think once Nick's in a movie with a costar, it's immediately going to be a connection," Joe spoke of his brother Nick, who is also part of the Jonas Brothers and also appears in Camp Rock.
Speaking of Nick, he also denies speculations that he was the inspiration for Hannah Montana's Miley Cyrus' "7 Things," in which she reveals the seven things she hates about an ex.
"I heard about that rumor," Nick responded. "Can't be about me right?"
Meanwhile, fans can expect Camp Rock to return for yet another run. A sequel is reportedly in the works, pending the script that's in development due to the Jonas Brothers and Demi Lovato's busy schedule. Auditions for extras will begin in August and the movie will be filmed at Camp Wanakita in Haliburton, Ontario and Kilcoo Camp in Minden, Ontario where the first movie was also filmed. All the principal cast members are reportedly expected to return for production in late spring or summer 2009, with a special appearance by Frankie Jonas, the youngest member of the Jonas family.
-Kris De Leon, BuddyTV Staff Columnist
Source: E!
(Image courtesy of Wire Image)